Relevance
GS Paper 2: Governance, Administration and Challenges- Government policies and interventions for development in various sectors and issues arising out of their design and implementation.
GS Paper 3: Environment: Conservation, environmental pollution, and degradation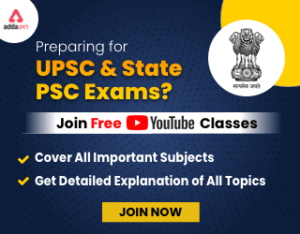 Get free video for UPSC CSE preparation and make your dream of becoming an IAS/IPS/IRS a reality
Context
Recently, the third edition of the Sustainable Development Goals (SDG) India Index and Dashboard 2020–21 was released by NITI Aayog.

Title of the report –SDG India Index and Dashboard 2020–21: Partnerships in the Decade of Action.

NITI Aayog has the mandate for coordinating the adoption and monitoring of SDGs at the national and sub-national levels.
Important Prelims Articles – 12 July 2021
About SDG India index
It is an annual index launched in 2018 by NITI Aayog on the lines of the annual Sustainable Development Report prepared by the Sustainable Development Solutions Network (SDSN).

SDG India index represents the articulation of the comprehensive nature of the Global Goals under the 2030 Agenda while being attuned to the national priorities.

Aim: twin aim of the NITI Aayog-
To monitor the country's progress on the goals through data-driven assessment, and
To foster a cooperative and competitive spirit among the States and Union Territories in achieving them.
Ranking method:

The SDG India Index computes goal-wise scores on the 16 SDGs for each State and Union Territory.
Measurement of aggregate performance: Overall State and UT scores are generated from goal-wise scores at the sub-national unit based on its performance across the 16 SDGs.
Scores range between 0–100: The higher the score of a State/UT, the greater the distance to target achieved. A score of 100 signifies the achievement of 2030 SDG targets.

Classification of states/UTs: based on their performance on the SDG India index, they are classified into four categories-
Aspirant: 0–49
Performer: 50–64
Front-Runner: 65–99
Achiever: 100
India's Demographic Opportunities and Issues Faced by Women
SDG India Index 2020–21
Developed in collaboration with the United Nations in India.
The index tracks all States and UTs on 115 indicators aligned to the Ministry of Statistics and Program Implementation (MoSPI)'s National Indicator Framework (NIF).

These II5 indicators Incorporate 16 out of 17 SDGs, with a qualitative assessment on Goal 17, and cover 70 SDG targets.
2018-19 index-utilized 62 indicators across 39 targets and 13 Goals; 2019-20 index-100 indicators across 54 targets and 16 Goals
Important Prelims Articles – 9 July 2021
Analysis of the SDG India index 2020-21
At the national level:

Positives: The country's overall SDG score improved by 6 points—from 60 in 2019 to 66 in 2020–21, mainly driven by excellent performance on Goal 6 (Clean Water and Sanitation) and Goal 7(Affordable and Clean Energy).
Poor performance: there has been a major decline in the areas of industry, innovation, and infrastructure (Goal 9) as well as decent work and economic growth (Goal 8).
Currently, there are no states in the aspirant and achiever category; 15 states/UTs are in the performer category, and 22 states/UTs in the front runner category.

State/UT performance:

Top performers- states: Kerala retained its position (score 72) followed by Tamil Nadu and Himachal Pradesh, both scoring 72.
Top-performing UTs: Chandigarh maintained its top spot among the UTs with a score of 79, followed by Delhi (68).
Worst performers:  Bihar (52), Jharkhand (56), and Assam (57).
Top gainers in comparison to 2019-20: Mizoram, Haryana, and Uttarakhand with an increase of 12, 10, and 8 points, respectively.
National Mission for Clean Ganga
Significance of SDG India index
It helps in identifying crucial gaps related to tracking the SDGs and the need for India to develop its statistical systems.
Act as a Key Policy tool: for focused policy dialogue, formulation, and implementation through development actions, in line with the global SDG framework.
The SDG India Index 2020–21 is also live on an online dashboard, which has cross-sectoral relevance across policy, civil society, business, and academia.
Upcoming North Eastern Region (NER) District SDG Index: The Index is presently being adapted and developed by NITI Aayog at the granular level of districts for NER.
Encouraging evidence-based policymaking: by supporting States and UTs to benchmark their progress, identify the priority areas and share good practices.