RPSC RAS Pre 2021 Preparation Strategy
RAS Prelims 2021 Exam Preparation Strategy: Roughly, 8 days are left for the first leg of RAS Prelims exam 2021. The vastness of the syllabus, uncertainty of the question paper and the pressure of the 3-hour performance make the paper, unquestionably, arduous.
In this article, we will discuss RAS Prelims strategy, RAS various elimination techniques to score more marks and how not to get carried away with anything that does not help to clear the exam.
We have already covered the last 10 days' strategy to boost your preparation and enhance your marks in the RAS Prelims 2921 exam. Click on the link below to read more-
RPSC RAS Pre 2021 Preparation Strategy- Last 10 Days Strategy for Clearing RAS Prelims 2021
Elimination Techniques help you in arriving at the right answer in the exam even when you don't know the exact and complete answer to the question. Here, we have discussed five key elimination techniques which will help you secure at least 10-15 more marks in the RAS Prelims 2021 exam.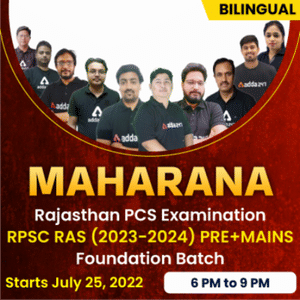 Things to Remember in RPSC RAS Pre 2021 Exam- Five Elimination Techniques
Eliminating from the Options

The first step in arriving at the right option in the preliminary exam is identifying the one sure shot correct or incorrect statement from the given statements.
This method applies to multi-statement questions.
Once you have identified the correct/incorrect statement/s, then try to look for options that exclude/include that statement (as per the demand of the question).
By applying this method, you are often left with only one option, which is often the right option.

50-50 Rule:

This method should be used by aspirants when s/he has arrived at two options after elimination.
So, in this case, the chances of getting the right option are 50-50. In this scenario, an aspirant must attempt the question by choosing one of the two options.

Extreme statements:

Aspirants should use this method to eliminate one of the options/statements from the given question.
After eliminating this statement, aspirants could often arrive at the right option.
Caution: This method should only be used when

Aspirants have already exploited other methods of elimination.
The question is from the social sector. For example, if a statement says that 'X scheme would eliminate hunger from India. This statement would be false.

Application-based questions from Science and Technology

When a question is asked about the application areas of a particular technology, often all options are right.
This is because new emerging technologies can be used in any sphere, if not today, but maybe in the future.
Due to this reason, RPSC often put only those application areas which already have been explored for that particular technology.

Trend based questions 

The economic questions which often ask for trends, especially for a decade, are often wrong statements.
This is because economic indicators often do not follow any particular trajectory over a decade or more.
For example, the rate of GDP growth may not always be positive for a decade or more for India.
Caution: RPSC may provide for exceptions to the trend in the statement itself. In that scenario, you must make an informed and intelligent choice based on your knowledge and not pure guess.
RPSC RAS Pre 2021 Preparation Strategy- Suggestions to boost your RAS Prelims 2021 Marks
Other key details about the RPSC RAS Pre 2021
RPSC RAS Exam 2021- Key Details
RPSC RAS Recruitment Notification 2021
Organization Name
Rajasthan Public Service Commission (RPSC)
Exam Name
RPSC RAS/RTS Combined Competitive Exam
Total Vacancies
988
Starting Date
28th July 2021
Closing Date
27th August 2021
Application Mode
Online
Category
Rajasthan Govt Jobs
Selection Process
Prelims-Mains-Interview
Job Location
Rajasthan
Official Site
@rpsc.rajasthan.gov.in
The table below gives all the necessary and relevant information regarding RPSC RAS Exam 2021 recruitment notification.
RPSC RAS Recruitment 2021 Exam Dates
All the important dates for RPSC RAS 2021 recruitment are given below:
| | |
| --- | --- |
| Events | RPSC RAS Exam Dates |
| RPSC RAS Notification Out | 20th July 2021 |
| Apply Online starting date | 28th July 2021 |
| Last date to apply online | 27th August 2021 |
| RPSC RAS Admit Card 2021 | To be released soon |
| RPSC RAS Exam date | 27th and 28th October 2021 |