Sanjay Gandhi National Park
Context
The Sanjay Gandhi National Park (SGNP) has invited citizens, corporates, and institutions to adopt animals such as lion, tiger, leopard, rusty-spotted cat, blue bull, barking deer, and spotted deer for up to one year upon paying a fee.
This scheme started in 2013 and has been approved by the Central Zoo Authority and till last year 20 animals have been adopted at a total charge of Rs 16.6 lakh annually.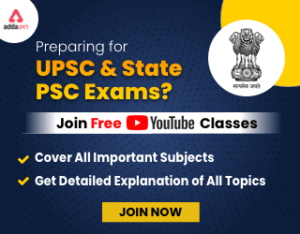 Get free video for UPSC CSE preparation and make your dream of becoming an IAS/IPS/IRS a reality
Key points about Sanjay Gandhi National Park
It is a protected area within the metropolis limit of Mumbai in Maharashtra.
It is part of the Western Ghats biodiversity, forming roughly 20 percent of Mumbai's geographical area.
It was formerly known as Borivali National Park.
Presence of two lakes named Vihar and Tulsi: they are places of immense natural beauty and also harbor a thriving population of mugger crocodiles and are throbbing with migratory birdlife throughout the year.
'Kanheri Caves': around 160 rock-cut caves are situated within the national park.

They are carved from basalt rock and date from the 1st century BCE to the 10th century CE.

Biodiversity

Flora: The Mauve flower is native to the park and the surrounding regions. Karvi or Karvy, a flowering plant that flowers once in seven/eight years, can be found in the park.
Fauna: Spotted Deer, solitary Sambhar, darting Barking Deer, Black-naped Hare, Leopards, Rhesus Macaque, etc. The Indian flying fox is the biggest of the 17 bat species found in the park.

There are a wide variety of reptiles including crocodiles and avifauna.
There is high biodiversity of butterflies including the blue Mormon.
National Commission for Protection of Child Rights (NCPCR): Constitution, Composition and Key Functions
EXERCISE INDRA-21
Context
12th Edition of Indo-Russia joint military Exercise INDRA 2021 will be held at Volgograd, Russia from 01 to 13 August
The exercise will entail the conduct of counter-terror operations under the United Nations mandate by a joint force against international terror groups.
Key points
The INDRA series of exercises began in 2003 and the first joint Tri-Services Exercise was conducted in The last joint, tri-services exercise between India and Russia was conducted in India in December 2019.
The exercise is conducted alternatively in India and Russia.
Significance:

Strengthen mutual trust and confidence between military forces and also between the two countries in general.
Enhanced interoperability: between the Indian & Russian Armies and enable sharing of best practices between the contingents of both the countries.
Promotes brotherhood and camaraderie between soldiers and militaries.
Other military exercises between India and Russia
Exercise Aviaindra: it is an Air Force level exercise between India and the Russian Federation. First Aviaindra was conducted in 2014.
Passage Exercise (PASSEX): It is a naval exercise that the Indian navy conducts with other friendly countries. In September 2020, India conducts PASSEX with Russia.

It is aimed at enhancing interoperability, improving understanding, and imbibing best practices from each other.
Recently, Navies of India and the U.K. participated in a two-day bilateral Passage Exercise (PASSEX) in the Bay of Bengal from July 21 to 22, 2021.
Microplastic Pollution: Severity of the Problem, Its Impacts and Suggestive Measures
Secured Logistics Document Exchange
Context
Ministry of Commerce & Industry has launched this initiative to further improve ease of doing business.
Key points
It is set to improve logistics efficiency, reduce logistics cost, and promote multi-modality and sustainability.
These digital initiatives have been launched to fill the gap areas where no action has yet been taken either by private players or any of the line ministries.
It will replace the present manual process of generation, exchange and compliance of logistics documents with a digitized, secure and seamless document exchange system.
It will enable the generation, storage, and interchange of logistics-related documents digitally using Aadhaar and blockchain-based security protocols for data security and authentication.
It will also provide a complete audit trail of document transfer, faster execution of the transaction, lower cost of shipping and overall carbon footprint, easy verification of the authenticity of documents, lowered risk of fraud, among other benefits.
Green House Gas Emission Calculator
Along with the above initiative, Green House Gas (GHG) Emission calculator was also launched.
It is an efficient, user-friendly tool and provides for calculating and comparing GHG emissions across different modes.
It allows for a commodity-wise comparison of GHG emissions and the total cost of transportation, including their environmental cost, between movement by road and rail.
Additional information
Ease of Doing Business and Logistics Performance index are released by the World Bank.
Wetland Ecosystem: Importance, Concerns and Conservation Measure
 Earth Overshoot Day
Context
According to the World Wide Fund for Nature (WWF), this day shifted back to 29th July this year, the same date as in 2019.
Key points
Earth Overshoot Day (EOD), calculated by the Global Footprint Network (GFN), marks the date when humanity's demand for ecological resources and services in a given year exceeds what Earth can regenerate in that year.
In 2020, this day took place later in the year, on 22 August.
GFN says that humanity's "ecological footprint" has increased by 6.6 per cent over the last year due to easing of COVID restrictions.
Humanity currently uses 74 per cent more resources than what the planet's ecosystems can regenerate each year — or 7 Earths.
Ecological Deficit: From 29 July until the end of the 2021, the global economy will be operating in an "ecological deficit".
Global forest biocapacity has decreased by 0.5% since 2020, due to spike in deforestation of the Amazon rainforest.
This year EOD highlighted that the wealthy countries are exhausting much more ecological resources than the less developing countries. For example- if the world's population lived like the US, EOD would fall on 14 March. It, however, would be 18 December, if humanity lived like the people of Indonesia.
Additional information
Global Footprint Network: It is an international research organisation that observes humanity's use of natural materials.
The 26th COP (Conference Of Parties) of UNFCC (United Nations Framework for Climate Change) will be held in Glasgow, Scotland in November this year.