Making Water Sensitive Cities in Ganga Basin
Context
It is a new capacity-building initiative to improve river health/flow.
It is launched by National Mission for Clean Ganga (NMCG) in association with Centre for Science and Environment (CSE).
Key points
The key focus areas of the programme will be to develop Water Sensitive Urban Design and Planning, Urban Water Efficiency and Conservation, Decentralized Wastewater Treatment and Local Reuse, Urban Groundwater Management and Urban Waterbodies / Lake Management.
There will be more than 40 training programs supported with development of learning material/ practitioner's guides and spread over a period of 3 years.
It is launched because there is a need for respecting traditions and focusing on the basics of water cycle in urban areas.
In urban areas the need is of protecting, conserving and restoring ecosystem and not just pollution abatement.
There is a huge need for public spaces in urban spaces. River fronts can be a boon in such situation as it connects community with water bodies in cities.
"River Cities Alliance" need to be developed that will provide a unique platform for river cities to collaborate for collectively achieving river rejuvenation through sustainable development and capacity building.
Additional information
Water Sensitive Urban Design and Planning (WSUDP) is an emerging urban development paradigm aimed to minimize hydrological impacts of urban development on environment.
NMCG is the implementing agency of Namami Ganga Programme

It is the implementation wing of National Ganga River Basin Authority (NGRBA). It is a registered society originally formed by Ministry of Environment, Forests and Climate Change (MoEFCC) in 2011, under the Societies Registration Act, 1860.
At present it comes under Ministry of Jal Shakti.

Catch the Rain Campaign: read more about this- Important Prelims Articles – 6 July 2021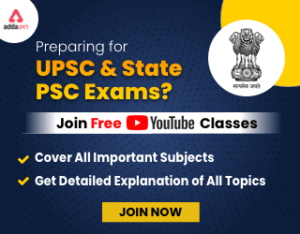 Get free video for UPSC CSE preparation and make your dream of becoming an IAS/IPS/IRS a reality
Russian 'Nauka' Module
Context
Russia is sending its biggest space laboratory, 'Nauka', to the International Space Station (ISS).
Key points
'Nauka' means science in Russian. It will replace Pirs, which was recently detached from the ISS.
It will serve as the country's main research facility on the space station.
Additional information
ISS: It is a collaborative effort between five participating space agencies: NASA (United States), Roscosmos (Russia), JAXA (Japan), ESA (Europe) and CSA (Canada).

It is a low-earth orbit space station, launched in 1998.
It serves as a microgravity and space environment research laboratory where crew members conduct experiments in human biology, physics, astronomy, meteorology, among other fields.

China is set to complete its permanent space station, Tiangong station, by the end of 2022.
Russia, on the other hand, is planning to launch its own launch satellite by 2025.
India, in 2019, announced that it will not be a part of ISS and instead will set up its own small module space station.

The proposed space station will be developed in 5-7 years' time frame.
Prelims Specific Articles- 28 July 2021
Human Rights Watch
Context
Recently, Human Rights Watch accused the Israeli military of committing war crimes in Gaza during an 11-day war in May 2021 against the Hamas militant group.
The international human rights organization issued its conclusions after investigating three Israeli airstrikes that it said killed 62 Palestinian civilians.
Key points
About Human Rights Watch (HRW): it is an international non-governmental organization, headquartered in New York City.
It was founded in 1978 as "Helsinki Watch,".
HRW in 1997 shared in the Nobel Peace Prize as a founding member of the International Campaign to Ban Landmines, and it played a leading role in the 2008 treaty banning cluster munitions.
Functions:

The group conducts research and advocacy on human rights.
HRW investigates and reports on human rights abuses happening in all corners of the world.
The group pressures governments, policymakers, companies, and individual human rights abusers to denounce abuse and respect human rights.
It coordinates with governments, the United Nations, rebel groups, corporations, and others to see that policy is changed, laws are enforced, and justice is served.
The group often works on behalf of refugees, children, migrants, and political prisoners
 Dholavira: A City of Harappan Civilization
Vultures in India
Context
A recent study of the population of vultures in the Sigur plateau has found that the population of all four resident vulture species has seemingly been on the rise over the past few years.

White-rumped vultures were the most frequently recorded, followed by the populations of long-billed vultures, Asian king vultures and Egyptian vultures using the landscape was increasing.
Key facts
Vultures in India: Out of 23 species of vultures in the world, India is home to 9 species of Vulture namely the Oriental white-backed, Long-billed, Slender-billed, Himalayan, Red-headed, Egyptian, Bearded, Cinereous and the Eurasian Griffon.
Conservation status as per IUCN red list of threatened species

Critically endangered: Oriental white-backed vultures, Slender-billed vultures, Long-billed vultures, Red-headed vultures
Endangered: Egyptian Vultures
Near threatened: Himalayan Vultures, Bearded Vultures, Cinereous Vultures
Least Concerned: Indian Griffon Vultures

Wildlife Protection Act 1972:

Schedule-1: Bearded vultures, Long-billed vultures, Slender-billed vultures, Oriental white-backed vultures.
Schedule IV: Egyptian Vultures, Red-headed vultures, Himalayan Vultures, Cinereous Vultures, Indian Griffon Vultures.

Threats to their survival

Increasing anthropogenic activities leading to the loss of natural habitats.
Widespread use of Diclofenac as medicine for livestock. Vultures consuming carcasses of the livestock, get exposed to Diclofenac which has been found to cause kidney failure in vultures.
Food Dearth and Contaminated Food.
Electrocution by Power lines.