Hepatitis Disease
Context
World Hepatitis Day is observed each year on 28th July to enhance awareness of viral hepatitis.

The theme of World Hepatitis Day 2021 is 'Hepatitis Can't Wait'.
Key points
Hepatitis: it refers to any inflammation of the liver — the irritation or swelling of the liver cells from any cause. It disturbs various metabolic processes such as bile production, excretion, fat and protein metabolism, activation of enzymes, and synthesis of proteins.

Recently, an automated coronavirus testing device named 'COBAS 6800' was launched which can also detect viral Hepatitis B & C, among others.

Causes:

Viral causes: caused by a group of viruses known as the "hepatotropic" viruses, including A, B, C, D, and E.
Other causes: cab be caused by drugs and alcohol abuse, fatty liver hepatitis, or an autoimmune process in which a person's body makes antibodies that attack the liver (autoimmune hepatitis).
Covid-19 virus SARS-CoV-2 has also been found to injure the liver.

Types: there are five types- Hepatitis A, Hepatitis B, Hepatitis C, Hepatitis D, Hepatitis E.

Hepatitis A-

Symptoms include vomiting, nausea, fever, severe abdominal pain, jaundice, weakness, and these symptoms might last longer than eight weeks.
Treatment: Hepatitis A is a self-limiting disease and requires no specific antiviral medications.

Hepatitis B:

Symptoms: include abdominal pain, fatigue, and jaundice. Symptoms do not show up until one to six months.
Treatment: effective medications are available. Hepatitis B Vaccine could be done for both adults and children as a preventive measure. Hepatitis B vaccination is included under India's Universal Immunization Program (UIP).

Hepatitis C:

Symptoms: loss of appetite, tiredness, frequently occurring fever, yellowing of your skin or eyes, joint pain, abnormalities in urine, and abdominal pain.
Treatment: like Hepatitis B, effective medications are available for its treatment.

Hepatitis D: caused by a virus Hepatitis D. It spreads from infected blood or wound. Sometimes it might occur in conjunction with Hepatitis B. So, its symptoms and treatment are similar to Hepatitis D/B as the case may be.
Hepatitis E: They are self-limiting diseases (go away on their own) and require no specific antiviral medications.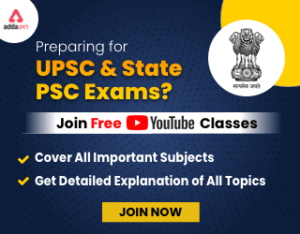 Get free video for UPSC CSE preparation and make your dream of becoming an IAS/IPS/IRS a reality
'Drink From Tap' Mission
Context
Odisha's Puri, the holy land of Lord Jagannatha, became the first city in India where people can avail high-quality drinking water directly from the tap on a 24-hour basis.

This feat was achieved under the Odisha government's 'Drink From Tap' mission.
Key points
Coverage: The initiative is set to provide drinking water to every household in Odisha across all 114 urban local bodies, with an inclusive mandate covering all slum households.
Quality potable water: provide water supply adhering to "Quality Standards of IS 10500" and will benefit the city's 2.5- lakh population and 2 crore tourists who visit the holy place annually.
Reduce plastic waste: the provision of safe drinking water will help prevent the use of three crore plastic bottles and reducing the state's carbon footprint.
Participation of Self-Help Groups (SHGs): underprivileged women from self-help groups who are designated as 'Jalsaathis' have been hired and trained for meter reading, revenue collection, conducting field water quality tests, and sensitizing people.
Display of Real-time water quality: at public places by way of LCD screens to ensure public confidence and a mass shift from bottled water to tap water.
Wetland Ecosystem: Importance, Concerns and Conservation Measure
Agarwood
Context
The Tripura government has approved the 'Tripura Agarwood Policy, 2021' to promote agarwood business in the state with an aim to develop a Rs 2000 crore economy in the state within 2025.
Key points
The project's worth is Rs 100 crore, and has been undertaken as part of the 'Atmanirbhar Bharat' and 'Vocal for Local' initiatives of the Centre.
It has received the necessary clearance from the Union Ministry of Environment, Forest, and Climate Change.
Steps has been taken to legalize marketing of agarwoods and oil used as chips and in perfume industries respectively in the gulf countries.
The government has stated that Agarwood species have a huge potential of creating an Economic Revolution in Tripura.
Additional information
Aquilaria malaccensis or Agar Tree is a substratum of economic prosperity in the North-Eastern region in India, besides being an aromatic plant.
Agarwood is an economically important and fast-growing evergreen tree species native to North East India.
Apart from India, the Agar tree's distribution ranges from the foothills of the Himalayas to Papua New Guinea.
It is the most expensive raw material in the world.
Agarwood oil is also known as liquid gold.
The Editorial Analysis: An emigration Bill that does not go far enough
National Research Foundation
Context
Recently, the Government proposes to set up a National Research Foundation (NRF) to strengthen the research ecosystem in the country.
Key points
NRF is being envisaged as an umbrella structure that will improve linkages between R&D, academia and industry.
The total proposed outlay of NRF is Rs 50,000 crore over a period of five years.
One of its main objectives is to seed, grow and facilitate research at academic institutions, particularly at universities and colleges, where research capacity is currently in a nascent stage.
It will also fund and support high-impact, large-scale, multi-investigator, multi-institution and, in some cases, interdisciplinary or multi-nation projects in collaboration with relevant Ministries, Departments, and other Governmental and non-Governmental entities, especially industry.
Prelims Specific Articles- 27 July 2021
Additional information
NRF is envisaged under National Education Policy 2020.
NEP 2020: It is the 3rd NEP, the other two were launched in 1968 and 1986.

It proposes a 5+3+3+4 model of the school system.
It proposes a universal foundational literacy by 2025.
It proposes a Higher Education Commission of India (HECI), which would be mandated to regulate the educational institutions of the country.
It proposes a 100% Gross Enrolment Ratio in preschool to secondary by 2030.