'Karmayogi Yojana' or 'Mission Karmayogi' is approved by the Government of India on 2 September, 2020 (Wednesday) for skill development of civil servants. It is a unique programme that will lay the foundation for civil servants in the country.
According to C.Chandramouli, Secretary, Department of Personnel and Training, Mission Karmayogi will help build a future-ready Civil Service. Further, he told that it will be open to all government employees, to equip them with a domain, functional and behavioural competencies. He said that the Prime Minister's HR Council will be the apex body to provide direction to these capacity-building reforms.
UPSC (CSE) Prelims Admit Card 2020 Released: Download Admit Card @upsconline.nic.in
What is the aim of the 'Mission Karmayogi'?
It will focus on individual (civil servants) and institutional capacity building. Or we can say that its aim is to lay the foundation for capacity building of civil servants so that they remain entrenched in Indian culture while they learn from best practices across the world.
According to the Union Minister Prakash Javadekar, "Mission Karmayogi' objective is to prepare Indian civil servants for future by making them more creative, constructive, imaginative, innovative, proactive, professional, progressive, energetic, enabling, transparent and technology-enabled."
Karmayogi scheme will be the biggest Human Resource development programme of the government.
Daily Gist of 'The Hindu', 'PIB', 'Indian Express' and Other Newspapers: 2 September, 2020
What is the institutional framework of the Scheme?
The institutional framework will consist of Prime Minister's Public Human Resources (HR) Council, Capacity Building Commission, Special Purpose Vehicle for owning and operating the digital assets and the technological platform for online training, and Coordination Unit headed by the Cabinet Secretary.
The Public Human Resources Council will consist of select Union Ministers, Chief Ministers, eminent public HR practitioners, thinkers, global thought leaders and Public Service functionaries that will serve as the apex body. It will provide strategic direction to the task of Civil Services Reform and capacity building.
To ensure a uniform approach in managing and regulating the capacity building ecosystem on a collaborative and co-sharing basis, the Capacity Building Commission has been proposed.
What will be the total expenditure incurred under the scheme?
The Scheme will cover around 46 lakh, Central employees. For over a period of five years that is from 2020-21 to 2024-25, a sum of Rs. 510.86 crore will be spent. The expenditure is partly funded by multilateral assistance to the tune of USD 50 million.
A Special Purpose Vehicle (SPV) that will be wholly owned will be set up. It will create and operationalise the content, market place and manage key business services of the iGOT-Karmayogi platform.
IAS Prelims Mock-Test 2020 – Set 9, 2 September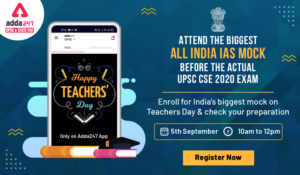 Register: Adda247 All India UPSC Free Prelims Mock On Teachers Day