Relevance
GS Paper 2: Governance, Administration and Challenge- Government policies and interventions for development in various sectors and issues arising out of their design and implementation.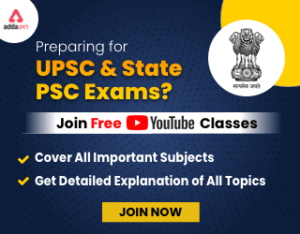 Get free video for UPSC CSE preparation and make your dream of becoming an IAS/IPS/IRS a reality
Context
Recently, the Information Technology (Intermediary Guidelines and Digital Media Ethics Code) Rules, 2021, came into effect.

It will supersede the earlier Information Technology (Intermediary Guidelines) Rules 2011.
These rules have been prepared by the Ministry of Electronics and Information Technology (MEITY).

The central government has formed these rules under section 87 (2) of the Information Technology Act, 2000.
Key guidelines Related to Social Media Platforms:
Implementation: to be Administered by the Ministry of Electronics and IT.
Mandatory Due diligence: to be followed by intermediaries, including social media intermediaries. In case, due diligence is not followed by the intermediary, safe harbour provisions will not apply to them.

Safe harbour provision under section 79 of IT act 2000: It says any intermediary shall not be held legally or otherwise liable for any third-party information, data, or communication link made available or hosted on its platform.

Mandatory Grievance redressal mechanism: appointment of Grievance Redressal Officer (GRO) by intermediaries for receiving and resolving complaints from the users or victims.

GRO shall acknowledge the complaint within twenty-four hours and resolve it within fifteen days from its receipt.

Ensuring online safety and dignity (especially of women) users: Intermediaries are directed to remove or disable access within 24 hours of receipt of complaints of sexual contents.

Such a complaint can be filed either by the individual or by any other person on his/her behalf.

Categorization of social media intermediaries in two categories: to encourage innovations and enable the growth of new social media intermediaries by reducing their compliance requirement.
Social media intermediaries and
Significant social media intermediaries
The government is empowered to notify the threshold of the user base that will distinguish between social media intermediaries and significant social media intermediaries.

Additional compliance mechanism for Significant social media intermediaries: they are mandated to

Appoint a Chief Compliance Officer (responsible for ensuring compliance with the Act and Rules) and a Nodal Contact Person for 24×7 coordination with law enforcement agencies. Both shall be a resident in India.
Publish a monthly compliance report: mentioning the details of complaints received and action taken on the complaints as well as details of contents removed proactively.
Identification of the first originator of the information (by messaging service providers): would be required in case of an offence related to the sovereignty and integrity of India.
Mandatory physical contact address in India published on its website or mobile app or both.
Voluntary User Verification Mechanism: to be provided to users who wish to verify their account.
The appropriate mechanism to be provided to users to contradict removal/disablement of their content by the significant social media intermediaries.

Removal of Unlawful Information/fake news: by the intermediaries after receiving the actual knowledge in the form of a court order or by an authorized government officer.
Important Prelims Articles – 13 July 2021
Issues associated with the rules concerning social media intermediaries
Depriving intermediaries of their right to be heard in case of disagreement: as intermediaries are expected to take down content within 36 hours upon receiving orders from the Government.
Violates right to free speech and expression: which is a fundamental right under Article 19 of the constitution as these rules fix the Government as the ultimate adjudicator of objectionable speech online.
Issues with traceability of originator of the information: previously, end-to-end encryption of user content and messages resulted in lack of access to intermediaries, hence, immunity from government dictate to provide access to these contents.

Violates right to privacy: by imposing a mandatory requirement of traceability, which will break this immunity, thereby weakening the security of the privacy of these conversations.

Lack of legal protection for privacy: as the country does not have a dedicated privacy law, which may result in unhindered violation of citizens privacy under the guise of these rules.
Excessive compliance burden: especially on the small and new platforms may hinder innovation and growth of new players in this space.
Way forward
Accommodating the differences: by ensuring participation of and deliberation with all the concerned stakeholders while forming the rules.
Strengthening the privacy infrastructure in the country: by enacting a comprehensive data security law. In this context, there is a need to expedite the passing of the personal data protection bill, 2019.
Providing statutory backing: by widely debating and deliberating the issue with experts and stakeholders and putting it on the parliamentary platform for its legislative scrutiny. This will also enhance its acceptability among all stakeholders in particular and people in general.