WHAT IS INFLATION?
The Penguin Dictionary of Economics defines inflation as a persistent increase in the general level of prices. It can be seen as a devaluing of the worth of money. A crucial feature of inflation is that the price rise is sustained. In other words, inflation refers to the rise in the prices of most goods and services of daily or common use, such as food, clothing, housing, transport, consumer staples, and so on.
Inflation determines the average price change in a basket of commodities and services over time. It is indicative of the decrease in the purchasing power of a unit of a country's currency. This is measured in percentage.
UPSC (CSE) Prelims Admit Card 2020 Released: Download Admit Card @upsconline.nic.in
CAUSES OF INFLATION
Accounts of causes of inflation are numerous. The most used arguments are that it is caused by excess demand in the economy i.e., demand-pull inflation. It is caused by high costs i.e., cost-push inflation and that it results from excessive increases in the money supply (monetarism). These causes often amount to the same thing. The mechanism by which the increase in money supply causes inflation is by creating excess demand, making monetarism compatible with the demand-pull argument. The demand-pull and cost pull theories are also linked. An excess of demand causes producers to raise their prices, but this lead workers to demand higher wages to maintain their living standard. This causes higher demand and process begins again. Similarly, if under the cost-push argument the cost increases stimulating price rises are wage costs, which represents most of the total net costs of the economy, firms can still only raise their prices if the demand is there for their goods to sell i.e. if not, high costs merely bankrupt them.
All three of these causes amount to an attempt by a nation to live beyond its means or to enjoy a living standard higher than that allowed by its output and borrowing. This implies that inflation can rarely be cured by a measure which does not suppress attempts at maintaining high living standards and explains why the reduction of inflation is associated with austerity measures.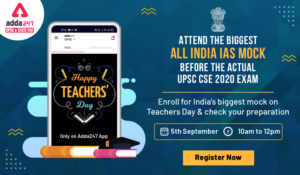 Register: Adda247 All India UPSC Free Prelims Mock On Teachers Day
NATURE OF INFLATION IN INDIA
In India, inflation is due to both cost-push and demand-pull factors. For example, the high increase in vegetable prices is an instance of demand-pull inflation, when the storage of vegetables in the markets takes the prices to new heights. Also, prices go up whenever there is a hike in petroleum products is due to the cost-push factor. This is so because petroleum is an important component in many manufactured items, and as essential fuel for road transport, it adds to the transportation costs, so prices, in general, tend to rise.
The main demand-pull factors are; mounting government expenditure, deficit financing and increase in money supply, the role of black money, and rapid growth in population. Whereas the main cost-push factors are; fluctuations in output and supply, taxation, administered price, and hike in oil price.
Government measures to check the undue and untimely rise in price levels have been two levels i.e., demand management and supply management.
The demand management suggests putting a check on demand of the public for goods and services. To control the demand the government has two options:
a. Monetary policies: it would include cash reserve ratio (CRR) and statutory liquidity ratio (SLR) to control the money supply in the economy.
b. Fiscal policies: it would include a reduction in government expenditure and increase taxes.
The supply management implies controlling the volume of supply of goods and their distribution system. The government uses fixation of maximum prices, system of dual prices, maintenance of buffer stocks, special measures for the production of oilseeds and edible oils, setting up of public distribution system (PDS), control over private trade in foodgrains, and adoption of open general.
WHO MEASURES INFLATION IN INDIA?
The Ministry of Statistics and Programme Implementation measures the inflation in India. As we know that inflation is measured by a central government authority, which is in charge of adopting measures to ensure the smooth running of the economy.
National Recruitment Agency (NRA): Salient Features, Advantages and Key Facts
Election Commission of India: Composition, Role, Tenure, Power and Function