Catch the Rain Campaign
Context
Odisha has come up with more than 10,000 rainwater harvesting structures (RWHS) to facilitate water conservation and groundwater recharge before the onset of the south­west monsoon.
These were created under the 'Catch the Rain" campaign.
Key points
"Catch the Rain" campaign: a nationwide campaign by the National Water Mission (NWM) Ministry of Jal Shakti.

Focus: on saving and conserving rainwater in the pre-monsoon and monsoon periods of 2021, covering both urban and rural areas of all the districts in the country.
Tagline: "Catch the rain, where it falls, when it falls".
Aim: to nudge the states and all stakeholders to create RWHS suitable to the climatic conditions and sub-soil strata, with people's active participation.
Awareness campaign: in collaboration with the "Nehru Yuva Kendra Sangathan" (NYKS), Ministry of Youth Affairs and Sports involving youth clubs.
Miscellaneous
Water is a state subject under the seventh schedule of the constitution: Hence, the Central government provides only technical and financial assistance to states through various schemes and programs.
Composite Water Management Index (CWMI) report: released by the NITI Aayog since 2018.

The second edition (2019) ranked all states in the index on the composite water management, comprising 9 broad sectors with 28 different indicators.
Technology in Agriculture: India Digital Ecosystem of Agriculture (IDEA)
Crocodile Conservation
Context
194 crocodiles have been relocated from the Panchmuli lake near the Statue of Unity, Gujarat, in the last two years for the safety of tourists who come to enjoy boat rides there.
About Crocodiles:
three species of crocodiles are found in India.
Gharial:
Habitat: mostly found in freshwater. In India, the Chambal river of the Vindhya mountains (Madhya Pradesh) is considered the primary habitat. They are also found in rivers like ghagra, Gandaki, Girwa, Ramganga, and the Sone.
Threats: Illegal sand mining, poaching, increased river pollution, dam construction, etc.
Protection status:

IUCN List of Threatened Species: Critically Endangered
CITES: Appendix I
Wildlife Protection Act, 1972: Schedule I
Mugger or Marsh Crocodile:
Habitat: can be found in both freshwater habitats (like rivers, lakes, and marshes) and saltwater habitats (like coastal saltwater lagoons and estuaries).
Threats: Habitat destruction, fishing activities, and use of crocodile parts for medicinal purposes. It is already extinct in Bhutan and Myanmar.
Protection status:

IUCN List of Threatened Species: Vulnerable
CITES: Appendix I
Wildlife Protection Act, 1972: Schedule I
Estuarine or Saltwater Crocodile:
Habitat:

India: Odisha's Bhitarkanika National Park, the Sundarbans in West Bengal and the Andamans and Nicobar Islands.
Globally: found across Southeast Asia and northern Australia.

Threats: Illegal hunting, habitat loss, and antipathy toward the species (as it is considered as man-eater).
Protection status:

IUCN List of Threatened Species: Least Concern
CITES: Appendix I (except the populations of Australia, Indonesia, and Papua New Guinea, which are included in Appendix II).
Wildlife Protection Act, 1972: Schedule I
NIPUN Bharat Programme
Context
The Ministry of Education has launched NIPUN Bharat Programme to cover the learning needs of children belonging to the age group of 3-9 years.
Key Points
National Initiative for Proficiency in Reading with Understanding and Numeracy (NIPUN Bharat), aims at ensuring that every child attains foundational literacy and numeracy by the end of Grade 3, by 2026-27.
The program is expected to transform learning at the foundational level and make it Holistic, Integrated, Inclusive, Enjoyable, and Engaging.
It has been launched under Samagra Siksha Scheme, a centrally sponsored scheme.
Miscellaneous
Samagra Siksha Abhiyan

It was launched in Union Budget 2018-19
It aims to treat education holistically, without segmentation, from pre-nursery to Class 12.
It subsumes three schemes, namely, Sarva Siksha Abhiyan (SSA), Rashtriya Madhyamik Shiksha Abhiyan (RMSA), and Teacher Education (TE).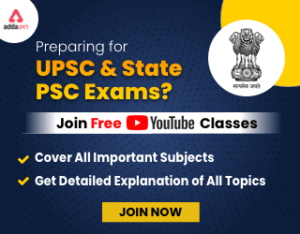 Get free video for UPSC CSE preparation and make your dream of becoming an IAS/IPS/IRS a reality
Harit Dhara and Tamarin Plus
Context
ICAR (Indian Council of Education and Research) has launched Harit Dhara and Tamarin Plus—anti-methanogenic feed supplements for livestock.
Key Points
It could reduce methane emissions by 20% when mixed with livestock feed.
It is expected to overcome production inefficiency, thus leading to higher milk yield, and stabilize global warming.
Miscellaneous
Methane is a Green-House Gas (GHG) and its global warming potential is 25 times more than Carbon Dioxide over 100 years.
ICAR

Earlier known as the Imperial Council of Agricultural Research, it was established in 1929 as a society registered under the Societies Registration Act, 1860.
It reports to the Department of Agricultural Research and Education, Ministry of Agriculture and Farmer Welfare.
Union Agriculture Minister is its ex-officio president.
Headquarter: New Delhi
It is the apex body responsible for agriculture education and research, and farm extension.
It acts as a nodal agency for Krishi Vigyan Kendras.