Akash missile
Context
Recently, a new generation of Akash (Aakash-NG) surface-­to-­air missile was successfully flight­ tested by the DRDO from an integrated test range off the Odisha coast in a boost to air defence capabilities.
The new variant of the Akash missile (Akash­-NG) has a slightly better range compared to the original version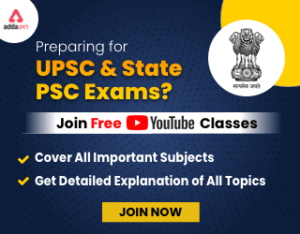 Get free video for UPSC CSE preparation and make your dream of becoming an IAS/IPS/IRS a reality
Key points
About Aakash Missile

It is India's first indigenously produced medium-range Surface to Air missile that can engage multiple targets from multiple directions.
It can engage targets at a speed 2.5 times more than the speed of sound and reach a high altitude of 18 km and as low as 30 meters.
It has been designed and developed by DRDO as part of India's Integrated guided-missile development program (IGMDP) which also includes other missiles like Nag, Agni, Trishul, and Prithvi.
It can be fired from both tracked and wheeled platforms.
It is designed to intercept enemy aircraft and missiles from a distance of 18 to 30 km.
It has a strike range of 25 km and the capability to carry a warhead of 60 kilograms.
Rainwater harvesting: Countering Water Scarcity
Additional Information
Integrated Guided-Missile Development Programme (IGMDP): Started in 1982-83 and completed in 2008.

It was an Indian Ministry of Defence's program for the research and development of a comprehensive range of missiles. It is managed by the DRDO.
It was the brainchild of renowned scientist and late former President of India APJ Abdul Kalam.
 Important Prelims Articles- 21st July 2021
National Gallery of Modern Art (NGMA)
Context
The union government is planning to renovate and reorganize the National Gallery of Modern Art (NGMA) as a part of the commemoration of the 75th Independence Day next year (which is to be celebrated as Azadi ka Amrit Mahotsav).
Key points
It was instituted in 1954, at the Jaipur House, New Delhi.
It is run and administered as a subordinate office to the Ministry of Culture, Government of India.
The main museum in New Delhi was established in 1954 by the Government of India, with subsequent branches at Mumbai and Bangalore.
Aim:

To acquire and preserve works of modern art from the 1850s onwards and to present it to a global audience which will create an understanding and sensitivity towards a time that helped shape contemporary art in India.
The institution is also committed to promoting contemporary Indian art in its various forms.
To ensure collaborations and partnerships both at the national and international platform and to present Indian art and artists to a wider global audience.

In 2020, NGMA organized online NAIMISHA 2020- Summer Art, to reach its audiences during the Covid-19 outbreak.

NAIMISHA 2020 is an initiative to provide a chance to participants and art enthusiasts to create and learn from practicing artists.

So'ham: It is the first cultural media platform of India, under the banner of NGMA. It aims to develop a dialogue between NGMA, artists, and art enthusiasts.

Vedic philosophy of So'ham: stands for one's identity and its connection to the universe.
 Financial Action Task Force (FATF): Composition, Functions, and Its Fight against Terror Financing
New Shephard Rocket
Context
Amazon CEO, Jeff Bezos, went on a short journey to space in his Blue Origin rocket ship, New Shephard.
Key points
Within few minutes, the astronauts crossed the Karman line—the internationally recognized space boundary from the earth.
The capsule touched back down after the 10-minute, 10-second
What is New Shephard?
It is a rocket system built by Blue Origin to promote space tourism.
It is named after Alan Shephard, the first American astronaut to reach space.
It can cover a distance of over 100 km above the Earth and can accommodate payloads too.
It is a fully reusable system with vertical take-off and vertical landing space vehicles.
The capsule can hold a maximum of six people.
Air brakes deploy on the descent to reduce speed by half.
Significance of the mission
This sub-orbital mission aims to promote space tourism.
The ultimate objective is to take all heavy industry, all polluting industry, and move it into space, and keep Earth pollution-free.
It is also meant for purposes like academic research, corporate technology development, entrepreneurial ventures
Hypersonic Technology Demonstrator Vehicle (HSTDV): Explained
Green Hydrogen Plant
Context
Indian Oil Corporation (IOC) is setting up India's first 'Green Hydrogen' plant at Mathura, UP, to cater to the growing demand for clean forms of energy.
Key points
This plant will be India's first Green Hydrogen plant. Earlier projects were to produce green hydrogen from fossil fuels like natural gas.
Though hydrogen, in itself, is a clean fuel, manufacturing it is energy-intensive and has carbon by-products.
Different hydrogen fuels

Brown hydrogen is created through coal gasification while the process of producing grey hydrogen throws off carbon waste.
Blue hydrogen uses carbon capture and storage for the greenhouse gases produced in the creation of grey hydrogen.
Green hydrogen production – the ultimate clean hydrogen resource – uses renewable energy to create hydrogen fuel.

Green hydrogen will replace carbon-emitting fuels that are used in the Mathura refinery to process crude oil into value-added products such as petrol and diesel.
Forecasts by various agencies see Indian fuel demand climbing to 400-450 million tonnes by 2040.
This gives enough space for all forms of energy to co-exist. The demand growth makes it imperative to pursue refining expansion as well as expand footprint in compressed natural gas, LNG, biodiesel, and ethanol.