To clear the UPSC CSE 2021 exam, aspirants must be very strong in their fundamentals along with the current affairs. Adda247 has taken an important step to help all CSE aspirants by providing them daily quizzes on App. Now aspirants will get free quizzes to practice along with analysis of The Hindu, PIB, etc.
1. Which of the following statements is not true about Polar Vortex?
(a) It is described as a whirling cone of low pressure over the poles that is strongest in the winter months due to the increased temperature contrast between the polar regions and the mid-latitudes, such as the US and Europe.
(b) The polar vortex spins in the troposphere.
(c) Usually, when the vortex is strongest, cold air is less likely to plunge deep into North America or Europe. In other words, it forms a wall that protects the mid-latitudes from cold Arctic air.
(d) The warming weakens the polar vortex, shifting its location somewhat south of the pole or, in some instances, 'splitting' the vortex up into 'sister vortices'.
UPSC 2021 Online Coaching Classes | Bilingual GS Foundation Batch
2. Consider the following statements.
1. Article 14 of the Constitution of India states the state shall not deny to any person equality before the law or the equal protection of the laws within the territory of India.
2. Article 21 of the Constitution of India states no person shall be deprived of his life or personal liberty except according to the procedure established by law.
Choose the correct option:
(a) Only 1
(b) Only 2
(c) Both 1 and 2
(d) Neither 1 nor 2
IAS Prelims Mock-Test 2021 – Set 90, 14 January
3. Tsar Icicle is recently in news. Where is it located?
(a) Russia
(b) China
(c) Kyrgyzstan
(d) Belarus
4. The Union Cabinet recently approved a Memorandum of Understanding for Scientific and Technical Cooperation with which among the following countries?
(a) Russia
(b) US
(c) Saudi Arabia
(d) UAE
IAS Prelims Mock-Test 2021 – Set 89, 12 January
5. Consider the following statements regarding the Kayakalp Awards.
1. The Kayakalp Awards are presented by the Ministry of Health and Family Welfare annually to the health facilities with the highest standards of sanitation and hygiene.
2. The Jawaharlal Nehru Institute of Postgraduate Medical Education and Research (JIPMER) was awarded the second prize under the Kayakalp Awards scheme.
Choose the correct option:
(a) Only 1
(b) Only 2
(c) Both 1 and 2
(d) Neither 1 nor 2
IAS Prelims Mock-Test 2021 – Set 88, 11 January
6. Which of the following are the neighbouring countries of Venezuela?
1. Brazil
2. Ecuador
3. Guyana
4. Columbia
Options:
(a) 1, 3 and 4 only
(b) 2, 3 and 4 only
(c) 1, 2 and 4 only
(d) 1, 2 and 3 only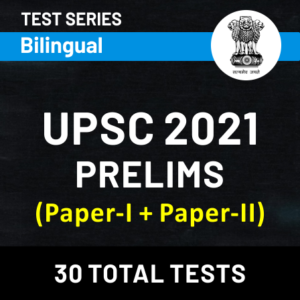 Aiming for UPSC CSE 2021? Get the best test series for sure selection: Click Here
7. Akbar Padamsee, who passed away, was a/an-
(a) Sportsperson
(b) Artist
(c) Politician
(d) Writer
IAS Prelims Mock-Test 2021 – Set 87, 9 January
8. In the 'Henly Passport Index 2020' what is the rank of Indian passport in the released?
(a) 84
(b) 85
(c) 86
(d) 87
9. Consider the following statements regarding the Pradhan Mantri Fasal Bima Yojana and choose the correct answer from given options.
1. It was launched in 2016.
2. Merged schemes include the National Agricultural Insurance Scheme (NAIS) and the Modified National Agricultural Insurance Scheme (MNAIS).
3. It aims to reduce the premium burden on farmers and ensure early settlement of crop assurance claim for the full insured sum.
Options:
(a) 1 and 3 only
(b) 2 only
(c) 1 only
(d) 1, 2 and 3
IAS Prelims Mock-Test 2021 – Set 86, 8 January
10. Consider the following statements and choose the correct option.
1. Women will be inducted as pilots in the Army Aviation Corps from next year, Indian Army Chief General Manoj Mukund Naravane said on January 12, 2021.
2. Till now, women are only part of ground duties in the Army Aviation Corps (AAC).
3. The Indian Army raised the AAC on November 1, 1986, and it comprises helicopters that fly in conflict and peace zones.
(a) 1 and 3 only
(b) 1 and 2 only
(c) 3 only
(d) 1, 2 and 3
Ans. 1(b), 2(c), 3(a), 4(d), 5(c), 6(a), 7(b), 8(a), 9(d), 10(d)
Daily Gist of 'The Hindu', 'PIB', 'Indian Express' and Other Newspapers: 15 January, 2021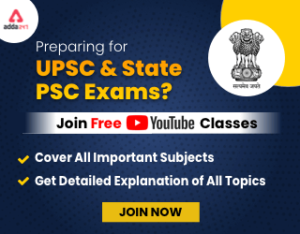 Join UPSC & State PSC Channel ? Click Here