To clear the UPSC CSE 2021 exam, aspirants must be very strong in their fundamentals along with the current affairs. Adda247 has taken an important step to help all CSE aspirants by providing them daily quizzes on App. Now aspirants will get free quizzes to practice along with analysis of The Hindu, PIB, etc.
1. Consider the following statements regarding The Citizenship (Amendment) Act, 2019.
1. The objective of the CAA is to grant Indian citizenship to persecuted minorities-Hindu, Sikh, Jain, Buddhist, Parsi, and Christian- from Pakistan, Bangladesh, and Afghanistan.
2. Those from these communities who had come to India till December 31, 2014, facing religious persecution in their respective countries, will not be treated as illegal immigrants but given Indian citizenship.
3. The Act provides that the central government may cancel the registration of OCIs on certain grounds.
Choose the correct answer from the given options.
(a) 1 and 3
(b) 3 only
(c) 2 and 3
(d) 1, 2 and 3
2. Consider the following statements regarding the G7 meeting.
1. The leaders of seven nations named; the U.S., Germany, the U.K., France, Canada, Japan, and Italy met in Cornwall in southwest England, marking the 47th edition of the "Group of seven" summit.
2. The United Kingdom had invited India, Australia, and South Korea to attend the G7 summit that was scheduled to be held in June as guest countries.
Choose the correct answer from the given options.
(a) Only 1
(b) Only 2
(c) Both 1 and 2
(d) Neither 1 nor 2
For more details Click Here
3. What is the Galwan clash? Choose the correct option in context to this.
1. In 2020, Indian and Chinese armies were locked in a tense stand-off at three points along the Line of Actual Control i.e., the Galwan River Valley, Hot Springs area and the Pangong Lake.
2. The Galwan River Valley lies along the western sector of the LAC and close to Aksai Chin, a disputed area claimed by India but controlled by China.
2. Even as India and China were engaged in military-level talks and in controlled engagement, there was a violent face-off between the army troops of both sides at Galwan Valley in Eastern Ladakh region.
Choose the correct answer from the given options.
(a) 1 and 3
(b) 3 only
(c) 2 and 3
(d) 1, 2 and 3
4. What are rare earth minerals? Choose the correct option in context to this.
1. The rare earths minerals (REM) are a set of seventeen metallic elements. These include the fifteen lanthanides on the periodic table in addition to scandium and yttrium that show similar physical and chemical properties to the lanthanides.
2. The REMs have unique catalytic, metallurgical, nuclear, electrical, magnetic and luminescent properties. While named 'rare earth', they are in fact not that rare and are relatively abundant in the Earth's crust.
Choose the correct answer from given options.
(a) Only 1
(b) Only 2
(c) Both 1 and 2
(d) Neither 1 nor 2
IAS Prelims Mock-Test 2021 – Set 168, 14 June
5. 'The new species Pyrostria laljii, is also the first record of the genus Pyrostria in India. Trees belonging to these species are usually found in Madagascar'. The given statement is all about the-
(a) Pyrostria laljii is a critically endangered as per IUCN status.
(b) A 15 metre tall tree that belongs to genus of the coffee family has recently been discovered in Andaman Islands.
(c) The tree is distinguished by a long stem with a whitish coating on the trunk and oblong-obovate leaves with a cuneate base and was first reported from Wandoor forest in South Andaman.
(d) All the above
6. Consider the following statements regarding Blue Origin.
1. It is an American privately-funded aerospace manufacturer and sub-orbital spaceflight services company.
2. It is founded in 2000 by Jeff Bezos.
3. Company's launch vehicle is called New Shepherd- the first crewed spaceflight.
Choose the correct answer from the given options.
(a) 1, 2 and 3
(b) 3 only
(c) 1 and 2
(d) 2 and 3
UPSC Prelims (Paper-I + Paper-II) 2021 Online Test Series
7. Consider the following statements regarding the copper-plate found in Srisailam temple.
1. There were 18 copper leaves found that could be dated back to somewhere between 14 and 16 centuries.
2. The inscriptions depict the far and wide patronage by people.
3. Out of the six sets, four have inscriptions in Sanskrit and Nandi-Nāgarī script and the other two plates are in Telugu script, he added.
Choose the correct answer from the given options.
(a) 1, 2 and 3
(b) 3 only
(c) 1 and 2
(d) 2 and 3
8. In which of the following places the 31st formal meeting of heads of government of NATO (North Atlantic Treaty Organisation) was held on June 14, 2021?
(a) Brussels, Belgium
(b) New York, USA
(c) Paris, France
(d) Rome, Italy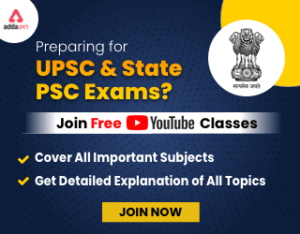 Get free video for UPSC CSE preparation and make your dream of becoming an IAS/IPS/IRS a reality
9. Which of the following will be the third out of 11 missions that China needs to complete China's space station by 2022?
(a) Tianhe-12
(b) Shenzhou-12
(c) Kuaizhou
(d) Long March-7
10. Reserve Bank of India has recently expanded the scope of which of the following payment systems will be effective from August 31, 2021?
(a) Paytm
(b) Bharat Bill Payment System
(c) PhonePe
(d) None of these
Ans. 1(d), 2(c), 3(d), 4(c), 5(d), 6(a), 7(a), 8(a), 9(b), 10(b)
Daily Gist of 'The Hindu', 'PIB', 'Indian Express' and Other Newspapers: 15 June, 2021