Relevance
GS 1: Population and associated issues. Urbanization, their problems and their remedies.
Context
Ministry of Commerce and Industries has recently unveiled plans for freight smart cities intending to improve the efficiency of urban freight and thus, create an opportunity to reduce the logistics costs.
Key points
The ministry has collaborated with Germany, Rocky Mountain Institute (RMI) and RMI India to develop freight smart cities.
At first, the state government will identify 10 cities to be developed as freight smart cities. Later, this will expand to 75 cities in the next phase and then will be implemented nationwide.
A city-level Logistics committee would be formed. These committees would have related government departments and agencies at all three levels—Local, state and centre.
These committees would also constitute the private sector from the logistics services and also users of logistics services.
These committees would co-create City Logistics Plans to implement performance improvement steps at the local level.
Why needed
The urban freight demand is expected to grow by around 140% over the next 10 years.
Final-mile freight movement, in Indian cities, is responsible for 50 per cent of total logistics costs in our country's growing e-commerce supply chains.
Improving city logistics would enable efficient freight movement and reduce logistics costs, thus boosting all sectors of the economy.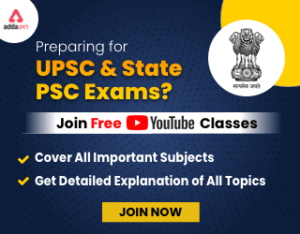 Get free video for UPSC CSE preparation and make your dream of becoming an IAS/IPS/IRS a reality
Issues with India's logistics sector
Our logistics, presently, is heavily dependent on roadways, which is highly sensitive to weather and fuel prices.
The logistic cost in India is 13-15% of the product while the world average is 6%.
Inability to integrate transport networks, ITs and distribution facilities.
Different regulations in different states are causing unnecessary delays.
Our logistic sector is heavily dependent on manpower, who are both ill-trained and unskilled.
Freight movement, through railways, is challenging. Only one-third of the total running trains in Indian Railways are freight trains, but it constitutes 65% of total revenue.
Steps taken by the Government to improve the logistics sector
Due to the deregulation of diesel prices, logistics costs have become more accurate than before.
Many schemes like Bharatmala and Sagarmala aims to improve the logistic sector in the country.
Establishing Dedicated Freight Corridors like East-West DFC, North-South DFC.
Implementing GST, which has led to a reduction in regulatory compliances. This would ensure a shift in warehousing locations and a reduction in transportation costs.
The Make-in India program focuses on the manufacturing sector, which has high logistics dependence.
Giving infrastructure tag to logistics to attract more investment in this sector.
At the end of FY 2020, the average Turn Around Time (TAT) for Indian ships improved to 2.1 from 4days in 2014-15, against the global average of 0.97.