Deepor Beel Wetland-Relevance for UPSC
GS Paper 3: Environment-Conservation, environmental pollution, and degradation.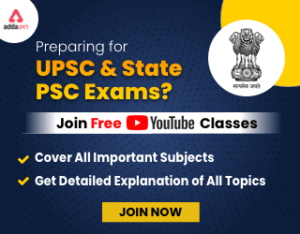 Get free video for UPSC CSE preparation and make your dream of becoming an IAS/IPS/IRS a reality
Deepor Beel Wetland and Wildlife Sanctuary- Context
Recently, the Ministry of Environment, Forest, and Climate Change notified the eco-sensitive zone of the Deepor Beel Wildlife Sanctuary.
The notification specified an area "to an extent varying from 294 metres to 16.32 km" as the eco-sensitive zone, with the total area being 148.9767 sq. km.
The Charter Act of 1833 or The Saint Helena Act 1833
Deepor Beel wetland and Wildlife Sanctuary- Key Points
Location of Deepor Beel sanctuary: it is one of the largest perennial freshwater lakes of Assam, located 10 km south-west of Guwahati city.
Ecological significance of Deepor Beel sanctuary: it is a unique habitat for aquatic flora and avian fauna.

About 150 species of birds have been recorded in the sanctuary, out of which two are critically endangered, one endangered, five vulnerable and four near-threatened.
It also houses 12 species of reptiles, 50 species of fishes, and six amphibian species.
Deepor Beel wetland and Wildlife Sanctuary– Conservation status
Ramsar site: Deepor Beel was designated a Ramsar site in 2002. It is the only lake from Assam to get into the list of important Ramsar wetlands.
Bird sanctuary: 14 sq km of the total area of Deepor Beel sanctuary was declared as a Bird Sanctuary by the Assam Government in 1989.
Important Bird Area (IBA): declared by Birdlife International due to the richness of avian fauna and habituating many migrant species in the sanctuary.
Eco-sensitive zone: as notified by the MoEFCC.
List of Ramsar Wetland Sites in India
Deepor Beel wetland and Wildlife Sanctuary– Conservation Concerns
Sponge for Guwahati's sewage: Deepor Beel has long been used as a sponge for Guwahati's sewage via a couple of streams.
Toxification of Wetland water: The wetland has also suffered from seepage of toxins from a garbage dump at Boragaon adjoining it.

The Deepor Beel wetland is an integral part of the elephant habitat but due to toxification, the lake has lost many of its aquatic plants that elephants would feed on.

Human encroachment: Deepor Beel is adjacent to Guwahati city, hence, facing immense biotic pressure by way of human settlements and ever-increasing development activities.
Ever-increasing Railway track along the southern boundary of the wetland, which is set to be doubled and electrified.
Also, read New Ramsar Sites in India