Daily news will speed up the preparation for the Civil Services Examination and it also plays a crucial role to grasp the current affairs topic comprehensively. Here we have covered most of the topics related to various categories including National, International, Sports, Science and Technology, and so on.
1. Advanced Light Helicopters Inducted at INS Dega
Why in news?
The induction ceremony of '322 Dega Flight' was held in the presence of Vice Adm Ajendra Bahadur Singh, AVSM, VSM Flag Officer Commanding-in-Chief, Eastern Naval Command (ENC) with three indigenously built Advanced Light Helicopters (ALH) MK III helicopters flying into Naval Air Station, INS Dega on  07 Jun 21.
Key facts are:
– With the induction of these Maritime Reconnaissance and Coastal Security (MRCS) helicopters, the ENC got a major boost towards enhancing the capabilities of the force, in pursuit of the maritime interests of the nation.
– These helicopters, built by Hindustan Aeronautics Ltd, are state-of-the-art flying machines and constitute a major step in our quest for "Atma Nirbhar Bharat".
About ALH MK III helicopters
– Helicopters feature an array of systems previously seen only on heavier, multi-role helicopters of the Indian Navy.
– These helicopters are fitted with modern surveillance radar and electro-optical equipment, which enable them to undertake the role of maritime reconnaissance in addition to providing long-range Search and Rescue, both by day and night.
– In addition to special operations capabilities, ALH MK III is also fitted with a heavy machine gun to undertake constabulary missions.
– A removable Medical Intensive Care Unit (MICU) is also fitted on ALH MK III helicopters to airlift critically ill patients. The helicopter also has a host of advanced avionics, making it truly an all-weather aircraft.
– The flight is being led by Cdr SS Dash as the first flight commander who is an experienced ALH Qualified Flying Instructor (QFI) with extensive operational experience.
For more details Click Here
2. NITI Aayog & Piramal Foundation Launch Surakshit Hum Surakshit Tum Abhiyaan
Why in news?
NITI Aayog and Piramal Foundation today launched Surakshit Hum Surakshit Tum Abhiyaanin 112 Aspirational Districts to assist district administrations in providing home-care support to Covid-19 patients who are asymptomatic or have mild symptoms.
Key points are:
– NITI Aayog and Piramal Foundation today launched Surakshit Hum Surakshit Tum Abhiyaanin 112 Aspirational Districts to assist district administrations in providing home-care support to Covid-19 patients who are asymptomatic or have mild symptoms.
– Surakshit Hum Surakshit Tum Abhiyaanwill be led by district magistrates in partnership with over 1000 local NGOs, which will enlist and train over 1 lakh volunteers to connect with patients through inbound/outbound calls.
– Piramal Foundation will work with district magistrates to support the training of NGOs and volunteers.
– While launching the campaign, NITI Aayog CEO Amitabh Kant said, 'Surakshit Hum Surakshit Tum Abhiyaan is a significant initiative that responds to immediate needs and will provide long-term support to India's poorest communities in the Aspirational Districts by addressing the lasting impact of Covid-19.'
Significance of the campaign
– The campaign is expected to play a key role in district preparedness for managing nearly 70% of Covid cases at home, reducing pressure on the health system, and stemming the spread of fear amongst the people.
– The campaign will also undertake capacity building of citizens for correct usage of Oxygen concentrators that have been supplied to these districts.
– NGOs will mobilize local volunteers to provide home-care support to those affected, based on the guidelines of the Ministry of Health and Family Welfare.
– Volunteers will be trained to support 20 affected families each by educating caretakers to follow Covid protocols, provide psycho-social support, and timely updates about patients to the administration.
– 'In line with Piramal Foundation's value of sewa, we aim to reach every affected person in the 112 Aspirational Districts. We call all stakeholders Government, NGOs, communities, and others to join hands and offer their service in this initiative of the Aspirational Districts Collaborative,'said Piramal Group Chairman Ajay Piramal.
Daily Gist of 'The Hindu', 'PIB', 'Indian Express' and Other Newspapers: 4 June, 2021
3. First CAR-T cell therapy
Why in news?
Department of Biotechnology supported First CAR-T cell therapy conducted at ACTREC, Tata Hospital in Mumbai.
Key points are:
– The Chimeric Antigen Receptor T-cell (CAR-T) therapy has emerged as a breakthrough in cancer treatment. Clinical trials conducted globally have shown promising results in end-stage patients, especially in patients suffering from Acute Lymphocytic Leukemia.
– Though this technology has a remarkable therapeutic potential for cancer patients, at present this technology is not available in India.
– Each patient's CAR-T cell therapy costs 3-4 crore (INR). The challenge therefore is to develop this technology in a cost-effective manner and make it available for the patients.
– The manufacturing complexity is a major reason for the therapy cost.
– In order to promote and support the development of CAR-T cell technology against cancer and other diseases, BIRAC and DBT have taken initiatives and launched specialized calls to invite proposals in the last 2 years.
Why 4th June, 2021 was a historic day for TMH?
The 4th June, 2021 was a historic day for TMH, IIT Bombay team and cancer care in India as the first CAR-T cell therapy (a type of gene therapy) was done at the Bone Marrow Transplant unit at ACTREC, Tata Memorial Center in Mumbai.
The CAR-T cells were designed and manufactured at Bioscience and Bioengineering (BSBE) department of IIT Bombay.
– This work is partly supported by BIRAC-PACE scheme. The TMC-IIT Bombay team are further supported to extend this project for conducting Phase I/II trial of their CAR-T product by DBT/BIRAC, through National Biopharma Mission.
"First in India" gene therapy
– This is a "first in India" gene therapy in early phase pilot clinical trial and the dedicated efforts and excellent collaboration between IIT Bombay and Tata Memorial Hospital, Mumbai.
– The central government's National Biopharma Mission-BIRAC has approved 19.15 Cr crore to the team for conducting a first-in-human phase-1/2 clinical trial of the CAR-T cells.
– The clinical trials are being done by Dr (Surg Cdr) Gaurav Narula, Professor of Paediatric Oncology and Health Sciences, and his team from TMC, Mumbai, and the novel CAR-T cells that will act as drugs that were manufactured by Prof Rahul Purwar, Bioscience and Bioengineering (BSBE) department and his team at IIT Bombay.
– The design, development, and extensive pre-clinical testing was carried out by IIT-B as a collaborative project with Tata Memorial Center, Mumbai by the two Investigators.
National Biopharma Mission is also supporting the development of Lentiviral vector manufacturing facility for packaging plasmids used to transfer the modified T cell inside the body, cGMP facility for T-cell transduction and expansion for CAR T-cell manufacturing to two other organizations.
The development of CAR-T cell technology for diseases including acute lymphocytic leukemia, multiple myeloma, glioblastoma, hepatocellular carcinoma and type-2 diabetes is supported through DBT.
About DBT
The Department of Biotechnology (DBT), under the Ministry of Science & Technology, promotes and accelerates the development of biotechnology in India, including growth and application of biotechnology in the areas of agriculture, healthcare, animal sciences, environment and industry.
About BIRAC 
Biotechnology Industry Research Assistance Council (BIRAC) is a not-for-profit Section 8, Schedule B, Public Sector Enterprise, set up by Department of Biotechnology (DBT), Government of India as an Interface Agency to strengthen and empower the emerging Biotech enterprise to undertake strategic research and innovation, addressing nationally relevant product development needs.
Daily Gist of 'The Hindu', 'PIB', 'Indian Express' and Other Newspapers: 3 June, 2021
4. Global Minimum Corporate Tax Rate
Why in news?
Recently, the Finance Ministers from the Group of Seven (G7) nations reached a landmark accord setting a Global Minimum Corporate Tax Rate (GMCTR).
Key points are:
– The agreement could form the basis of a worldwide deal. It will now be discussed in detail at a meeting of G20 financial ministers and central bank governors in July 2021.
– G7 also agreed to move towards making companies declare their environmental impact in a more standard way so investors can decide more easily whether to fund them.
About Global Minimum Corporate Tax Rate
– G7 would back a minimum global corporation tax rate of at least 15%, and put in place measures to ensure taxes were paid in the countries where businesses operate.
– Corporation tax is a direct tax imposed on the net income or profit that enterprises make from their businesses.
Where it will be applicable?
– It would apply to companies' overseas profits. Therefore, if countries agree on a global minimum, governments could still set whatever local corporate tax rate they want.
– But if companies pay lower rates in a particular country, their home governments could "top-up" their taxes to the agreed minimum rate, eliminating the advantage of shifting profits to a tax haven.
– A tax haven is generally an offshore country that offers foreign individuals and businesses little or no tax liability in a politically and economically static environment.
What is the need of GMCTR?
– Increasingly, income from intangible sources such as drug patents, software and royalties on intellectual property has migrated to low tax jurisdictions, allowing companies to avoid paying higher taxes in their traditional home countries (tax base erosion of the higher-tax jurisdictions).
– These companies typically rely on complex webs of subsidiaries to hoover profits out of major markets into low-tax countries such as Ireland or Caribbean nations such as the British Virgin Islands or the Bahamas, or to central American nations such as Panama.
– India's annual tax loss due to corporate tax abuse is estimated at over USD 10 billion.
Why is this done?
GMCTR will end a decades-long race to the bottom in which countries have competed to attract corporate giants with ultra-low tax rates and exemptions. And it will bring uniformity in corporate taxation worldwide.
What are the challenges?
– Getting all major nations on the same page is a problem, since the GMCTR impinges on the right of the sovereign to decide a nation's tax policy.
– A global minimum rate would essentially take away a tool that countries use to push policies that suit them.
– A lower tax rate is a tool they can use to alternatively push economic activity. Also, a global minimum tax rate will do little to tackle tax evasion.
UPSC Prelims (Paper-I + Paper-II) 2021 Online Test Series
5. 'Sea Snot' Outbreak in Turkey
Why in news?
Recently, Turkey's Sea of Marmara, which connects the Black Sea to the Aegean Sea, has witnessed the largest outbreak of 'sea snot'.
Key points are:
– A 'sea snot' outbreak was first recorded in the country in 2007.
– It is marine mucilage that is formed when algae are overloaded with nutrients as a result of water pollution combined with the effects of climate change.
– The nutrient overload occurs when algae feast on warm weather caused by global warming.
– It looks like a viscous, brown and foamy substance.
Concerns related to it are:
– It has caused mass deaths among the fish population, and also killed other aquatic organisms such as corals and sponges.
– It is now covering the surface of the sea and has also spread to 80-100 feet below the surface which eventually can collapse to the bottom and cover the sea floor.
– As the sludge is getting collected in their nets, making them so heavy that they break or get lost.
– Moreover, the mucilage coating the strings makes the nets visible to fish and keeps them away.
– It can cause an outbreak of water-borne diseases such as cholera in cities like Istanbul.
Steps taken are:
– The entire Sea of Marmara will be turned into a protected area.
– Moreover, steps are being taken to reduce pollution and improve treatment of waste water from coastal cities and ships.
– Turkey's biggest maritime clean-up operation is being launched and called on local residents, artists and NGOs to join hands to extend assistance.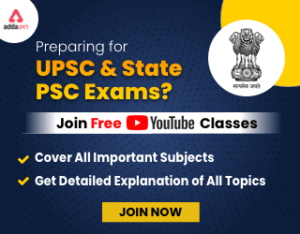 Get free video for UPSC CSE preparation and make your dream of becoming an IAS/IPS/IRS a reality
6. Education index ranking
Why in news?
The Ministry of Education has released the Performance Grading Index for 2019-20.
Key points are:
– PGI is a tool to grade all States and UTs on their performance across 70 indicators on school education.
– First published in 2019 with reference year 2017-18.
– The Indicators have been grouped into 2 Categories – Outcomes and Governance & Management with 4 Domains under the first category and 1 under the second.
What is the objective?
To encourage States & UTs to adopt best practices like online recruitment and transfer of teachers, electronic attendance of students & teachers.
Importance
Grading system assists the States & UTs to identify gaps and design appropriate interventions to bridge them.
Some of the latest findings are:
– Punjab, Chandigarh, Tamil Nadu, Andaman and Nicobar Islands, and Kerala occupy the highest grade A++ in 2019-20.
– Delhi, Gujarat, Haryana, Rajasthan, Puducherry, Dadra and Nagar Haveli are in the A+ category.
– Punjab has scored the maximum points for governance and management.
– Bihar and Meghalaya have scored the lowest in terms of infrastructure and facilities.
IAS Prelims Mock-Test 2021 – Set 166, 4 June