Daily news will speed up the preparation for the Civil Services Examination and it also plays a crucial role to grasp the current affairs topic comprehensively. Here we have covered most of the topics related to various categories including National, International, Sports, Science and Technology, and so on.
1. CCI APPROVES INCREMENTAL ACQUISITION BY SABIC INTERNATIONAL HOLDINGS B.V. IN CLARIANTAGUNDER
Under Section 31(1) of the Competition Act, 2002, the Competition Commission of India (CCI) has been approved the incremental acquisition of 6.51% shareholding by SABIC International Holdings B.V. (SABIC BV) in ClariantAG.
SABIC (Saudi Arabia Basic Industries Corporation) is a listed joint-stock company established by Royal Decree of the Kingdom of Saudi Arabia. It is mainly active in products such as petrochemicals, agro-nutrients, metals, and specialities materials.
ClariantAG is a Swiss chemicals company which headquartered is located in Muttenz. It is mainly active in products such as personal care, oil and mining, crop solutions and industrial applications.
The CCI approval is taken place without prejudice to the proceedings under Section 43A of the Act.
Daily Gist of 'The Hindu', 'PIB', 'Indian Express' and Other Newspapers: 3 September, 2020
2. HEALTHY AIR: A HERBAL-BASED IMMUNITY BOOSTING ROOM FRESHENER
Defence Institute of Advanced Technology, Pune has developed herbal-based immunity-boosting room freshener product named "Healthy Air" to control the spread of COVID-19. Healthy Air supports respiratory condition in a healthy way.
It has no harmful substances that affect brain neural sensing. It is very useful for people suffering from allergic reactions, breathing problems related to asthma, headache, nasal irritation, or soreness in the throat as the product is mainly made of natural herbal extracts which work as an immunity booster.
This product is freely available for Indian technology start-ups and companies in its fight against the current pandemic situation.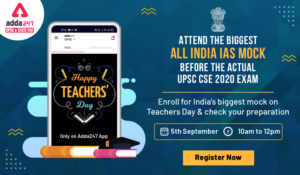 Register: Adda247 All India UPSC Free Prelims Mock On Teachers Day
3. REVIEWING PROGRESS OF ECLGS, PCGS 2.0 AND SUB-ORDINATE DEBT SCHEME
Union Minister for Finance & Corporate Affairs Smt. Nirmala Sitharaman held a meeting with the heads of Scheduled Commercial Banks and NBFCs to examine their state of preparedness for implementation of the loans resolution framework for COVID-19 related stress.
The Finance Minister reviewed the progress made by various lenders under Emergency Credit Line Guarantee Scheme (ECLGS), Partial Credit Guarantee Scheme (PCGS) 2.0 and Sub-ordinate Debt Schemes announced as part of the 'Aatmnirbhar Bharat Abhiyaan', and advised lenders to try and extend the maximum possible relief to borrowers before the festive season.
As on 31st August, 2020, an amount of Rs. 1.58 lakh crore has been sanctioned under ECLGS, out of which more than Rs. 1.11 lakh crore has also been disbursed. Under PCGS 2.0, Bonds/CPs of Rs. 25,055.5 crore have been sanctioned for purchase by Public Sector Banks, out of which Rs. 13,318.5 crores amounting to more than 53% of the portfolio pertains to Bonds/CPs.
Daily Gist of 'The Hindu', 'PIB', 'Indian Express' and Other Newspapers: 2 September, 2020
4. NTPC WON THE AIMA-CHANAKYA (BUSINESS SIMULATION GAME) NATIONAL MANAGEMENT GAMES 2020
It is the first time that NTPC won the prestigious All India Management Association (AIMA)- Chanakya (Business Simulation Game) National Management Games 2020 in five years. This award is won by the team from NTPC Vallur, Tamil Nadu.
AIMA Chanakya National Management Games are an online Business Simulation Game which is conducted every year with aimed at ensuring that participating executives from various industries get an introduction to the complexities of operating an organisation and gain expertise and skills from this event.
National Management Games (NMG) is one of its kind platforms for Corporate Managers to face the thrill of Managing Business in a competitive mode. It is one of the most anticipated and reputable annual events based on Business Management Simulation, conducted by AIMA.
5. EXPORTS FROM INDIA SCHEME (MEIS)
The Ministry of Commerce and Industry has amended the Foreign Trade Policy 2015-20 with immediate effect.
Two new paragraphs namely, 3.04A and 3.04B are inserted in the Foreign Trade Policy are as below:
3.04 A: The total reward which may be granted to an Importer Exporter Code (IEC) holder under the Merchandise Exports from India Scheme (MEIS) shall not exceed Rs 2 crore per IEC on exports made in the period September 1, 2020, to December 31, 2020.
3.04 B: Benefits under MEIS shall not be available for exports made with effect from January 1, 2021.
Further, the Ministry of Commerce and Industry said the 98 % of exporters, especially MSMEs will benefit under Merchandise Exports from India Scheme (MEIS) with reward cap of Rs. 2 crore/ Importer Exporter Code from September 1 to December 2020.
The Exports from India Scheme (MEIS) is to offset infrastructural inefficiencies and associated costs involved in the export of goods/products, which are produced or manufactured in India, especially those having high export intensity, employment potential and thereby enhancing India's export competitiveness.
IAS Prelims Mock-Test 2020 – Set 10, 3 September
Daily Gist of 'The Hindu', 'PIB', 'Indian Express' and Other Newspapers: 1 September, 2020