Daily news will speed up the preparation for the Civil Services Examination and it also plays a crucial role to grasp the current affairs topic comprehensively. Here we have covered most of the topics related to various categories including National, International, Sports, Science and Technology, and so on.
1. NEW IDEA ON SUPPLY CHAINS
In the backdrops of the COVID-19 pandemic and the subsequent lockdowns and trade tensions between China and the United States has caused bottlenecks in the global supply chains, Japan has mooted the Supply Chain Resilience Initiative (SCRI).
Supply chain resilience is an approach wherein a country instead of being dependent on just one or a few nations has diversified its supply risk across a range of supplying nations.
The Supply Chain Resilience Initiative (SCRI) is proposed as a trilateral approach to trade, with India and Australia. It could also potentially involve other Asian and Pacific Rim nations within the later years.
Daily Gist of 'The Hindu', 'PIB', 'Indian Express' and Other Newspapers: 29 August, 2020
THE CHAR DHAM PROJECT: ENVIRONMENTALISTS PETITION TO PM
The Char Dham Project (CP) is an attempt to widen nearly 900 km of hill road to improve access to pilgrimage spots in Uttarakhand.
A group of 40 scientists, environmentalists and ecologists have written to the Prime Minister demanding a halt to the Char Dham road construction work calling for a sustainable execution of the project keeping in mind the fragile or delicate nature of the Himalayan ecosystem.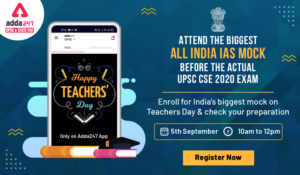 Register: Adda247 All India UPSC Free Prelims Mock On Teachers Day
GADCHIROLI CONNECTIVITY PROJECTS
The Ministry of Road Transport and Highways has inaugurated three important bridges and two road improvement projects in the Gadchiroli district of Maharashtra.
It also laid foundation stones for four other major bridge projects across the rivers Wainganga, Bandiya, Perikota and Perimili. These projects are considered important for improving mobility for socio-economic development of the Gadchiroli district.
The socio-economic development in the region will be improved by the all-weather road network in far-flung areas of Naxal affected districts like Gadchiroli and in upcoming two years or so the Gadchiroli district will see an all-round transformation.
ANNUAL BUTTERFLY MIGRATION IN SOUTH INDIA
The annual migration of butterflies from the hill ranges of the Eastern Ghats towards the Western Ghats has occurred earlier in this year. They just migrated before the advent of the southwest monsoon means in April-June. This marks an early migration after a gap of eight years.
Generally, the annual butterfly migration in south India begins in October-November, with the onset of the northeast monsoon. In order to escape the rainfall, the butterflies migrate from the plains to the Ghats.
The important butterfly species involved in early migration are; the Blue Tiger, Dark Blue Tiger, Common Crow and the Double-branded.
Species like Lime Swallowtail, Lemon Pansy, Common Leopard, Blue Pansy, Common Emigrant and Lemon Emigrants have also been migrating but in lower numbers.
Daily Gist of 'The Hindu', 'PIB', 'Indian Express' and Other Newspapers: 28 August, 2020
POSHAN MAAH: NUTRITION MONTH
Prime Minister Shri Narendra Modi has noted that the month of September will be observed as Poshan Maah-Nutrition month. He said that nation and nutrition are very closely interrelated.
He further recalled the maxim- "Yatha Annam Tatha Mannam" which means that mental and intellectual development is directly related to the quality of our food intake and said that nutrition and proper nourishment play a big role in helping children and students to attain their optimum potential and to show their mettle.
He stressed that for children to be well-nourished, the mother needs to receive proper nourishment. He added that nutrition merely does not only imply eating but getting essential nutrients like salts, vitamins etc.
17TH ASEAN-INDIA ECONOMIC MINISTERS' CONSULTATIONS
Shri Piyush Goyal and H.E. Tran Tuan Anh (Minister of Industry and Trade of Vietnam) co-chaired the 17th ASEAN-India Economic Ministers Consultations held virtually on 29th August 2020.
The meeting was attended by the Trade Ministers of all the 10 ASEAN countries (Brunei, Cambodia, Indonesia, Laos, Malaysia, Myanmar, Philippines, Singapore, Thailand and Vietnam).
The Ministers reaffirmed their commitment to take collective actions in mitigating the economic impact of the pandemic and resolved to ensure macroeconomic and financial stability and resilient supply chain connectivity, particularly the unimpeded flow of essential goods and medicines in the region, in compliance with the WTO rules. The discussion was mainly focused on the review of the ASEAN India Trade in Goods Agreement (AITIGA).
Daily Gist of 'The Hindu', 'PIB', 'Indian Express' and Other Newspapers: 27 August, 2020
RORO SERVICE OF SOUTH WESTERN RAILWAY
The Chief Minister of Karnataka, Shri B S Yediyurappa and Minister of State of Railways, Shri Suresh C. Angadi has flagged off first-ever RORO service of South Western Railway from Nelamangla (near Bengaluru) to Bale (near Solapur).
The Roll On Roll Off (RORO) is a concept of carrying road vehicles loaded with various commodities, on open flat railway wagons.
RORO services are a combination of best features of road and rail transports in the sense that they offer door to door service with minimal handling transported by fat and direct rail link.
ALTERNATIVE TO CHINESE DOCUMENT-SCANNING APPS
Indian alternative to Scanning Apps (AIR Scanner) is a free-of-cost mobile application, has been developed Rohit Kumar Chaudhary and Kavin Agrawal, two final-year B.Tech students in the Department of Civil Engineering, IIT Bombay.
The AIR is Artificial Intelligence (AI) based Reading Assistant & Document Scanner app that can scan documents and also read to users who have difficulty in reading English.
It is developed in the counter to Chinese document-scanning apps, following Government of India's decision to ban 59 mobile apps which were prejudicial to sovereignty and integrity of India.
AIR Scanner has been launched on Independence Day, 15th August 2020.
IAS Prelims Mock-Test 2020 – Set 6, 29 August