Daily news will speed up the preparation for the Civil Services Examination and it also plays a crucial role to grasp the current affairs topic comprehensively. Here we have covered most of the topics related to various categories including National, International, Sports, Science and Technology, and so on.
1. Lala Lajpat Rai Jayanti
Why in news?
– The Prime Minister, Shri Narendra Modi has paid tributes to Lala Lajpat Rai ji on his Jayanti that is observed on 28 January 2021.
– In a tweet, the Prime Minister said,"Remembering the great Lala Lajpat Rai Ji on his Jayanti. His contribution to India's freedom struggle is indelible and inspires people across generations".
UPSC 2021 Online Coaching Classes | Bilingual GS Foundation Batch
2. 4th edition of Future Investment Initiative Forum
Why in news?
– Dr. Harsh Vardhan, Union Minister for Health and Family Welfare addressed the 4th edition of the Future Investment Initiative Forum on 27 January, 2021, through Video Conference.
– The purpose of the forum being hosted in Riyadh was to find solutions on how business and government can expand access to healthcare, train healthcare workers, remove regulatory barriers and encourage investment in advanced health technologies.
– Lauding the forum for its positive contribution to the world's welfare, Dr Harsh Vardhan underlined that "this dynamic platform has become an important part of the calendar of the business world."
–  He reminded the audience of India's historical ties and contacts with Saudi Arabia which has led a strong foundation for their strategic partnership today.
– He also appreciated Saudi Arabia's contribution to the world economy and thanked the country for looking after the Indian minority during the Pandemic.
Dr. Harsh Vardhan highlighted the five big trends which are emerging due to COVID-19 and influencing global business:
– The impact of Technology and Innovation.
– Importance of Infrastructure for Global Growth.
– Changes coming in human resource and the future of work.
– Compassion for the environment.
– Business-friendly governance with a focus on the whole of society and government approach.
Daily Gist of 'The Hindu', 'PIB', 'Indian Express' and Other Newspapers: 25 January, 2021
3. 35th PRAGATI interaction
Why in news?
– Prime Minister Narendra Modi on 28 January, 2021, chaired the meeting of 35th edition of PRAGATI, the ICT based multi-modal platform for Pro-Active Governance and Timely Implementation, involving Central and State governments.
To know more about Fundamental Rights – V: Click Here
– In the meeting, ten agenda items were taken for review including nine projects and one program. Among the nine projects, three projects were from the Ministry of Railways, three from MORTH, and one project each from DPIIT, Power Ministry and Ministry of External Affairs.
–  These nine projects have a cumulative cost of Rs. 54,675 crore concerning the 15 states viz. Odisha, Karnataka, Andhra Pradesh, Maharashtra, Chhattisgarh, Punjab, Jharkhand, Bihar, Telangana, Rajasthan, Gujarat, West Bengal, Haryana, Uttarakhand, and Uttar Pradesh.
– During the interaction, the Prime Minister also reviewed the Pradhan Mantri Bhartiya Jan Aushadhi Pariyojana.
– The Prime Minister directed all the officials to ensure expeditious resolution of issues hindering infrastructure projects.
– He also encouraged the Department of Pharmaceuticals and states and UTs to ensure wide publicity of Pradhan Mantri Bhartiya Jan Aushadhi Pariyojana and use technology to enhance its effectiveness.
– Up to the 34th edition of PRAGATI meetings, 283 projects having a total cost of 13.14 lakh crore have been reviewed.
Daily Gist of 'The Hindu', 'PIB', 'Indian Express' and Other Newspapers: 23 January, 20212.
4. Govind Ballabh Pant
Why in news?
– A statue of freedom fighter Govind Ballabh Pant that was removed from the Parliament premises recently would be unveiled at its new location.
About Govind Ballabh Pant
– Pant was born on 10 September 1887 in what is now Uttarakhand, at Almora.
– In Kashipur, he established an organisation called Prem Sabha that started working towards several reforms.
– He also saved a school from shutting down due to non-payment of taxes to the British government.
– He was the first chief minister of Uttar Pradesh in Independent India.
– He served as India's home minister from 1955 to 1961. It was during his tenure that states were reorganised on linguistic lines.
– Following Gandhi's footsteps, Pant also organised a massive salt movement in the United Provinces. In May 1930, he was arrested and held at Dehradun jail.
– He also protested against the Simon Commission.
– In 1957, Pant was awarded India's highest civilian award, the Bharat Ratna.
Daily Gist of 'The Hindu', 'PIB', 'Indian Express' and Other Newspapers: 22 January, 2021
5. World Economic Outlook
Why in news?
– Recently, the latest World Economic Outlook of the International Monetary Fund (IMF) has estimated that India's Gross Domestic Product (GDP) will grow by 11.5% in the Financial Year (FY) 2021-22.
Key points are:
– FY 2020-21: For the current fiscal, the IMF had forecast a record 10.3% contraction. For the next fiscal, starting from April 1st, GDP growth projection is at 11.5%, 2.7% higher than the projection made in October, 2020.
– Last October, the IMF had projected an 8.8% real GDP growth for India in FY 2021-22, highest globally.
– In FY 2022-23, the economy will likely grow by 6.8%.
– The latest revision for the current fiscal is higher than the government's first advance estimate of 7.7% and also the RBI's estimate of 7.5%.
– India has taken very decisive action, very decisive steps to deal with the pandemic and to deal with the economic consequences of it.
– The government announced Rs 1.70 lakh crore relief package under the newly framed Pradhan Mantri Garib Kalyan Yojana for the poor to help them fight the battle against covid-19.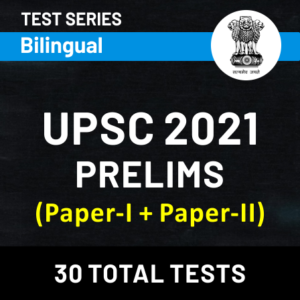 Aiming for UPSC CSE 2021? Get the best test series for sure selection: Click Here
6. U.S – Taliban peace deal
Why in news?
– On 29 February, 2020, a peace deal between the U.S. Government and the Taliban was signed.
About U.S – Taliban peace deal
– The deal calls for U.S. and North Atlantic Treaty Organization (NATO) troops to leave Afghanistan.
– The Biden administration has said that it will review the US-Taliban deal to see if the Taliban are able to keep their end of the bargain.
Significance of Peace in Afghanistan for India
– India has called for renewed efforts for establishing enduring peace and stability and putting an end to externally-sponsored terrorism and violence in Afghanistan.
– Economically, it is a gateway to the oil and mineral-rich Central Asian republics.
– Afghanistan has also become the second-largest recipient of Indian foreign aid over the last five years.
Daily Gist of 'The Hindu', 'PIB', 'Indian Express' and Other Newspapers: 21 January, 2021
7. Green tax
Why in news?
– The Union Minister for Road Transport and Highways has approved some proposals relayef to green tax.
Proposals are:
– To levy a "Green Tax" on old vehicles which are polluting the environment.
– The policy of deregistration and scrapping of vehicles owned by the Government department and PSU, which are above 15 years in age.
– Revenue collected from the Green Tax to be kept in a separate account and used for tackling pollution, and for States to set up state-of-art facilities for emission monitoring.
Green tax applicability
– Transport vehicles older than 8 years could be charged Green Tax at the time of renewal of fitness certificate, at the rate of 10 to 25 % of road tax;
– Personal vehicles to be charged Green Tax at the time of renewal of Registration Certification after 15 years.
– Public transport vehicles, such as city buses, to be charged lower Green tax.
– Higher Green tax (50% of Road Tax) for vehicles being registered in highly polluted cities.
– Differential tax, depending on fuel (petrol/diesel) and type of vehicle.
Exemptions are:
– Vehicles like strong hybrids, electric vehicles and alternate fuels like CNG, ethanol, LPG etc.
– Vehicles used in farming, such as tractor, harvester, tiller etc.
"Green Tax" benefits could be:
– To dissuade people from using vehicles which damage the environment.
– To motivate people to switch to newer, less polluting vehicles.
– Reduce the pollution level, and make the polluter pay for pollution.
IAS Prelims Mock-Test 2021 – Set 99, 25 January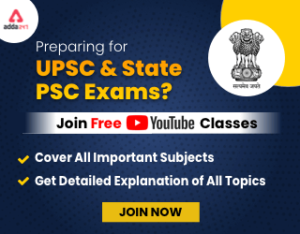 Join UPSC & State PSC Channel? Click Here