Daily news will speed up the preparation for the Civil Services Examination and it also plays a crucial role to grasp the current affairs topic comprehensively. Here we have covered most of the topics related to various categories including National, International, Sports, Science and Technology, and so on.
Measures to Achieve Energy Transition Towards Clean Energy
Why in news?
Government of India has set a target for installing 175 GW of Renewable Energy capacity (excluding large hydro) by the end of 2021-22 which includes 100 GW from solar, 60 GW from wind, 10 GW from Biomass and 5 GW from Small Hydro.
Key points are:
–  In order to become self-reliant in power generation and achieving energy transition towards clean energy, Government has inter-alia taken following measures:
– The renewable energy capacity to go up to 450 GW.
– Phase-wise retirement of old polluting coal based power plants.
– Setting up of Ultra Mega Renewable Energy Parks to provide land and transmission to RE developers on a plug and play basis.
– Schemes such as Pradhan Mantri Kisan Urja Surakshaevam Utthaan Mahabhiyan (PM-KUSUM), Solar Rooftop Phase II, 12000 MW CPSU Scheme Phase II, etc.
– Laying of new transmission lines and creating new sub-station capacity under the Green Energy Corridor Scheme for evacuation of renewable power.
– Notifying Bidding Guidelines for tariff based competitive bidding process for procurement of Power from Grid Connected Solar PV and Wind Projects.
– Declaring Large Hydro Power (LHPs) (>25 MW projects) as Renewable Energy source.
– Hydro Purchase Obligation (HPO) as a separate entity within Non-solar Renewable Purchase Obligation (RPO).
– Tariff rationalization measures for bringing down hydro power tariff.
Union Education Minister holds meeting with Director General of UNESCO Ms. Audrey Azoulay
Why in news?
Union Education Minister Shri Ramesh Pokhriyal 'Nishank' held a virtual meeting Director General UNESCO, Ms Audrey Azoulay in New Delhi on 25 March, 2021.
Key points are:
– They discussed key issues of mutual importance including National Education Policy, India's response to COVID Pandemic especially in the education sector, among others concerning India UNESCO cooperation.
– Shri Amit Khare, Secretary, Higher Education, delegation from UNESCO and senior officials of the Ministry were also present in the meeting.
– Shri Pokhriyal said that under the visionary leadership of our Prime Minister Shri Narendra Modi, Ministry of Education Government of India has ensured that education reaches even the last child in the remotest part of the country.
– In this context he mentioned about initiatives undertaken to ensure continuity of education for children across the country. Such as under Prime Minister E –Vidya scheme, DIKSHA (Digital Infrastructure for Knowledge Sharing) platform was started to continue education for students (with internet access).
– While One Class – One Channel programme 'SWAYAM PRABHA' was initiated for providing education to children without internet access.
– Stressing that concerted efforts were taken to ensure no lose of valuable academic year, he mentioned about Digitally Accessible Information System (DAISY), an initiative for differently-able children.
– He also spoke about MANODARPAN, the government's initiative to provide online psychosocial support to students, teachers and families for their mental health and emotional wellbeing. This has helped over 12,500 Students, he said.
Webinar with Chile on Defence Industry Global Outreach for Collaborative Partnership
Why in news?
A webinar between India and Chile was held on 25 March 2021. The Theme of webinar was "Indian Defence Industry Global Outreach for Collaborative Partnership: Webinar and Expo".
Key points are:
– It was organized under the aegis of Department of Defence Production, Ministry of Defence through Society of Indian Defence Manufacturers (SIDM).
–  Secretary (Defence Production), Shri Raj Kumar; Head of the Technological Development and Industry Division, Ministry of Defence,   Government of Chile Mr. Oscar Bustos and other senior officials from both sides participated in the webinar.
– In his opening remarks, Shri Raj Kumar highlighted the strong capabilities of Indian defence industry in various fields and their willingness to collaborate with Chilean defence companies for co-development and co-production in the areas of mutual interest.
– Further, the Secretary (Defence Production) stated that Indian defence industry is keen to participate in the bidding procurement process of Chilean Armed Forces.
– Indian companies L&T, Bharat Forge, Goa Shipyard Limited, HAL, Mahindra Defence, MKU, OFB and Tata Advanced Systems made presentations on major defence platforms and products. From Chilean side FAMAE/S2T, ASMAR/SISDEF and ENAER/DTS made company presentations.
– The webinar was attended by more than 130 delegates. More than 100 virtual exhibition stalls from Indian companies were set up.
– This webinar was a part of the series of webinars which are being organized with friendly foreign countries in order to boost defence exports and achieve defence export target of 5 billion US Dollar by the year 2025.
A-G says no to contempt proceedings
Why in news?
Attorney General of India K.K. Venugopal has denied consent to the initiation of contempt proceedings against Congress MP Rahul Gandhi on the basis of a plea that he scandalised the judiciary in an interview.
Key points are:
– The Attorney General said no specific mentions were made about the Supreme Court or its judges.
– The Contempt of Courts Act 1971 defines civil and criminal contempt, and lays down the powers and procedures by which courts can penalise contempt, as well as the penalties that can be given for the offence of contempt.
– Contempt of court is the offense of being disobedient to or disrespectful toward a court of law and its officers in the form of behavior that opposes or defies the authority, justice and dignity of the court.
– The objective behind requiring the consent of the Attorney General before taking cognizance of a complaint is to save the time of the court.
– This is necessary because judicial time is squandered if frivolous petitions are made and the court is the first forum for bringing them in.
– The AG's consent is meant to be a safeguard against frivolous petitions, as it is deemed that the AG, as an officer of the court, will independently ascertain whether the complaint is indeed valid.
– The AG's consent is mandatory when a private citizen wants to initiate a case of contempt of court against a person.
– However, when the court itself initiates a contempt of court case the AG's consent is not required.
– This is because the court is exercising its inherent powers under the Constitution to punish for contempt and such Constitutional powers cannot be restricted because the AG declined to grant consent.
How Supreme Court appoint the Chief Justice of India?
Why in news?
Chief Justice of India Sharad A. Bobde has recommended Justice N.V. Ramana, the senior-most judge of the Supreme Court, as the next top judge.
Key points are:
– Justice Ramana is now set to take over as the 48th Chief Justice of India from April 24.
– The Chief Justice of India is traditionally appointed by the outgoing Chief Justice of India on the day of his (or her) retirement.
– By convention, the outgoing Chief Justice of India selects the most senior then-sitting Supreme Court judge.
– Seniority at the apex court is determined not by age, but by:
– The date a judge was appointed to the Supreme Court.
– If two judges are elevated to the Supreme Court on the same day:
– The one who was sworn in first as a judge would trump another.
– If both were sworn in as judges on the same day, the one with more years of high court service would 'win' in the seniority stakes.
– An appointment from the bench would 'trump' in seniority an appointee from the bar.
– The Constitution of India does not have any provision for criteria and procedure for appointing the CJI. Article 124(1) of the Indian Constitution says there "shall be a Supreme Court of India consisting of a Chief Justice of India".
– The closest mention is in Article 126, which deals with the appointment of an acting CJI.
– In the absence of a constitutional provision, the procedure relies on custom and convention.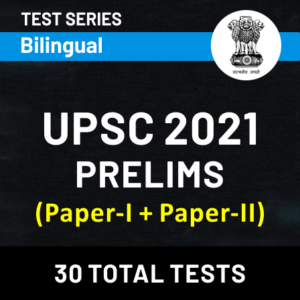 Aiming for UPSC CSE 2021? Get the best test series for sure selection: Click Here
The National Commission for Allied and Healthcare Professions Bill, 2020
Why in news?
Recently, the National Commission for Allied and Healthcare Professions Bill, 2020 was passed unanimously by the Lok Sabha.
Key points are:
– The Bill seeks to regulate and standardise the education and practice of allied and healthcare professionals.
– The group of allied professionals is large and the Bill is trying to regulate this field by providing dignity to their roles.
– The Bill defines an 'allied health professional' as an associate, technician, or technologist trained to support the diagnosis and treatment of any illness, disease, injury, or impairment.
– Such a professional should have obtained a diploma or degree.
– The duration of the degree/diploma should be at least 2,000 hours (over a period of two to four years).
– A 'healthcare professional' includes a scientist, therapist, or any other professional who studies, advises, researches, supervises, or provides preventive, curative, rehabilitative, therapeutic, or promotional health services.
– Such a professional should have obtained a degree.
– The duration of the degree should be at least 3,600 hours (over a period of three to six years).