Daily news will speed up the preparation for the Civil Services Examination and it also plays a crucial role to grasp the current affairs topic comprehensively. Here we have covered most of the topics related to various categories including National, International, Sports, Science and Technology, and so on.
1. MICE Roadshow – Meet in India
Why in news?
Prahlad Singh Patel, Minister of State for Tourism and Culture (Independent Charge) and Shivraj Singh Chouhan, Chief Minister of Madhya Pradesh will inaugurate the 'Chhatrasal Convention Centre at Khajuraho developed under the Swadesh Darshan Scheme of the Ministry of Tourism.
They will also launch the "MICE Roadshow Meet in India" Brand and Roadmap for the Promotion of India as MICE Destination in Khajuraho, Madhya Pradesh on 26 March, 2021.
Key points are:
– Smt. Usha Thakur, Minister for Tourism and Culture, Madhya Pradesh will grace the occasion with other dignitaries and officials of the Government of India and the State Government of Madhya Pradesh.
– The event will also have Keynote sessions and Panel discussions on Responsible Tourism, Iconic Destination, India as a MICE Destination, etc. by senior Government officials and industry experts.
– In order to promote India as MICE Destination (Meetings, Incentives, Conferences and Exhibitions), the Ministry of Tourism, Government of India in association with Madhya Pradesh Tourism and India Convention Promotion Bureau are organizing this 'MICE Roadshow – Meet in India' at the heart of Incredible India from 25-27 March 2021 at Chhatrasal Convention Centre, Khajuraho.
– This event will be an effort under Aatmanirbhar Bharat, realizing India's MICE potential.
– The roadshow will be an opportunity to focus on the Government's initiatives in developing India as a MICE-destination with infrastructure and an eco-system pan-India that will favourably place India amongst the global competitors.
– On this occasion, the Ministry of Tourism plans to launch its campaign "Meet in India" from Khajuraho, which is one of the identified iconic tourist destinations of the country.
– Recognizing India's huge potential as a MICE destination, 'Meet in India' will be the distinct sub-brand under 'Incredible India' to promote the country as a MICE-destination.
– The Ministry of Tourism has framed 'Development of Iconic Tourist Destinations Scheme' a Central Sector Scheme for the development of nineteen identified iconic destinations in the country following a holistic approach.
– The programme at Khajuraho will also see several side events including cultural and fitness activities like yoga, cycle tour, heritage walk, tree planting among others.
Daily Gist of 'The Hindu', 'PIB', 'Indian Express' and Other Newspapers: 24 March, 2021
2. Bureau of Civil Aviation Security and Yamuna International Airport sign LoA for civil aviation security
Why in news?
A Letter of Agreement (LoA) was signed between the Bureau of Civil Aviation Security (BCAS) and Yamuna International Airport Private Limited (YIAPL) in New Delhi on 24 March, 2021.
Key points are:
– The LoA defines provisions for civil aviation security responsibilities and functions at the upcoming international airport at Jewar, Noida.
– The agreement letter was signed by Shri Ankit Garg, Deputy Director-General, BCAS, and Shri Christoph Schnellmann, CEO, YIAPL. Shri Jaideep Prasad, DG, BCAS, and Ms. Kiranjeet Kaur Jain, COO of YIAPL were also present on the occasion.
– The Letter of Agreement stipulates the civil aviation security responsibilities and functions and implement the tasks relating to civil aviation security, defined, and allocated for implementation of various aspects of the National Civil Aviation Security Programme (NCASP) at Noida International Airport.
– The contract of construction of the airport has been awarded to YIAPL, which is a joint venture of the Airport Authority of India (AAI), the Government of Uttar Pradesh, and Zurich international airport.
Daily Gist of 'The Hindu', 'PIB', 'Indian Express' and Other Newspapers: 23 March, 2021
3. Union Education Minister launches CBSE Assessment Framework for Science, Maths and English
Why in news?
Union Education Minister launched CBSE Assessment Framework for Science, Maths and English classes as part of CBSE Competency-Based Education Project in New Delhi on 24 March, 2021.
Key points are:
– The core objective of the NEP is to guide the transition to an education system that enables our youth to have a better future. Schools have a very important role to play in shaping our youth and I am happy that through this launch, the vision of the NEP will be translated into action. My heartiest congratulations to the CBSE and British Council teams for working towards this.
– The competency-based assessment framework to strengthen India's existing school education system for secondary level (classes 6-10) and improve the overall learning outcomes of students across India, mainly covering three subjects: English (reading), Science, and Maths.
– The framework is a part of the CBSE Competency-Based Education Project that aims to replace the existing rote learning model with a competency-based framework as directed in the NEP 2020 over the next 2-3 years.
– The Minister highlighted that the Framework is aligned with the NEP vision of achieving the global standard in assessments.
– The framework is the basis for a larger project exercise currently underway where 40 Assessment Designers, 180 Test Item writers and 360 Master Trainer Mentors are being trained in using this framework to create a Model Question bank and collection of Ideal Lesson Plans.
– In the first phase selected Kendriya Vidyalayas, Navodaya Vidyalayas, UT Chandigarh and private schools across the country will participate in the programme which will be rolled out to all 25,000 CBSE schools in India by 2024.
– The suggested assessment framework has been put in place to drive improvement in the quality of teaching and implementation of changes recommended in the National Education Policy 2020.
– British Council along with AlphaPlus as the UK knowledge partner, designed and developed this framework after extensive research and analysis of the current learning and assessment model in Indian schools.
– This project will directly support 15 education leaders, 2,000 school principals; 15 senior govt leaders; 180 test item writers; 360 master trainers which will further impact 25,000 CBSE schools that include 2,000 JNV's and KV's, 132,000 teachers and 20 million learners by 2024.
UPSC IAS Mains 2020 Result declared: Check details here
4. National Anti-Trafficking Bureau
Why in news?
The Government of India amended the National Investigation Agency Act, 2008 in 2019 to inter-alia include Section 370 and 370A of the Indian Penal Code in the Schedule of the Act. The NIA has been given the mandate to investigate cases of human trafficking, including those having inter-state, national and international ramifications.
Key points are:
The Ministry of Home Affairs (MHA) has taken the following initiatives for the safety of women:
– The Criminal Law (Amendment) Act, 2013 was enacted for effective deterrence against sexual offences. Further, the Criminal Law (Amendment) Act, 2018 was enacted to prescribe even further stringent penal provisions, including the death penalty, for the rape of girls below the age of 12 years.
– Emergency Response Support System provides a pan-India, single internationally recognized number (112) system for all emergencies, with the computer-aided dispatch of field resources to the location of distress.
– To promote the use of technology to aid smart policing and safety management, Safe City Projects have been sanctioned in eight cities namely, Ahmedabad, Bengaluru, Chennai, Delhi, Hyderabad, Kolkata, Lucknow and Mumbai in the first Phase.
– The projects have been prepared by State Governments taking into account the need for identification of hotspots for crimes against women for the development of critical assets in urban areas including infrastructure, technology adoption and capacity building in the community through awareness programmes.
– A cyber-crime reporting portal was launched on 20th September, 2018 for citizens to report obscene content.
– MHA launched the "National Database on Sexual Offenders" (NDSO) on 20th September, 2018 to facilitate the investigation and tracking of sexual offenders across the country.
– MHA has launched an online analytic tool "Investigation Tracking System for Sexual Offences" to monitor and track time-bound investigation in sexual assault cases in accordance with Criminal Law (Amendment) Act, 2018.
– MHA has notified guidelines for the collection of forensic evidence in sexual assault cases and the standard composition in sexual assault evidence collection kits.
– To facilitate adequate capacity in manpower, training and skill-building programmes have been undertaken for Investigation Officers, Prosecution Officers and Medical Officers.
– In order to improve investigation, MHA has taken steps to strengthen DNA analysis units in Central and State Forensic Science Laboratories. A State-of-the-Art DNA Analysis Unit has been commenced in Central Forensic Science Laboratory, Chandigarh on 23rd December 2019.
– MHA has released Rs 200 crores to States/UTs for setting up and strengthening Women Help Desks in police stations and Anti-Human Trafficking Units in all districts of the country.
– Further, a national level communication platform – Crime Multi-Agency Centre (Cri-MAC) was launched by MHA on March 12, 2020.
– Cri-MAC facilitates the dissemination of information about significant crimes, including human trafficking cases, across the country on a real-time basis and enables inter-State coordination.
– The coordination mechanism available to Police Officers in all States and UTs through Cri-MAC is an efficient and fast enabling-tool for sharing information in a safe and secure manner, which helps in locating and identifying the victims as also in prevention, detection and investigation of crimes.
UPSC Prelims 2021: Last 3 months Strategy for UPSC preparation
5. Commitment to Reducing Inequality Index 2020
Why in news?
Recently, the Labour and Employment Minister has informed the Lok Sabha that Oxfam Commitment to Reducing Inequality (CRI) Index 2020 lacked clarity and did not take into account provisions of the four new labour codes.
Key points are:
– The Index ranked countries measuring their policies and actions in three areas that it said are proven to be directly related to reducing inequality: Public services (health, education and social protection), Taxation and Workers' rights.
– Nigeria, Bahrain and India, which experienced the world's fastest-growing outbreak of Covid-19, were among the world's worst-performing countries in tackling inequality going into the pandemic.
– Overall, India ranked 129 in the CRI index out of 158 countries on government policies, and actions in areas of public services of education, health, social protection, taxation, and workers' rights.
– India slipped from rank 141 in the year 2018 to 151 in the year 2020 with weak labour rights and a high incidence of vulnerable employment.
– The highest presence of the informal sector for men was in Uttar Pradesh at 86.9% and for women was in Andhra Pradesh at 73.6%.
– In terms of its public services, it ranked 141.
– India has been ranked 19 on the taxation pillar.
Daily Gist of 'The Hindu', 'PIB', 'Indian Express' and Other Newspapers: 22 March, 2021
6. Health policy on rare diseases
Why in news?
The Delhi High Court has asked the Centre to finalise and notify the National Health Policy for Rare Diseases by March 31.
Key points are:
– A rare disease, also referred to as an orphan disease, is any disease that affects a small percentage of the population.
– Most rare diseases are genetic, and are present throughout a person's entire life, even if symptoms do not immediately appear.
– The most common rare diseases recorded in India are Haemophilia, Thalassemia, sickle-cell anaemia and primary immunodeficiency in children, auto-immune diseases, Lysosomal storage disorders such as Pompe disease, Hirschsprung disease, Gaucher's disease, Cystic Fibrosis, Hemangiomas and certain forms of muscular dystrophies.
Daily Gist of 'The Hindu', 'PIB', 'Indian Express' and Other Newspapers: 20 March, 2021
7. Permanent Indus Commission
Why in news?
The 116th Meeting of the Permanent Indus Commission (PIC) between India and Pakistan is underway in New Delhi.
Key points are:
– The first day of the meeting coincided with the National Day of Pakistan (marks Lahore Resolution of 23rd March, 1940).
– The meeting is being held after a gap of more than two-and-a-half years, a period that witnessed:
– Pulwama attack (14th February, 2019), Balakot airstrike (26th February, 2019), and
– Abrogation of special provisions under Article 370 that gave special status to J&K.
– A discussion on Pakistan's objections about two India Projects – Pakal Dul and Lower Kalnai – is expected to be held.
– India is building the Pakal Dul Hydro Electric Project (1,000 MW) on the river Marusudar, a tributary of the Chenab. The project is located in the Kishtwar district of J&K.
– The second project – Lower Kalnai – is being developed on the Chenab.
– Routine issues such as flood data exchange mechanisms are also expected to be discussed.
– The meeting is being seen as a positive step after both countries agreed to "strict observance of all agreements, understanding and ceasefire along the Line of Control and all other sectors" last month.
IAS Prelims Mock-Test 2021 – Set 126, 24 March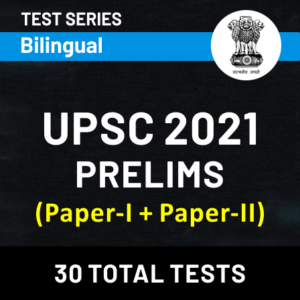 Aiming for UPSC CSE 2021? Get the best test series for sure selection: Click Here