Daily news will speed up the preparation for the Civil Services Examination and it also plays a crucial role to grasp the current affairs topic comprehensively. Here we have covered most of the topics related to various categories including National, International, Sports, Science and Technology, and so on.
Various development projects in Puducherry
Why in news?
Prime Minister Narendra Modi laid the foundation stone for 4 laning of NH45-A covering Karaikal District and Medical College Building at Karaikal New Campus- Phase I, Karaikal District (JIPMER).
He also laid the foundation stone for development of Minor Port at Puducherry under Sagarmala Scheme and Synthetic Athletic Track, Indira Gandhi Sports Complex, Puducherry.
Key points are: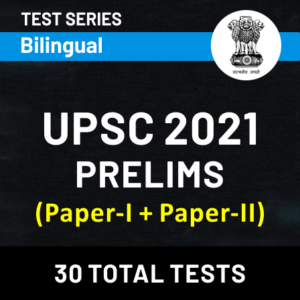 Aiming for UPSC CSE 2021? Get the best test series for sure selection: Click Here
Narendra Modi inaugurated the Blood Centre at Jawaharlal Institute of Postgraduate Medical Education & Research (JIPMER), Puducherry and a 100 bed girls' hostel at Lawspet, Puducherry for female athletes.
– He also inaugurated the reconstructed Heritage Marie Building.
– The Prime Minister said this land of Puducherry has been home to sages, scholars and poets and also to revolutionaries like Mahakavi Subramania Bharathi and Sri Aurobindo.
– Admiring Puducherry as a symbol of diversity, he said here people speak different languages, practice different faiths but live as one.
– The Prime Minister said India that four laning of NH 45-A would cover Karaikal District and improve the connectivity to the holy Saneeswaran Temple and also provide easy interstate connectivity to the Basilica of Our Lady of Good Health and Nagor Dargah.
– Laying the foundation of Puducherry Port Development under Sagarmala Scheme, the Prime Minister hoped that once completed, it will help the fishermen who have been using this port for venturing into sea for fishing operations.
– t will provide much needed sea connectivity to Chennai. This will facilitate the cargo movement for industries of Puducherry and ease load on Chennai port. It will open up possibilities of passenger traffic among the coastal cities, he said.
– The Prime Minister said Direct Benefit Transfer has helped beneficiaries under various welfare schemes. He said this makes people empowered for making their choices.
Sri Mannathu Padmanabhan Ji Punya Tithi
Why in news?
The Prime Minister, Narendra Modi has paid tributes to Sri Mannathu Padmanabhan Ji on his Punya Tithi on 25th February, 2021.
In a tweet, the Prime Minister said, "Tributes to Sri Mannathu Padmanabhan Ji on his Punya Tithi. We recall his long lasting contributions towards social welfare and youth empowerment. His rich thoughts continue to motivate many."
Ram Nath Kovind performed Bhoomi Pujan (ground breaking ceremony) of a huge sports enclave in Ahmedabad
Why in news?
The President Shri Ram Nath Kovind performed Bhoomi Pujan (ground breaking ceremony) of a huge sports enclave in Ahmedabad, Gujarat on 24 February, 2021 named after Bharat Ratna and brave son of Gujarat, Sardar Vallabhbhai Patel.
Key points are:
– President also inaugurated the world's largest sports stadium, 'Narendra Modi Cricket Stadium', this largest cricket stadium in the world is part of the Sardar Vallabhbhai Patel sports complex.
– 1.32 lakh spectators will be able to enjoy the match in the stadium, the stadium has 11 pitches, unrivalled by any stadium in the world.
– It will be the largest sports enclave in the country to be built on 233 acres of land and will have world class sports facilities.
– Ahmedabad will be known as Sports City of India
– More than 600 schools in Gandhinagar and Ahmedabad rural district will be connected to the sports enclave and children of schools that do not have their own playgrounds will be able to avail of sports facilities.
– Accommodation for 250 coaches and 3,000 children will  be available to make them able to train together.
– Prime Minister believes that youth cannot achieve things until they progress in sports, that's why he started Khelo India.
36th PRAGATI Meeting
Why in news?
Prime Minister Narendra Modi on 24th February, 2021 chaired the 36th PRAGATI meeting.
Key points are:
– In the meeting, ten agenda items were taken up for review including eight projects, grievance relating to one scheme and one programme.
– Among the eight projects, three were from the Ministry of Road Transport and Highways, two from Ministry of Railways, one each from Ministry of Power, Ministry of Petroleum and Natural Gas and Ministry of Home Affairs.
– These eight projects, with a cumulative cost of about ₹44,545 crore, pertained to 12 states viz., West Bengal, Assam, Tamil Nadu, Odisha, Jharkhand, Sikkim, Uttar Pradesh, Mizoram, Gujarat, Madhya Pradesh, Bihar and Meghalaya.
– The Prime Minister expressed his concerns in delays being observed in execution of some of the projects, and directed the officials concerned that all pending issues should be resolved in a time-bound manner, and wherever possible, in Mission Mode.
– During the interaction, the Prime Minister reviewed the programme for elimination of single use plastic. Review of grievances related to Pradhan Mantri Gram SadakYojana was also taken up.
– In the previous 35 PRAGATI interactions, 290 projects having a total cost of about ₹13.60 lakh crore, along with 51 programmes / schemes and grievances pertaining to 17 different sectors have been reviewed.
Indradhanush 3.0 launched
Why in news?
Intensified Mission Indradhanush 3.0 launched to expand immunization coverage across the country.
Key points are:
The focus of IMI 3.0 will be on children and pregnant women who missed their vaccine doses during the COVID-19 pandemic.
About Mission Indradhanush
To strengthen and re-energize the programme and achieve full immunization coverage for all children and pregnant women at a rapid pace, the Government of India launched "Mission indradhanush" in December 2014.
– The ultimate goal is to ensure full immunization with all available vaccines for children up to two years of age and pregnant women.
– It provides vaccination against 12 Vaccine-Preventable Diseases (VPD) i.e. diphtheria, Whooping cough, tetanus, polio, tuberculosis, hepatitis B, meningitis and pneumonia, Hemophilus influenza type B infections, Japanese encephalitis (JE), rotavirus vaccine, pneumococcal conjugate vaccine (PCV) and measles-rubella (MR).
– However, Vaccination against Japanese Encephalitis and Haemophilus influenzae type B is being provided in selected districts of the country.
– To further intensify the immunization programme, Prime Minister Narendra Modi launched the Intensified Mission (IMI) on October 8, 2017.
– With this, the Government of India aims to reach each and every child up to two years of age and all those pregnant women who have been left uncovered under the routine immunization programme/UIP.
UN Human Rights Council
Why in news?
In his address to the United Nations Human Rights Council, External Affairs Minister S Jaishankar said:
Terrorism continues to be one of the gravest threats to humankind and a crime against humanity, which violates the most fundamental human rights namely the right to life.
Human rights violations and gaps in the implementation of human rights should be addressed in a "fair and just manner" with objectivity, non-selectivity and transparency and with due respect with the principle of non-interference in internal affairs and national sovereignty.
Key points are:
India had last month presented an eight-point action plan to deal with the scourge of terrorism in which India asked the world to crack down on countries sheltering and harbouring proscribed terrorists. The action plan also includes cracking the whip on terror financing.
About UNHRC
UNHRC was reconstituted from its predecessor organisation, the UN Commission on Human Rights to help overcome the "credibility deficit" of the previous organisation. Headquartered in Geneva, Switzerland.
– The UNHRC passes non-binding resolutions on human rights issues through a periodic review of all 193 UN member states called the Universal Periodic Review (UPR).
– It oversees expert investigation of violations in specific countries (Special Procedures).
6 Years of UJALA and SLNP
Why in news?
The UJALA (Unnat Jyoti by Affordable LEDs for All) and SLNP (Street Lighting National Programme) completed six years of successful implementation. The two programmes revamped household and public lighting systems across the country.
Key points are:
– Both schemes have been implemented by Energy Efficiency Services Limited (EESL), a joint venture of PSUs under the Ministry of Power.
– These programmes have bagged global awards like the South Asia Procurement Innovation Award (SAPIA) 2017, Global Solid State Lighting (SSL) award of excellence for the transformational contribution to the LED sector, etc.
About Unnat Jyoti by Affordable LEDs for All (UJALA)
– UJALA is a zero-subsidy scheme launched by the Government in 2015. It is touted as the world's largest domestic lighting project. Also known as the LED-based Domestic Efficient Lighting Programme (DELP), it aims to promote the efficient usage of energy for all i.e., its consumption, savings and lighting.
– Every domestic household having a metered connection from their respective Electricity Distribution Company is eligible to get the LED bulbs under the Scheme.
– Under UJALA, EESL has distributed over 36.69 crore LED bulbs across India. This has resulted in estimated energy savings of 47.65 billion kWh per year with avoided peak demand of 9,540 MW and estimated GreenHouse Gas (GHG) emission reduction of 38.59 million tonnes CO2 per year.
– It has helped in the growth of domestic LED (Light-Emitting Diode) markets.
– It has helped to bring down the average household electricity bills by 15%.
About Street Lighting National Programme (SLNP)
– The SLNP, launched in 2015, is a government scheme to promote energy-efficiency in India.
– Under the programme, EESL replaces the conventional street lights with LEDs at its own costs, with no upfront investment by the municipalities, thereby making their adoption even more attractive.
– This scheme is expected to enable peak demand reduction of 500 MW, annual energy savings of 190 crore kWh, and reduction in 15 lakh tons of CO2.
– The SLNP has plans to bring investment of Rs. 8,000 crores by 2024 to cover the entire rural India.
– Over 1.14 crore smart LED streetlights have been installed till date, enabling an estimated energy savings of 7.67 billion kWh per year with an avoided Peak demand of 1,161 MW and an estimated greenhouse gas (GHG) emission reduction of 5.29 million tons CO2 annually.
– With the help of the scheme, the municipalities were able to save 5,210 crores of Rupees in their electricity bills.