Daily news will speed up the preparation for the Civil Services Examination and it also plays a crucial role to grasp the current affairs topic comprehensively. Here we have covered most of the topics related to various categories including National, International, Sports, Science and Technology, and so on.
1. Bhutan's Tax Inspectors Without Borders (TIWB) programme launched
Why in news?
Tax Inspectors Without Borders (TIWB), a joint initiative of the United Nations Development Programme (UNDP) and the Organisation for Economic Cooperation and Development (OECD), launched its programme in Bhutan on 23 June, 2021.
Key points are:
– India was chosen as the Partner Jurisdiction and has provided the Tax Expert for this programme.
– This programme is expected to be of about 24 months' duration through which India in collaboration with the UNDP and the TIWB Secretariat aims to aid Bhutan in strengthening its tax administration by transferring technical know-how and skills to its tax auditors, and through sharing of best audit practices.
– The focus of the programme will be in the area of International Taxation and Transfer Pricing.
– This programme is another milestone in the continued cooperation between India and Bhutan and India's continued and active support for South-South cooperation.
For more details Click Here
2. An Additional Judge of Kerala High Court appointed
Why in news?
President of India, in exercise of the power conferred by clause (l) of Article 224 of the Constitution of India, appointed Shri Abdul Rahim Musaliar Badharudeen, to be an Additional Judge of the Kerala High Court, for a period of two years with effect from the date he assumes charge of his office. A notification in this regard was issued by the Department of Justice, Ministry of Law& Justice on 23 June, 2021.
3. G20 Education Ministers Meeting
Why in news?
G20 education ministers' meeting was held on recently in which ministers reiterated commitment to ensure continuity of quality education amid the ongoing covid-19 pandemic.
Key points are:
– The meeting was hosted in blended mode by Italy.
– G20 Education Ministers exchanged views on how to progress in the fight against educational poverty and inequalities, especially in the context of the Covid 19 pandemic.
– The ministers also resolved to share innovative experiences implemented during the pandemic to ensure the continuity and quality of learning pathways through blended education.
– Sanjay Dhotre, minister of state for education, represented India.
– Indian Minister reiterated India's new education policy and several welfare schemes which are running to bridge education inequalities especially for girls and socially & economically disadvantaged groups.
– He reaffirmed India's support for "collective efforts of G-20 countries to reduce educational poverty & inequalities."
About G20
– G20 is an intergovernmental forum of 19 countries and the European Union (EU).
– It addresses major issues related to the global economy like international financial stability, sustainable development, and climate change mitigation.
– G20 comprises most of the world's largest industrialized and developing nations.
– It accounts for 90 percent of gross world product (GWP), two-thirds of the world's population, and half of the world's land area.
Daily Gist of 'The Hindu', 'PIB', 'Indian Express' and Other Newspapers: 23 June, 2021
4. Mars helicopter Ingenuity nails 8th flight on the Red Planet
Why in news?
NASA's experimental Mars helicopter called Ingenuity undertook its 8th flight on Red Planet.
Key points are:
– Weeks after landing on a new location, the Ingenuity Mars helicopter is set for its eighth flight to another new location on 21 June, 2021.
– The flight will take the small rotorcraft to a new location previously not surveyed by the helicopter or the Perseverance rover.
– The helicopter will fly 160 meters south to its current landing strip in the next hop.
– "Ingenuity will attempt its 8th flight no earlier than June 21. This mighty little rotorcraft will fly 160 meters south to another new landing site as it continues to travel alongside," Nasa's Jet Propulsion Laboratory said.
– As part of its operations demonstration phase, the helicopter reached the current landing site during the seventh flight, logging a 62.8 second flight time as it travelled 106 meters south.
– The helicopter has been relying on images captured by the HiRISE camera aboard Nasa's Mars Reconnaissance Orbiter to identify possible landing zones as it continues to create minuscule dust storms on another world.
– The helicopter that reached Mars shrouded in the belly of the SUV-sized Perseverance rover is the first to fly beyond Earth.
– The rotorcraft has been able to fly in the thin Martian atmosphere, displaying the engineering marvel from Nasa.
– The small craft survived an anomaly during its sixth flight on May 27, when it lost navigational pattern as it transitioned into the operations demonstration phase.
– In yet another milestone for the rotorcraft, the team of engineers and scientists behind Ingenuity have been named the winner of the 2021 John L. "Jack" Swigert, Jr. Award for Space Exploration by Space Foundation.
– Named after astronaut John L. "Jack" Swigert, Jr, the command module pilot for the Apollo 13 mission, the award "recognises extraordinary accomplishments by a company, space agency, or consortium of organizations in the realm of space exploration," JPL said in a statement.
– The Ingenuity team created history by flying an aircraft on another planet and adding the critical aerial element in interplanetary exploration. The award will be presented to the team on August 23 during the opening ceremony of the 36th Space Symposium.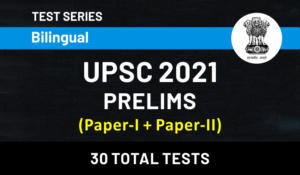 UPSC Prelims (Paper-I + Paper-II) 2021 Online Test Series
5. Food Security (Assistance To State Government Rules) 2015 amended
Why in news?
Centre amends Food Security rules to prevent ration leakage, corruption.
The government said that this amendment has been made as an attempt to take forward the reform process envisaged under Section 12 of the National Food Security Act (NFSA), 2013 by way of improving the transparency of the operation of the Targeted Public Distribution System (TPDS) under NFSA.
Key points are:
– This amendment is an attempt to take forward the reform process envisaged under Section 12 of the Act, through improving transparency of operations of the Targeted Public Distribution System under NFSA.
– While distribution through ePoS devices ensures that subsidised food grains are provided to the rightful beneficiary through biometric authentication, integration of ePoS devices with electronic weighing scales would ensure that the beneficiary is given the right quantity of foodgrains by the Fair Price Shop dealer as per his entitlement.
About the amendment
According to the amendment, states that are operating their ePoS devices judiciously and are able to generate savings from the additional margin of Rs 17 per quintal can now utilise the savings for purchase, operations, and maintenance of electronic weighing scales and their integration with the point of sale devices.
National Food Security Act (NFSA), 2013
The objective is to provide for food and nutritional security in the human life cycle approach, by ensuring access to adequate quantity of quality food at affordable prices to people to live a life with dignity.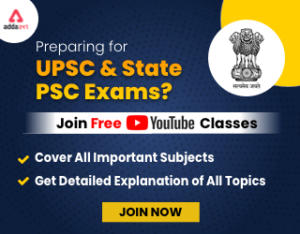 Get free video for UPSC CSE preparation and make your dream of becoming an IAS/IPS/IRS a reality
6. Increase in Direct Tax Collections
Why in news?
As per the government, India's net direct tax collections doubled to more than ₹1.85 lakh crore this fiscal so far.
Key points are:
– The income tax receipts in the corresponding period for the last fiscal came at ₹92,762 crore.
– The net Direct Tax collections include Corporation Tax (CIT) at Rs. 74,356 crore (net of refund) and Personal Income Tax(PIT) including Security Transaction Tax(STT) at Rs. 1,11,043 crore (net of refund), the Ministry of Finance said in a statement.
– The gross collection of Direct Taxes (before adjusting for refunds) for the FY22 stands at ₹2,16,602 crore compared to ₹1,37,825 crore in the corresponding period of the preceding year.
– This includes Corporation Tax (CIT) at ₹96,923 crore and Personal Income Tax (PIT) including Security Transaction Tax(STT) at Rs. 1,19,197 crore. The minor head-wise collection comprises an Advance Tax of Rs. 28,780 crore, Tax Deducted at Source of Rs.1,56,824 crore, Self-Assessment Tax of Rs. 15,343 crore; Regular Assessment Tax of Rs. 14,079 crore; Dividend Distribution Tax of Rs.1086 crore and Tax under other minor heads of Rs. 491 crore, the ministry stated.
– "Despite extremely challenging initial months of the new fiscal, the Advance Tax collections for the first quarter of the FY22 stand at ₹28,780 crore against Advance Tax collections of ₹11,714 crore for the corresponding period of the immediately preceding Financial Year, showing a growth of approximately 146%," it stated.
– This comprises Corporation Tax (CIT) at Rs. 18,358 crore and Personal Income Tax (PIT) at Rs. 10,422 crore. This amount is expected to increase as further information is received from Banks.
– Refunds amounting to Rs. 30,731 crore have also been issued in the F.Y. 2021-22.