Daily news will speed up the preparation for the Civil Services Examination and it also plays a crucial role to grasp the current affairs topic comprehensively. Here we have covered most of the topics related to various categories including National, International, Sports, Science and Technology, and so on.
JNCASR Scientists develop a new molecule
Why in news?
Scientists have developed a small molecule that disrupts the mechanism through which neurons become dysfunctional in Alzheimer's disease (AD).
Key points are:
– The molecule could be a potential drug candidate to halt or cure the leading cause of dementia (70-80%) worldwide.
– In the Alzheimer's brain, abnormal levels of naturally forming protein clump together to form plaques that collect between neurons and disrupt cell function.
– This is caused by production and deposition of the amyloid peptide (Aβ) that accumulates  in the central nervous system.
– The multifactorial nature of Alzheimer's disease (AD) attributed to multifaceted amyloid toxicity has kept researchers from developing effective treatment.
– A team of scientists led by Professor T. Govindaraju from Jawaharlal Nehru Centre for Advanced Scientific Research (JNCASR), an autonomous institute of the Department of Science & Technology, Government of India, designed and synthesized a set of novel small molecules and identified a lead candidate which they found could reduce the toxicity of Amyloid Beta (Aβ) toxicity.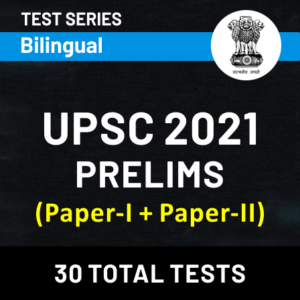 Aiming for UPSC CSE 2021? Get the best test series for sure selection: Click Here
– The detailed studies established the molecule called TGR63 as the lead candidate to rescue neuronal cells from amyloid toxicity. Remarkably, the molecule was also found to reduced amyloid burden in the cortex and hippocampus, or a complex part embedded deep into the temporal lobe, thereby reversing cognitive decline.
– This research has been published recently in the journal Advanced Therapeutics.
– Currently available treatments provide only temporary relief, and there are no approved drugs that directly act on the disease mechanisms of Alzheimer's disease. Thus, there is an unmet need to develop drug candidates to halt or cure Alzheimer's disease.
– Mice brain affected with Alzheimer's disease when treated with TGR63 showed a significant reduction of amyloid deposits, validating its therapeutic efficacy.
– The mice also showed reduction of learning deficiency, memory impairment, and cognitive decline as revealed by distinct behavioural tests.
– These key attributes have validated the potential of TGR63 as a promising drug candidate for the treatment of AD.
– AD severely affects the patients, families, caregivers and hence is a major societal and economic burden globally.
– The novel drug candidate TGR63 developed by the JNCASR team has potential as a promising drug candidate for AD treatment.
Kodaikanal Solar Observatory Digitized Data
Why in news?
Scientists have estimated how the Sun has rotated over a century from data extracted from old films and photographs that have been digitized.
Key points are:
– This estimation would help study magnetic field generated in the interior of the Sun, which causes sunspots and results in extreme situations like the historical mini-ice age on Earth (absence of sunspots). It could also help predict solar cycles and their variations in the future.
– The Sun rotates more quickly at its equator than at its poles. Over time, the Sun's differential rotation rates cause its magnetic field to become twisted and tangled.
– The tangles in the magnetic field lines can produce strong localized magnetic fields. When the Sun's magnetic field gets twisted, there are lots of sunspots.
– The sunspots which form at the surface with an 11-year periodicity are the only route to probe the solar dynamo or solar magnetism inside the Sun and hence measure the variation in solar rotation.
– Researchers led by Mr. Bibhuti Kumar Jha, a Ph.D. student from the Aryabhatta Research Institute of Observational Sciences (ARIES), an autonomous institute under Department of Science and Technology (DST), Govt. of India, along with the collaborators from Max Planck Institute for Solar System Research, Goettingen, Germany and Southwest Research Institute, Boulder, USA have studied the solar rotation by tracing sun spots from century-old digitalized films and photographs.
– The old films and photographs were taken at the Kodaikanal Solar Observatory (KoSO) of Indian Institute of Astrophysics (IIA), an autonomous institute of DST, and have now been digitised.
– The team compared the consistent digitized data with manual data of rotation taken earlier and said that they have been able to differentiate the behaviors of the bigger and smaller solar spots for the first time.
– Such digitized data and differentiation of bigger and smaller sun spots can improve understanding of solar magnetism and sun spots, paving the path towards predicting solar cycles in the future.
PM-Kisan scheme
Why in news?
The PM-Kisan scheme, launched with an aim to ensure a life of dignity and  prosperity for  farmers has completed two years on 24 February, 2021.
Key points are:
– In a series of tweets the Prime Minister said," On this day, 2 years ago the PM-Kisan scheme was launched with an aim to ensure a life of dignity as well as prosperity for our hardworking farmers, who work day and night to keep our nation fed. The tenacity and passion of our farmers is inspiring.
– Over the last 7 years, the Government of India has taken many initiatives for transforming agriculture. From better irrigation to more technology, more credit and markets to proper crop insurance, focus on soil health to eliminating middlemen, the efforts are all-encompassing .
Acute Encephalitis Syndrome (AES)
Why in news?
First  Acute Encephalitis Syndrome (AES) case of the year suspected in Muzaffarpur.
Key points are:
– Usually AES, locally called chamki bukhar, surfaces during summer in the flood-prone districts of north Bihar.
– AES cases were reported from five north Bihar districts in 2019. More than 150 children died. More than 600 children suffering from AES were admitted in the hospitals, including SKMCH and nearly 450 recovered.
– Acute encephalitis syndrome is a basket term used for referring to hospitals, children with clinical neurological manifestation that includes mental confusion, disorientation, convulsion, delirium, or coma.
– Meningitis caused by virus or bacteria, encephalitis (mostly Japanese encephalitis) caused by virus, encephalopathy, cerebral malaria, and scrub typhus caused by bacteria are collectively called acute encephalitis syndrome.
– The disease most commonly affects children and young adults and can lead to considerable morbidity and mortality.
Its symptoms are:
It is characterized as acute-onset of fever and a change in mental status (mental confusion, disorientation, delirium, or coma) and/or new-onset of seizures in a person of any age at any time of the year.
India – Maldives
Why in news?
Recently, India and the Maldives have signed a defence Line of Credit agreement worth USD 50 million.
Key points are:
– The agreement was signed during the visit by the External Affairs Minister of India to Maldives.
– Defence Line of Credit was signed pursuant to the request by the Government of Maldives in April 2013 for India's support and cooperation in enhancing the capability of the Maldives Defence Forces in maritime surveillance, and subsequent requests in October 2015 and March 2016.
– It is seen as key to India's and Maldives' strategic interests, particularly given China's increasing footprint in the Indian Ocean Region.
– A dockyard will be developed at the Uthuru Thila Falhu (UTF) Naval Base with Indian assistance, a few miles northwest of Male, which will strengthen the Maldivian defence capabilities.
– The agreement is part of the defence action plan signed in 2016 by then Maldivian President Abdulla Yameen Abdul Gayoom during a visit to India.
– Indicating deepening security cooperation, an agreement to develop, support and maintain a Maldives National Defence Force Coast Guard Harbour at Sifavaru was also signed.
– India will also support development of other infrastructure needed for the harbour, support the development of communications resources and radar services, and provide training.
– A number of India-backed infrastructure projects including the National College of Policing and Law Enforcement Studies
– Noted progress on institutionalising linkages between the police organisations to support collaboration and cooperation in training management and exchange of trainers and trainees.
IIT Council's Recommendations
Why in news?
Recently, the Institute of Technology (IIT) Council has constituted four working groups to look at greater autonomy for the IITs.
Key points are:
– The decision is in line with the National Education Policy recommendation.
– The IITs are seeking autonomy on the lines of what was granted to the Indian Institutes of Management (IIMs).
– The IIT Council is headed by the Education Minister. It includes the directors of all IITs, and the chairs of each IIT's Board of Governors (BoG).
Its objectives are:
– It is meant to advise on admission standards, duration of courses, degrees and other academic distinctions.
– It lays down policy regarding cadre, methods of recruitment and conditions of service of employees of all IITs.
Working Groups of the Council:
Group-1: Graded Autonomy, Empowered & accountable BoG and Director.
Group-2: Grooming distinguished academics for directorship of IITs.
Group-3: Reform and restructuring of Academic Senate.
Group-4: Innovative funding mechanisms.
– To constitute a task force to review use of technology at all IITs and also to accelerate deployment of digital tools, Such as Blockchain, AI (Artificial intelligence), ML (machine learning), and Cloud Computing.
Kerala government annuls agreement with U.S. firm
Why in news?
The Kerala government has invalidated a controversial agreement that the Kerala Shipping and Inland Navigation Corporation (KSINC) had reached with a U.S.-based firm, EMCC International, to build and operate a deep-sea trawling fleet to harvest the marine wealth off the State's coast.
Key points are:
– Opposition called this deal as a bid to sell off the state's marine wealth, endangering the livelihood of lakhs of fishermen in the state.
One of the stated objectives of the deal was deep sea fishing with state-of-the-art technology.
– The components of the project were building 400 deep sea fishing trawlers as per the design proposed by EMCC.
– The EMCC would train and deploy 1.60 lakh fishermen in deep sea fishing. Their skills would be upgraded, and the local fishing community would benefit in terms of direct and indirect employment opportunities.
– The Union Government had in 2017 withdrawn permission given for foreign trawlers for deep sea fishing in the exclusive economic zone of the country.
– The EEZ of the country extends up to 370 km from the coastline. Illegal fishing by foreign vessels in Indian waters is punishable under provisions of Maritime Zone of India (Regulation of Fishing by Foreign Vessels Act) 1981.
Go Electric Campaign
Why in news?
The central government has launched the "Go Electric" Campaign to spread awareness on the benefits of e-mobility and EV Charging Infrastructure as well as electric cooking in India.
Key points are:
– To push the country towards 100% e-mobility and clean and safe e-cooking.
– To create awareness at PAN-India level and reduce the import dependence of the country.
– To move ahead on the path of a low carbon economy, thereby saving the country and the planet from the adverse impact of climate change.
– Bureau of Energy Efficiency (BEE), under the aegis of the Ministry of Power has been mandated to undertake an awareness drive for promoting public charging, e-mobility & its ecosystem.
– E-mobility moves away from existing carbon-emitting fossil fuels to using energy from electrical power sources (e.g. the National Grid) through external charging capability.
– Presently, India is using 94 million tonnes of oil and petroleum products for transportation only which is expected to double by 2030.
– For fossil fuels, India currently has an import bill of Rs. 8 lakh Crore.
– It encompasses the use of fully electric, conventional hybrid, plug-in hybrid as well as hydrogen-fuelled vehicles.
– The government of India has undertaken multiple initiatives to promote manufacturing and adoption of electric vehicles (EV) in India. One such initiative is 'Faster Adoption and Manufacturing of (Hybrid &) Electric Vehicles in India (FAME-India)' Scheme.