Daily news will speed up the preparation for the Civil Services Examination and it also plays a crucial role to grasp the current affairs topic comprehensively. Here we have covered most of the topics related to various categories including National, International, Sports, Science and Technology, and so on.
Liberalization of geospatial policies will boost innovation in the sector
Why in news?
Secretary, Department of Science & Technology (DST) Prof Ashutosh Sharma highlighted that that liberalization of geospatial policies, announced a few days ago by the Government of India, will help to boost innovation in the sector and create a level playing field for the public as well as private sector, at the National Geospatial Awards Felicitation Ceremony recently.
Key points are:
– "We aim to utilize the power of geospatial technology to revive various sectors of the Indian economy," he said, speaking via webinar at the online felicitation ceremony organized by the Federation of Indian Chambers of Commerce & Industry (FICCI).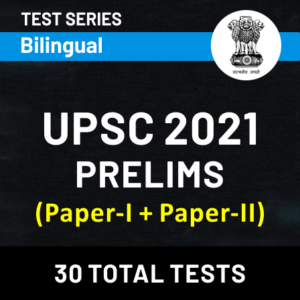 Aiming for UPSC CSE 2021? Get the best test series for sure selection: Click Here
– The Guidelines for acquiring and producing Geo-Spatial Data and Geo-Spatial Data Services, including Maps, was recently released to facilitate access to such data across sectors.
– National Informatics Centre (NIC) received the Geospatial Excellence in Governance award for project Creation of Multi-Layer GIS for E-governance & Planning- Bharat Maps.
– At the award ceremony, Prof Sharma appealed to all stakeholders to share recommendations, insights and advice about various aspects of geospatial data and how to bring the entire ecosystem in place to give it full muscle for strengthening the policy.
States/UTs roll out Intensified Mission Indradhanush (IMI) 3.0
Why in news?
Various States and UTs have started implementation of the Intensified Mission Indradhanush 3.0, a campaign aimed to reach those children and pregnant women who have been missed out or been left out of the Routine Immunisation Programme.
Key points are:
– This is aimed to accelerate the full immunization of children and pregnant women through a mission mode intervention. The first phase has been rolled out from 22nd Feb 2021 for fifteen days.
– The Union Minister for Health and Family Welfare, Dr Harsh Vardhan, launched the campaign on 19th February, 2021 and urged the States and district functionaries to reach each and every child and attain maximum Full Immunization Coverage.
– The campaign has exemplified ownership of the immunization program by top most leadership at the state level also.
– The campaign in Uttar Pradesh was inaugurated by the Chief Minister, Shri Yogi Adityanath on 21st February 2021.
– The campaign was kicked off in Rajasthan with its Health Minister Dr Raghu Sharma inaugurating the programme on 22nd February 2021.
– In Madhya Pradesh, Dr Prabhu Ram Choudhary, State Health Minister inaugurated the campaign in a function held at Bhopal on 22nd February 2021.
– The campaign is scheduled to have two rounds of immunization lasting 15 days (excluding Routine immunization and holidays).
– It is being conducted in pre-identified 250 districts/urban areas across 29 States/UTs in the country.
– As per the Guidelines released for IMI 3.0, the districts have been classified to reflect 313 low risk; 152 as medium risk; and 250 as high risk districts.
– As per data reported till 1700 hrs. on 22nd February, nearly 29,000 children and 5,000 pregnant women were vaccinated (data provisional).
About IMI 3.0 campaign
– IMI 3.0 campaign spearheaded by the Ministry of Health and Family Welfare (MoHFW), will be implemented in mission-mode with support from key departments, as well as a strong network of partners and civil society organizations, youth groups, and community members.
–  It will be taken as an opportunity to catch up on any immunization gaps that might have emerged due to the COVID-19 pandemic.
New material found can efficiently convert waste heat to electricity
Why in news?
Scientists have found a new Lead (Pb) free material which can efficiently convert waste heat to power our small home equipment and automobiles.
Key points are:
– Thermoelectric energy conversion allows generation of electrical voltage when one end of a material is heated while keeping the other side cold.
– Finding an efficient material to realize this scientific principle has been a daunting task for scientists.
– It entails fitting in three seemingly different properties into a single material– high electrical conductivity of metals, high thermoelectric sensitivity of semiconductors, and low thermal conductivity of glasses.
– Most efficient thermoelectric materials developed by scientists so far use Lead (Pb) as a major constituent element, restricting their use for mass-market applications.
– Scientists from Jawaharlal Nehru Centre for Advanced Scientific Research (JNCASR), Bengaluru, an autonomous institution of the Department of Science & Technology (DST), Government of India led by Prof. Kanishka Biswas have now identified a lead-free material called Cadmium (Cd) doped Silver Antimony Telluride (AgSbTe2).
– This material can efficiently allow recovery of electricity from 'waste heat' marking a paradigm shift in the thermoelectric puzzle. They have reported this major breakthrough in the journal Science.
– Prof. Kanishka Biswas and his group doped (internally introduced) Silver Antimony Telluride with Cadmium (Cd) and used an advanced electron microscopy technique to visualize the resultant ordering of atoms in nanometer scale.
– The nanometer-scale atomic ordering scatters phonons that carries heat in a solid and enhances electrical transport by delocalizing the electronic state in the material.
Government of India and World Bank Sign Project
Why in news?
The Government of India, Government of Nagaland and the World Bank on 23rd February, 2021 signed a $68 million project to enhance the governance of schools across Nagaland as well as to improve teaching practices and learning environments in select schools.
Key points are:
– The "Nagaland: Enhancing Classroom Teaching and Resources Project" will improve classroom instruction; create opportunities for the professional development of teachers; and build technology systems to provide students and teachers with more access to blended and online learning as well as allow better monitoring of policies and programs.
– Such an integrated approach will complement conventional delivery models and help mitigate the challenges posed by COVID-19. About 150,000 students and 20,000 teachers in the government education system in Nagaland will benefit from the statewide reforms in schools.
– C.S. Mohapatra, Additional Secretary, Department of Economic Affairs, Ministry of Finance, Government of India said that human resources development plays a key role in any development strategy and the Government of India has taken several concrete steps to transform the education landscape in India.
– He added that the education project in Nagaland will address the critical gaps faced by students and teachers and play an important role in the development of the state.
– The agreement was signed by Shri Mohapatra on behalf of the Government of India; Mr Shanavas C, Principal Director, Department of School Education on behalf of the Government of Nagaland; and Mr Junaid Ahmad, Country Director, India on behalf of the World Bank.
– As part of that strategy, approximately 15 out of Nagaland's 44 higher secondary schools will be developed into school complexes that operationalize the envisioned learning environment during the project period.
– The $68 million loan from the International Bank for Reconstruction and Development (IBRD), has a final maturity of 14.5 years including a grace period of 5 (five) years.
66th Convocation of IIT Kharagpur
Why in news?
The Prime Minister Narendra Modi addressed the 66th Convocation of IIT Kharagpur on 23 February, 2021 through a video conference.
Key points are:
– Union Education Minister Ramesh Pokhriyal 'Nishank' and Union Minister of State for Education Shri Sanjay Dhotre were present on the occasion.
– The Prime Minister said the need of the day is to work while anticipating the needs of the future, to make innovations for tomorrow.
– He urged the students to find solutions which can improve and save the lives of millions and can save the country's resources.
– Narendra Modi asked the students to adopt the mantra of Self 3 to overcome their self doubts and obstacles in the future.
– He said Self 3 is Self-awareness, Self-confidence and Selflessness. He advised the students to recognize their potential and move forward, move ahead with full confidence, move ahead with selflessness.
– The Prime Minister emphasized the need for significant innovation for Industry 4.0. He lauded the efforts of IIT Kharagpur to transform academic research related to AI at industrial level, Internet of things and modern construction technology.
Media Platform Bill
Why in news?
Australia has reached out to India among several countries, including Canada, France and the UK, in a move to stitch a global coalition against tech giants Google and Facebook amid a faceoff over compensation for sharing news content from media companies on their platforms.
Key points are:
– Australia's proposed law, News Media and Digital Platforms Mandatory Bargaining Code Bill 2020, mandates a bargaining code that aims to force Google and Facebook to compensate media companies for using their content.
– The Bill is expected to set a precedent in regulating social media across geographies.
– Payment to News Outlets: Big tech and social media giants like Facebook and Google will have to pay local news outlets for using their content.
– Big Tech firms will have to negotiate how much they pay local publishers and broadcasters for content that appears on their platforms.
– Provision of Arbitration and Fine: An arbiter is mandated to adjudicate if no agreement is reached and there are also provisions of heavy fines if agreements are not done.
Influenza A(H5N8) virus
Why in news?
Russia says it detected first case of H5N8 avian flu in humans, alerts WHO.
Key points are:
– There are different subtypes of avian influenza viruses. While the highly contagious strain H5N8 is lethal for birds it has never before been reported to have spread to humans.
About Influenza A(H5N8) virus
– According to Paris-based World Organisation for Animal Health, H5N8 avian influenza is a disease of birds, caused by Type "A" influenza viruses, which can affect several species of domestic poultry, such as chickens, turkeys, quails, guinea fowl, ducks, as well as pet birds, wild migratory birds and water fowl.
– There are no known cases of H5N8 in human beings.
– Risk to general public is very low. There is also no evidence that consumption of poultry meat or eggs could transmit the virus to humans.
– But necessary precautions are required while handling sick/dead birds and contaminated material during control and containment operations.
– It is considered safe to eat properly cooked poultry products.
– Culling is usually undertaken to control the infection when it is detected in animals.
– Besides culling, safe disposal of all such culled animals and animal products is also important.
– The authorities also need to strictly enforce decontamination of infected premises and undertake quarantine of contaminated vehicles and personnel.
Conclusive Land Titling
Why in news?
Recently, as many States have failed to send in their feedback on a Model Bill on Conclusive Land Titling , the Centre has warned that their agreement would be presumed. The Bill was prepared by the NITI Aayog.
Key points are:
– Land Titling is the generic term used to describe the programs implemented by the government to enable individuals and government to efficiently trade in rights in land and property.
– Recently, the Supreme Court held that a citizen's right to own private property is a human right.
– India currently follows a system of presumptive land titling. It means that land records are maintained, with information on possession, which is determined through details of past transactions.
– It is established on the basis of current possession. Registration of land is actually a registration of transactions, such as sale deeds, records of inheritance, mortgage and lease.
Carbon Watch
Why in news?
Chandigarh became the first state or Union Territory in India to launch Carbon Watch.
Key points are:
– Carbon Watch is a mobile application to assess the carbon footprint of an individual
– Carbon footprint is the amount of greenhouse gases-especially carbon dioxide-released into the atmosphere by a particular human activity.
How the app works?
– As a person downloads the application, they will need to fill details in four parts- Water, Energy, Waste Generation and Transport (Vehicular movement). In each category, they will be required to inform about their respective consumptions and waste generations.
– With the mentioned information, the mobile application will automatically calculate the carbon footprint of the individual.
– The application will also provide information such as the national and world average of the emission, and the individual's level of emission generation.
– The mobile application will suggest methods to reduce the carbon footprints. The application will suggest ways as per the information furnished by the individuals.