Daily news will speed up the preparation for the Civil Services Examination and it also plays a crucial role to grasp the current affairs topic comprehensively. Here we have covered most of the topics related to various categories including National, International, Sports, Science and Technology, and so on.
International Mother Language Day
Why in news?
Vice President of India, M. Venkaiah Naidu on 21 February, 2021 inaugurated the Webinar on the occasion of 'International Mother Language Day'.
Key points are:
– The Webinar on 'Fostering Multilingualism for Inclusion in Education and Society' is being organised jointly by the Ministry of Education, Ministry of Culture and IGNCA.
– The Vice President also inaugurated the International Virtual Calligraphy Exhibition. Union Minister for Education, Shri Ramesh Pokhriyal 'Nishank''; Minister of State (Independent Charge) for Culture Shri Prahlad Singh Patel; Minister of State for Education Shri Sanjay Dhotre and Member Secretary, IGNCA, Dr. Sachidanand Joshi were also present through the virtual medium.
– All the speakers spoke in length about the importance of the Mother tongue and the need for its preservation which will be a treasure for our future generations.
– The Vice President, M Venkaiah Naidu also called for making mother tongue the primary medium of instruction, at least until Grade 5.
– He suggested that educating a child in a language that is not spoken at home can be a big impediment to learning especially at the primary stage.
– Referring to multiple studies, Shri Naidu said that teaching through the mother tongue in the initial stages of education can boost a child's self-esteem and enhance his or her creativity.
– Calling the New Education Policy a visionary and progressive document, he urged for implementing the Policy in letter and spirit.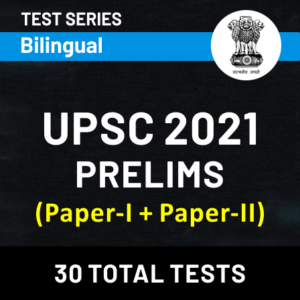 Aiming for UPSC CSE 2021? Get the best test series for sure selection: Click Here
– Addressing the participants Shri Dhotre said that consequent to the declaration of 21st February as the International Mother Language Day, (Matribhasha Diwas) UNESCO in 1999, this day is being celebrated every year since 2015 in a grand manner by involving all the higher educational institutions/schools across the country to organize various activities like Debating, Singing, Essay Writing and Painting competitions, Music and Dramatic performances, Exhibitions etc
– Shri Dhotre highlighted that the purpose of the celebrations is to promote the preservation and protection of all languages spoken by the people globally and also to promote awareness of linguistic and cultural diversity and multilingualism of the languages.
– He further said that the Government has adopted a proactive approach to promote all Indian languages and strengthen the mother tongue in the Indian education system.
"Hunar Haat"
Why in news?
Defence Minister Rajnath Singh on 21 February, 2021 formally inaugurated the 26th "Hunar Haat" of indigenous artisans and craftsmen from across the country at Jawaharlal Nehru Stadium in New Delhi.
Key points are:
– Lok Sabha MP Smt. Meenakshi Lekhi graced the occasion as the Guest of Honour. Secretary, Union Minority Affairs Ministry, Shri P. K. Das, other senior officials and dignitaries were also present on the occasion.
– On the occasion, Rajnath Singh Ji said that "Every region of the country has an amazing talent and brilliance. The artisans of "Hunar Haat" are not only "Ustad" of art and craft; they are also "Ustad" of destiny.
– Hunar Haat" has been playing an important role in strengthening the country's economy. It brings together indigenous artisans and craftsmen from across the country.
– It is a beautiful exhibition of our traditional art and craft and more importantly our "cultural mosaic". "Hunar Haat" is doing branding of traditional legacy of artisans, craftsmen and is playing important role towards "Aatmnirbhar Bharat".
– The Union Ministry of Minority Affairs is organising the 26th "Hunar Haat" on the theme of "Vocal for Local" from 20th February to 01st March 2021.
– More than 600 artisans and craftsmen from more than 31 States and UTs are participating in the "Hunar Haat" in New Delhi. Artisans and craftsmen from Andhra Pradesh, Assam, Bihar, Chandigarh, Chhattisgarh, Delhi, Goa, Gujarat, Haryana, Himachal Pradesh, Jammu-Kashmir, Jharkhand, Karnataka, Kerala, Ladakh, Madhya Pradesh, Manipur, Nagaland, Odisha, Puducherry, Punjab, Rajasthan, Sikkim, Tamil Nadu, Telangana, Uttar Pradesh, Uttarakhand, West Bengal etc are participating in "Hunar Haat".
– Exquisite indigenous handmade products such as Applique work, dry flowers, jute-cane, brass products, wooden and clay toys, Ajrakh Block Print, Blue Art Pottery, Pashmina Shawl, Khadi products, Banarsi Silk, Wooden Furniture, Chikankari Embroidery, Chanderi Silk, Lac bangles, Rajasthani jewellery, Phulkari, Oil Painting, Leather products, Khurja pottery, Sandalwood artefacts from Tamil Nadu, Karnataka, Jute products from West Bengal etc are available for sale and display at "Hunar Haat".
Railway Projects in West Bengal
Why in news?
The Union Minister of Railways, Commerce & Industry and Consumer Affairs, Food & Public Distribution, Piyush Goyal on 21 February, 2021 dedicated to the Nation various infrastructure development and passenger amenity related works in North Bengal area through video conferencing in presence of other dignitaries at different locations.
Key points are:
– Ms. Debasree Chaudhuri, Hon'ble Minister of State of Women & Child Development, Govt. of India was also present along with other dignitaries at various locations.
– Speaking on the occasion, Shri Piyush Goyal said, "Railways is serving the nation in an extraordinary way. Railways has taken up on itself to contribute big time to the mission of Sonar Bangla. Railways would be fully electrified in 3 years in West Bengal and all on going projects will be completed at the earliest."
– 126 Route Kilometer newly electrified section from New Jalpaiguri to New Coochbehar dedicated today is part of the Railway electrification work which is going on to achieve 100% electrification of Indian Railways' network.
– This section is vital for train movement towards northeastern states. With electrification making steady progress in this area more trains carrying freights and passengers can be operated in an environment friendly manner with less carbon – emission.
– This project costing about Rs. 287 Crs will lead to huge savings in consumption of fossil fuels. It may be mentioned here that railway electrification of the whole of N.F. Railway was sanctioned in the budget of 2018 and it is targeted to be completed by December, 2023.
– The Haldibari station bordering Bangladesh has been constructed considering the need of future economic development of this area. The new station has 3 passenger platforms with 26 coach capacity and 2 goods line.
– The entire construction of the new station building at Haldibari along with other works like construction of new circulating area, running rooms, signaling system was constructed at a cost of about Rs. 82.72 crs.
– Electronic Interlocking at Haldibari and Jalpaiguri stations have also been provided to enhance safety of train operations in this section.
– Gangarampur is an important town in the South Dinajpur district of West Bengal. The station here has been converted to a crossing station with provision of High level platform and modern Electronic Interlocking at a cost of about Rs. 09.09 crs, which fulfilled a long standing demand of the local populace.
– With an aim to provide better amenities and convenience to passenger, the Alipurduar Jn station has been re-developed to meet the operational requirement. The New Station building with improved aesthetics in pursuant to local culture was built at a cost of Rs. 8.11 Cr.
– Indian Railway has been providing new lifts and escalators in all important stations for the benefit of passengers.
– Construction of two new lifts for use of passenger at the Alipurduar Jn station, built at a cost of about Rs. 80.8 lacs will prove to be very helpful for passengers especially Senior citizen and Divyangs to move from platform – 1, 2 & 3 to other platforms.
– Madarihat station falling in the Dooars section of North Bengal is an important tourist place.
– The provision of a new Foot Over Bridge in between PF No. 1 & 2 which has been provided at a cost of Rs 1.13 Crores will provide safe passage to passengers for boarding / de-boarding trains stopping at PF 2 of the station.
– Indian Railway is installing high mast flags in all important stations throughout the country. One such high must flag installed at the New Coochbehar station has also been dedicated to the Nation.
Second phase of Rashtriya Sanskriti Mahotsav (RSM)
Why in news?
The second phase of the Rashtriya Sanskriti Mahotsav will be inaugurated by the Union Minister of State for Culture & Tourism (Independent Charge) Shri Prahlad Singh Patel on 22nd Februrary 2021 at Raj Bhawan in Darjeeling,West Bengal.
Key points are:
– The festival is being held from 22nd February to 24th February. The Governor of West Bengal, Shri Jagdeep  Dhankhar will grace the closing ceremony on 24th February 2021.
– The Rashtriya Sanskriti Mahotsav is organised to promote the spirit of Ek Bharat Sreshtha Bharat.
– The 3-day event in Darjeeling will begin with a choreographic presentation by Odissi Vision and Movement Centre, followed by recitals by Dona Ganguly (Odissi), Michael (Saxophone), Shayne Hyrapiet (Band).
– On second day, there will be a Rabindra Sangeet recital by Sounak Chattopadhyay, a creative dance recital by Saphire Dance troupe, the North eastern band of Daniel Engti and Kamran and the Boyz Band.
-Last day will begin with Bail songs by Anuttam Baul, followed by Kathak Ballet by Sanskriti Sreyaskar and a dance drama.
– On all days local artistes will be given an opportunity to perform on the RSM stage.There will be 20 crafts stalls from all over the country showcasing genuine hand-crafted products.
– Rashtriya Sanskriti Mahotsav (RSM), the flagship festival of this Ministry organized since 2015 with the active participation of Seven Zonal Culture Centres has been playing a pivotal role to take the vibrant culture of India out to the masses instead of confining to auditoria and galleries.
– It has been instrumental in showcasing, folk and tribal art, dance, music, cuisines & culture of one state in other states reinforcing the cherished goal of "Ek Bharat Shreshtha Bharat" and at the same time providing an effective platform to the artists and artisans to support their livelihood.
– Ten editions of RSM have been held till date since November, 2015 in various states and cities such as Delhi, Varanasi, Bengaluru, Tawang, Gujarat, Karnataka, Tehri and Madhya Pradesh.
– Renowned artists including local artists will be a part of this major festival. The RashtriyaSanskriti Mahotsav-2021 will cover a profusion of folk-art forms and it would offer the chance to experience the best in established and emerging virtuosity.
– The RSM will reconnect the people, especially the youth, with their indigenous culture, its multi-faceted nature, magnificence, opulence and historical importance in the context of India as a Nation over the millennia.
– This RSM which is being organized in West Bengal will enhance mutual understanding and bonding between people of diverse cultures, thereby securing stronger unity and integrity of India.
One Rank One Pension (OROP) scheme
Why in news?
The review of One Rank One Pension (OROP) has been pending since June 2020. The issue was discussed during the recent parliamentary panel meet.
Key points are:
– There are certain 'loopholes' which need to be fixed in the scheme. A committee has been constituted to look into the issue by the Defence Ministry to work out the modalities of the revision but no announcement has been made on when the revision would be undertaken.
– OROP implies uniform pension to personal based on rank and length of service, irrespective of the date of retirement.
– The Government had implemented the long pending demand of veterans in November 2015 and as per the notification, it is to be revised every five years.
– Armed Forces Personnel who had retired till 30th june 2014 are covered under it.
– The implementation of the scheme was based on recommendation of the Koshiyari committee.
Transatlantic Alliance
Why in news?
The USA President Joe Biden in his first address to the annual Munich Security Conference declared that the 'transatlantic alliance is back' and stressed the need to defend democracy around the world.
Key points are:
– The USA President intended to improve the strained relationship between the USA and other European allies.
– The Munich Security Conference is an annual conference on international security policy that has taken place in Munich, Bavaria (Germany) since 1963.
– The Transatlantic Alliance has been the cornerstone of the post-World War II world order. It is a real-world expression of West – of a sense that both sides of Atlantic are in it together.
– It is the foundation on which the collective security and shared prosperity of the USA and Europe are built. However, this historic, long-established friendship between the world's two largest economies has become strained in recent years.
About Transatlantic Trade and Investment Partnership (T-TIP)
It is an ambitious, comprehensive, and high-standard trade and investment agreement being negotiated between the United States and the European Union (EU).
– The TTIP negotiations were launched in 2013 and ended without conclusion at the end of 2016.
– It will be a cutting edge agreement aimed at providing greater compatibility and transparency in trade and investment regulation, while maintaining high levels of health, safety, and environmental protection.
Quad Meeting
Why in news?
– Recently, India joined Australia, Japan and the United States for a ministerial meeting under the Quadrilateral grouping (Quad) and discussed issues across Indo-Pacific and the military takeover in Myanmar.
Key points are:
– Discussed contemporary challenges, especially the impact of Covid-19 and agreed to enhance access to affordable vaccines, medicines and medical equipment.
– Discussed countering disinformation, counter-terrorism, maritime security, and the "priority of strengthening democratic resilience in the broader region".
– Emphasised their commitment to upholding a rules-based international order, underpinned by respect for territorial integrity and sovereignty, rule of law, transparency, freedom of navigation in the international seas and peaceful resolution of disputes.
– Reiterated their "common vision for a free, open and inclusive Indo-Pacific region, with clear support for ASEAN cohesion and centrality", and noted that the Indo-Pacific concept had "gathered growing international support, including in Europe".
– Discussed climate change and cooperation in humanitarian assistance and disaster relief and supply chain resilience.
– Agreed on holding ministerial meetings of the Quad at least once a year and meetings at senior and working levels on a regular basis to bolster cooperation on advancing a free and open Indo-Pacific.
– The meeting, held in the backdrop of the ongoing withdrawal of Chinese forces from positions along the Line of Actual Control, underlines that India's interest in the Quad is not tactical but profoundly strategic.
– For India, the Quad is also about addressing the growing power imbalance with China that has manifold consequences for India's security and prosperity as well its regional and international standing.
About Quad
– Quadrilateral Security Dialogue (Quad) is an informal strategic dialogue between India, USA, Japan and Australia with a shared objective to ensure and support a "free, open and prosperous" Indo-Pacific region.
– The idea of Quad was first mooted by former Japanese Prime Minister Shinzo Abe in 2007. However, the idea couldn't move ahead with Australia pulling out of it, apparently due to Chinese pressure.
– In December 2012, Shinzo Abe again floated the concept of Asia's "Democratic Security Diamond" involving Australia, India, Japan and the USA to safeguard the maritime commons from the Indian Ocean to the western Pacific.
– In November 2017, India, the USA, Australia and Japan gave shape to the long-pending "Quad" Coalition to develop a new strategy to keep the critical sea routes in the Indo-Pacific free of any influence (especially China).
– In 2020, all four Quad Countries – Japan, India, Australia and the USA took part in the Malabar exercise.
– Malabar exercise is an annual trilateral naval exercise between the navies of India, Japan, and the USA which is held alternately in the Indian and Pacific Oceans.