Daily news will speed up the preparation for the Civil Services Examination and it also plays a crucial role to grasp the current affairs topic comprehensively. Here we have covered most of the topics related to various categories including National, International, Sports, Science and Technology, and so on.
 1. India-Vietnam Leaders' Virtual Summit
– Prime Minister Narendra Modi held a Virtual Summit with H.E. Nguyen Xuan Phuc, Prime Minister of the Socialist Republic of Vietnam.
– The two Prime Ministers reviewed ongoing bilateral cooperation initiatives, and also discussed regional and global issues.
– A 'Joint Vision for Peace, Prosperity and People' document was adopted during the Summit, to guide the future development of the India-Vietnam Comprehensive Strategic Partnership. Both leaders also welcomed the signing of a Plan of Action for period 2021-2023 to implement the Joint Vision.
– The leaders affirmed the importance of enhancing bilateral cooperation in all areas of engagement. They agreed to support each other's national development priorities and work together towards the shared objective of a peaceful, stable, secure, free, open, inclusive and rules-based Indo-Pacific region.
– The Prime Ministers agreed to explore new and practical collaborations in the maritime domain based on convergence between India's Indo-Pacific Oceans Initiative and the ASEAN's Outlook on Indo-Pacific to achieve shared security, prosperity and growth for all in the region.
– The Prime Minister reaffirmed India's commitment to its development and capacity building partnership with Vietnam, through initiatives such as Quick Impact Projects, ITEC and e-ITEC initiatives, PhD fellowships, as well as projects to support Vietnam's SDGs, digital connectivity and heritage conservation efforts.
Both Prime Ministers appreciated the successful implementation of the US$ 100 million Defence Line of Credit extended by Government of India to Vietnam, and the completion of seven Development Projects with Indian 'Grant-in-Aid' Assistance for the benefit of local community in Vietnam's Ninh Thuan province.
2. India – Nepal Defence Cooperation
– A webinar and expo between India and Nepal were held on 21 December, 2020.
– The theme of webinar was "Exploring Synergies and Strengthening Defence Cooperation with Nepal".  It was organized under the aegis of Department of Defence Production, Ministry of Defence through SIDM.
– This webinar is the part of Aero India 21 series of webinars which are being organized to boost defence cooperation and engagements with friendly foreign countries and achieve defence export target of $5 billion in the next five years.
– Deputy Chief of Mission, Embassy of India Kathmandu; Shri Anurag Bajpai, Joint Secretary (DIP), Ministry of Defence, Govt of India; Mr Ram Prasad Acharya, Joint Secretary, Ministry of Defence, Govt of Nepal and other senior MoD officials from both sides participated in the webinar.
– Both sides envisaged close, cordial and multi-dimensional relationship between the two nations which is based on goodwill, mutual respect and appreciation of each other's aspirations and sensitivities.
– Shri Anurag Bajpai, Joint Secretary (DIP) mentioned that our cultural ties are 2500 years old when Lord Buddha was born in Lumbini in Southern Nepal whose valuable teachings nurture the society.
– He further said that Defence cooperation with Nepal is not a new phenomenon and is almost 70 years old when India and Nepal signed Treaty of Peace and Friendship in 1950.
– In accordance with the "Neighbourhood First" policy of the government, India remains a committed development partner for a stable, prosperous and peaceful Nepal.
– The webinar was attended by more than 100 participants and more than 100 virtual exhibition stalls have been set up in the Expo.
3. Memorandum of Agreement signed between CGWB and CSIR-NGRI for High-Resolution Aquifer Mapping & Management in Arid Region of North-Western India
– A Memorandum of Agreement (MoA) was signed todaybetween Central Ground Water Board (CGWB), Ministry of Jal Shakti and CSIR-NGRI, Hyderabad for use of advanced heliborne geophysical survey and other scientific studies in parts of the States of Rajasthan, Gujarat and Haryana under the Aquifer Mapping Programme.
– The MoA was signed by Chairman, CGWB and Director, CSIR-NGRI in the august presence of the Union Minister of Jal Shakti, Shri Gajendra Singh Sekhawat, and Union Minister of Science and Technology,Health and Family Welfare and Earth Sciences, Dr. Harshvardhan in New Delhi.
– Under phase- I of the project, an area of nearly 1 lakh sq km spreading over nearly 65,500 sq km of western arid Rajasthan (covering parts of Bikaner, Churu, Ganaga Nagar, Jalor, Pali, Jaisalmer, Jodhpur and Sikar districts), 32,000 Sq. Km arid parts of Gujarat (covering Rajkot, Jamnagar, Morbi, Surendranagar and Devbhumi Dwarka districts) and nearly 2500 sq km of Haryana (covering Kurukshetra and Yamuna Nagar districts) would be covered at an estimated cost of 54 Crores.
– The major objectives of the study include High resolution aquifer mapping using heliborne geophysical studies, including identification ofSites for artificial recharge,3D Geophysical model, Geophysical Thematic maps at horizontal and vertical plains.
– Aquifer Geometry of principal aquifer with demarcation of de-saturated and saturated aquifers, Aquifer system with relatively fresh and saline zones; Spatial and depth wise distribution of paleochannel network if any and its linkage with aquifer system; Selecting suitable sites for groundwater withdrawal and water conservation through artificial or managed aquifer recharge.
UPSC 2021 Online Coaching Classes | Bilingual GS Foundation Batch
4. Foundation Stone of 100 Bedded ESIC Hospital
– Minister of State (I/C) for Labour and Employment Shri Santosh Kumar Gangwar laid the foundation stone of 100 bedded Employees State Insurance Corporation (ESIC) Hospital at Ompura, Budgam on 21 December, 2020.
– Lt. Governor Jammu and Kashmir Manoj Sinha was the Chief Guest at the foundation stone laying ceremony.
– The four-storied, 100 bedded hospital will be built over an area of five acres and will provide services covering 23 specialities and three super specialities.
– The facility will come up at an expenditure of Rs 160 Crore and is expected to be completed in the next one and a half years.
– Besides covering registered Insured Persons (IPs), the healthcare facilities will also be available to the general population.
– ESIC has been working for the past 66 years and has a presence in over 80 per cent of the districts of the country. He said that Srinagar has around 20 thousand IPs and they deserve the best healthcare as is available to their counterparts in other regions of the country.
Daily Gist of 'The Hindu', 'PIB', 'Indian Express' and Other Newspapers: 21 December, 2020
5. Aesthetic Dhokra Decorative Pieces Added to the Tribes India Collection
– Exquisite Dhokra products from different tribes of India were among the main items added in its 7th edition of "From Our Home to your Home" campaign on Tribes India, which focusses on sourcing new, natural, attractive as well as immunity – boosting tribal products and bringing them to the customer.
– 35 new products were included in the Tribes India catalogue over the past week. Key among them are the dhokra style metal work. Dhokra is a non-ferrous metal casting style which uses the lost-wax technique.
– This style of metal casting has been in vogue in all parts of India for centuries. The dhokra products reflect the simplicity and motifs of tribal and folk life and make for excellent gifting options. Hence they are popular both in India and abroad.
– Among the dhokra products being introduced on Tribes India are attractive statues of fish, elephants and hangers in the boat jail design from the Lohra tribes of Jharkhand.
– From the Sadeibarainitribals from Odisha, Ganesha statues, including a dancing Ganesha, a mask of Goddess Durga and Lord Jagannath, a Buddha Jaali and beautiful diyas in different shapes have been sourced. These reasonably priced items will enhance the decor of any house and make for thoughtful gifts.
– Other products include products from the Kattunayakan tribes of Tamil Nadu. These include different variants of pure, unadulterated honey, tasty pickles such as amla, vadu mango, ragiand types of rice.
– From the tribes of Assam, pure ghee, organic poha, pickles, raw honey have been sourced. All the new products introduced are available in 125 Tribes India outlets, Tribes India mobile vans and also on online platforms such as the Tribes India E-marketplace (tribesindia.com) and e-tailers.
6. 60 percent rise in Leopard population
– Releasing the Status of Leopards report in New Delhi on 21 December, 2020, Minister for Environment, Forest and Climate Change, Shri Prakash Javadekar has said that increase in Tiger, Lion & Leopards numbers over the last few years is a testimony to the conservation efforts and of the fledgling wildlife & biodiversity of the country.
– India now has 12,852 leopards as compared to the previous estimate of 7910 conducted 2014. More than 60% increase in population has been recorded.
– The States of Madhya Pradesh, Karnataka and Maharashtra recorded the highest leopard estimates at 3,421, 1,783 and 1,690 respectively.
– India's world record tiger survey also estimated the population of leopards and the tiger range was found home to 12,852 (12,172-13,535) leopards. They occur in prey rich protected areas as well as multi-use forests.
– A total of 5,240 adult individual leopards were identified in a total of 51,337 leopard photographs using pattern recognition software. Statistical analysis estimates the leopard population at – 12,800 leopards within the tiger's range.
7. Khelo India Youth Games 2021
– Recently, the Ministry of Youth Affairs and Sports has included Gatka, Kalaripayattu, Thang-Ta and Mallakhamba in Khelo India Youth Games 2021.
– Khelo India Youth Games (KIYG) 2021, are scheduled to take place in Haryana. The 2020 edition of KIYG was held in Guwahati (Assam).
– KIYG is a part of the revamped national programme for development of sports 'Khelo India' which was approved by the Union Cabinet in 2017.
8. Mutated Novel Coronavirus
– A mutated variant of the novel Coronavirus has been associated with recent infections in England.
– The virus has undergone several mutations since it first infected humans.
– The mutant virus has been identified as N501Y and is likely to be a mutation in the spike protein.
– It is the coronavirus spike protein that binds to a human protein to initiate the process of infection. Changes here could possibly affect how the virus behaves in terms of its ability to infect, or cause severe disease, or escape the immune response made by vaccines.
– There has been a single nucleotide change in one portion of the spike protein, so there would be no bearing on the disease biology or even diagnostics.
9. Monkey Rehabilitation Centre
– Recently, in Telangana, a rescue and rehabilitation centre for monkeys (Primate) was opened.
– It is the second such facility for the primates in the country. The other such facility in the country is in Himachal Pradesh.
– Previously the Ministry of Environment, Forest and Climate Change had declared Monkeys (Rhesus Macaque) as 'vermin' in Himachal Pradesh.
– A primate is any mammal of the group that includes lemurs, lorises, tarsiers, monkeys, apes, and humans.
– Rhesus Macaque monkeys are protected species under Schedule II of the Wildlife (Protection) Act, 1972. The law allows for it to be hunted by declaring it 'vermin' for a specific period if it poses a danger to human life or property.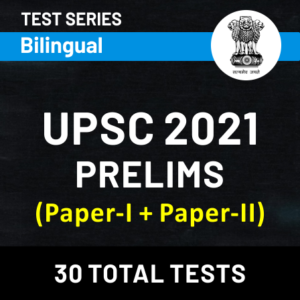 Aiming for UPSC CSE 2021? Get the best test series for sure selection: Click Here