Daily news will speed up the preparation for the Civil Services Examination and it also plays a crucial role to grasp the current affairs topic comprehensively. Here we have covered most of the topics related to various categories including National, International, Sports, Science and Technology, and so on.
1. Supreme Court Directive on Quota in Promotions
– The Supreme Court asked the Attorney General recently, to compile the various issues being raised by States with regard to the application of a Constitution Bench judgment of 2006 in M. Nagaraj case.
– The directive is based on a plea by the Centre to refer to a seven-judge Bench the question whether creamy layer should apply or not to the Scheduled Caste/Scheduled Tribe community while providing them reservation in government promotions.
– The court in M. Nagaraj case had upheld the application of creamy layer principle to members of the Scheduled Caste/Scheduled Tribe communities in promotions.
– The term 'Creamy layer' was first mentioned in the Supreme Court's landmark judgment in the Indra Sawhney case (1992). This term is used to describe some members of a backward class who are socially, economically as well as educationally advanced as compared to the rest of the members of that community.
UPSC 2021 Online Coaching Classes | Bilingual GS Foundation Batch
2. Systemically Important Banks (SIBs)
– The Reserve Bank of India (RBI) has retained State Bank of India, ICICI Bank and HDFC Bank as Domestic Systemically Important Banks (D-SIBs) or banks that are considered as "too big to fail".
– Some banks, due to their size, cross-jurisdictional activities, complexity, lack of substitutability and interconnectedness, become systemically important.
– SIBs are perceived as banks that are 'Too Big To Fail (TBTF)'. This perception of TBTF creates an expectation of government support for these banks at the time of distress.
– SIBs are subjected to additional policy measures to deal with the systemic risks and moral hazard issues posed by them.
– Systemic risk can be defined as the risk associated with the collapse or failure of a company, industry, financial institution or an entire economy.
– Moral hazard is a situation in which one party gets involved in a risky event knowing that it is protected against the risk and the other party will incur the cost.
– The disorderly failure of these banks has the potential to cause significant disruption to the essential services they provide to the banking system, and in turn, to the overall economic activity.
Daily Gist of 'The Hindu', 'PIB', 'Indian Express' and Other Newspapers: 20 January, 2021
3. PM congratulates Mr. Joe Biden on the assumption of office
– Prime Minister Narendra Modi has congratulated Mr. Joe Biden on the assumption of office as President of the United States of America.
– In a series of tweets, the Prime Minister said "My warmest congratulations to @JoeBiden on his assumption of office as President of the United States of America. I look forward to working with him to strengthen India-US strategic partnership.
– My best wishes for a successful term in leading the USA as we stand united and resilient in addressing common challenges and advancing global peace and security.
– The India-US partnership is based on shared values. We have a substantial and multifaceted bilateral agenda, growing economic engagement and vibrant people to people linkages. Committed to working with President @JoeBiden to take the India-US partnership to even greater heights."
Daily Gist of 'The Hindu', 'PIB', 'Indian Express' and Other Newspapers: 19 January, 2021
4. National Mini Aadi Mahotsav
– TRIFED under the Ministry of Tribal Affairs has taken a step towards adapting to the new normal by resuming the Aadi Mahotsav.
– The first Aadi Mahotsav post the pandemic is taking place between January 20-January 30, 2021 at GPRA Complex, New Moti Bagh, New Delhi.
– The 10-day festival that celebrates several aspects of tribal culture has evinced a lot of interest and has seen much footfall in the first place.
– The Aadi Mahotsav – A Celebration of the Spirit of Tribal Culture, Crafts, Cuisine and Commerce – has been a successful initiative that was commenced in 2017.
Are you ready for the live session? Experts will be live to guide you !! Tomorrow !! @8 PM Lock Your Time!
– The festival was an attempt to familiarise the people with the rich and diverse craft, culture of the tribal communities across the country, in one place.
– Due to the pandemic in 2020, the Aadi Mahotsav festival, which is an avenue for popularising tribal culture and arts, had to shift online. Focussing on the tribes of Madhya Pradesh and their crafts and traditions, the 10-day online event on tribesindia.com was a huge success.
– The currently ongoing Aadi Mahotsav is showcasing the tribal traditions, craft, arts and culture of tribes across the country and around100 tribal artisans and producers from across India are participating in this festival.
– In a way, this is a trial run for the mega Aadi Mahotsav that will take place at Dilli Haat in New Delhi from 1 to 15 February, 2021. Judging by the footfall on Day 1, it is clear that the ongoing mini-Aadi Mahotsav is receiving a good response.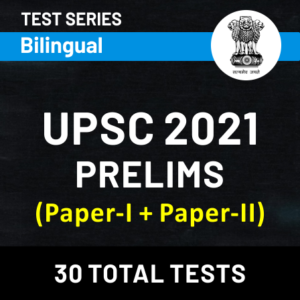 Aiming for UPSC CSE 2021? Get the best test series for sure selection: Click Here
5. GI tag sought for India's costliest mushroom
– A geographical indication (GI) tag has been sought for one of the costliest mushrooms in the world that grows in Jammu and Kashmir's Doda district.
– Locally called Gucchi, or Morel, the mushroom, priced at over ₹20,000 a kg, is a forest produce collected by local farmers and tribals.
– It is said to have medicinal and anti-inflammatory properties.
– It is found in the temperate forests.
– A GI is primarily an agricultural, natural or a manufactured product (handicrafts and industrial goods) originating from a definite geographical territory.
– Typically, such a name conveys an assurance of quality and distinctiveness, which is essentially attributable to the place of its origin.
– Once the GI protection is granted, no other producer can misuse the name to market similar products. It also provides comfort to customers about the authenticity of that product.
Daily Gist of 'The Hindu', 'PIB', 'Indian Express' and Other Newspapers: 16 January, 2021
6. Carbon Sequestration
– There has been increasing investments to develop technology in the field of Carbon Sequestration and fight the menace of climate change.
– As Global Warming accelerates and society continues to emit greenhouse gases, the idea is gaining of investing in artificial techniques of Carbon Sequestration.
– According to the Intergovernmental Panel on Climate Change, nations may need to remove between 100 billion and 1 trillion tonnes of carbon dioxide from the atmosphere this century to avert the worst effects of climate change, far more than can be absorbed by simply planting more trees.
About Carbon sequestration
– It is the long-term storage of carbon in plants, soils, geologic formations, and the ocean.
– It occurs both naturally and as a result of anthropogenic activities and typically refers to the storage of carbon.
Daily Gist of 'The Hindu', 'PIB', 'Indian Express' and Other Newspapers: 15 January, 2021
7. Bandipur Tiger Reserve
– A stranded wild elephant was rescued in Nugu reservoir, close to Bandipur Tiger Reserve in Karnataka.
– As per the Tiger census 2018, Karnataka has the second-highest number of tigers in the country after Madhya Pradesh.
To know more about Fundamental Rights – V: Click Here
8. Guru Gobind Singh birth anniversary
– The Prime Minister paid homage to Guru Gobind Singh on his birth anniversary on 20 January, 2021.
About Guru Gobind Singh
– He was the last tenth Sikh Gurus and was born on 22nd December, 1666 in Patna, Bihar.
–  His birth anniversary is based on the Nanakshahi calendar according to which it will fall on 20 January in 2021 and last year, it was celebrated on 2 January.
– He became the Sikh guru at the age of nine, following the demise of his father, Guru Tegh Bahadur, the ninth Sikh Guru. He was assassinated in 1708.
IAS Prelims Mock-Test 2021 – Set 95, 20 January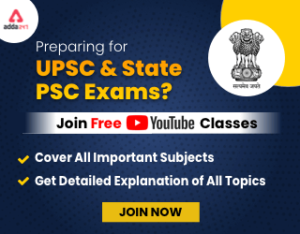 Join UPSC & State PSC Channel ? Click Here