Daily news will speed up the preparation for the Civil Services Examination and it also plays a crucial role to grasp the current affairs topic comprehensively. Here we have covered most of the topics related to various categories including National, International, Sports, Science and Technology, and so on.
1. Government releases Desertification and Land Degradation Atlas of India
Why in news?
On the occasion of the Desertification and Drought Day Minister of State for Environment, Forest and Climate Change, Shri Babul Supriyo released the latest version of "Desertification and Land Degradation Atlas of India. It has been published by Space Application Centre, ISRO, Ahmedabad.
Key points are:
– Minister of State for Environment, Forest and Climate Change, Shri Babul Supriyo on 17 June, 2021 called for generating awareness towards preventing and restoring land degradation for healthier and sustainable ecosystems.
– Speaking at a virtual event celebration of the Desertification and Drought Day, Shri Supriyo said, this will help the better economy and overall human wellbeing.
– The Desertification and Drought day was commemorated by the Ministry, with an aim to generate large scale awareness towards understanding the key role of land in all environmental and economic concerns, that world, as well as India is facing now-a-days.
–  The Atlas provides state-wise area of degraded lands for the time frame 2018-19. It also provides the change analysis for the duration of 15 years, from 2003-05 to 2018-19.
– The salient findings of this Atlas are not only useful as a ready reference, but, will also be helpful in strengthening the envisaged National Action Plan for achieving land restoration targets by providing important baseline and temporal data and technical inputs.
– The event also observed the release of the Coffee Table Book "India Hosting UNCCD-COP 14" and a short film on UNCCD-COP 14. The commemoration of this event encourages individuals and groups to take initiatives that can keep the land healthy and productive.
– India hosted the 14th session of the Conference of Parties (COP 14) of United Nations Convention to Combat Desertification (UNCCD) in September 2019.
– India is striving towards achieving the national commitments of Land Degradation Neutrality (LDN) and restoration of 26 Million ha of degraded land by 2030 which focus on sustainable and optimum utilisation of land resources.
– India has been at the forefront of bringing the issue of land degradation to the core of relevant international alliances for the protection and conservation of the environment.
– The government of India has adopted a collective approach for making progress towards achieving the national commitments related to land restoration.
For more details Click Here
2. Juneteenth in US
Why in news?
US President Joe Biden is to sign a law to make June 19 or "Juneteenth" a national holiday. This holiday will be recognized by the federal government to commemorating end of slavery after the American Civil War.
Key points are:
– Bill to establish Juneteenth National Independence Day was supported in both houses of US Congress and now needs to be approved by the White House to become law.
– It was passed in the backdrop of the killing of George Floyd that triggered anti-racism protests in US.
– Juneteenth is going to be the first new federal holiday created in almost four decades.
About Juneteenth
– Juneteenth, a combination of June and nineteenth, is observed on June 19 every year. It is the oldest nationally celebrated commemoration of the end of slavery in America.
– The day is recognized as holiday in 47 US states and District of Columbia. Juneteenth is also known as Emancipation Day or Juneteenth Independence Day.
Daily Gist of 'The Hindu', 'PIB', 'Indian Express' and Other Newspapers: 17 June, 2021
3. AY.1 variant of Coronavirus
Why in news?
The 'Delta' variant of SARS-CoV-2 has further mutated to form the 'Delta plus' or 'AY.1' variant. Speaking about the new strain, the Centre said an additional mutation of this variant, known as Delta Plus, has been detected and submitted to a global data system.
Key points are:
– "It has been seen in Europe since March and was brought into the public domain on 13 June," Dr VK Paul, Member-Health, Niti Aayog, said
– Dr Paul further said that the 'Delta plus' variant of Covid-19 is a variant of interest and has not yet been classified as a variant of concern.
– "As per data available in the public domain, this variant nullifies the use of a monoclonal antibody. We will study and learn more about this variant," the Niti Aayog member said.
– The B.1.617.2 strain or the 'Delta' variant of SARS-CoV-2 was identified as one of the drivers of the second wave of Covid-19 infections that devastated parts of India earlier this year.
– During the second wave of Covid-19, the government said, about 11.62% cases were seen in the below 20 years age group, while it was 11.31% during the first wave.
UPSC Prelims (Paper-I + Paper-II) 2021 Online Test Series
4. Global Tuberculosis Programme
Why in news?
A virtual high-level event on 'Global Drive to Scale-up TB Prevention' was recently organized by WHO Global Tuberculosis Programme.
Key points are:
– The purpose of this special high-level event was to discuss key actions needed at the global and country-level to scale up TB prevention strategies and drive progress towards achieving the 2022 UN High-Level Meeting target on TB preventive treatment.
– India is aggressively implementing its fully-funded National Strategic Plan to End TB.
– In the last few years, 50 million people have been treated.
– India seeks to achieve national scale-up of TB preventive treatment (TPT).
– It also seeks to achieve the UN High-Level Meeting (UNHLM) targets of 40 million persons started on TB treatment and 30 million on TPT globally in the remaining 18 months.
– Sub-national Certification of States and Districts instituted in 2020- The initiative marks districts/States-UTs on "Progress towards TB Free Status" under different categories measured with graded milestones of decline in TB incidence.
5. Deep Ocean Mission
Why in news?
Recently, the Cabinet Committee on Economic Affairs gave its approval for the Deep Ocean Mission proposal submitted by the Ministry of Earth Sciences (MoES).
Key points are:
– The mission is expected to explore the deep ocean for resources and at the same time, develop deep sea technologies that can be used for sustainable use of ocean resources.
– The move comes after the United Nations (UN) declared the upcoming ten years (2021-2030) as the Decade of Ocean Science for Sustainable Development.
– As of now, around 95 per cent of the deep ocean remains unexplored. In the case of India, the country is surrounded by the ocean on three sides and has around 30 per cent of its population living in coastal areas.
– Therefore, the ocean is a major economic factor that supports fisheries and aquaculture, livelihoods, tourism, and blue trade, the government said in a statement.
– Apart from this, oceans are also a storehouse of energy, food, medicines, minerals, modulator of weather and climate and underpin life on Earth.
– Also, according to the government, India has a unique maritime position and there is a need to consider the importance of the oceans on sustainability.
– The government is envisioning the new India by 2030 where the focus is also on the Blue Economy. To be sure, the Blue Economy can simply be known as economic opportunities that are related to marine ecosystems and oceans.
– The mission has been given an estimated cost of Rs 4,077 crore for a period of 5 years. This will be implemented in a phased manner. The first three phases will utilise a cost of Rs 2,823.4 crore.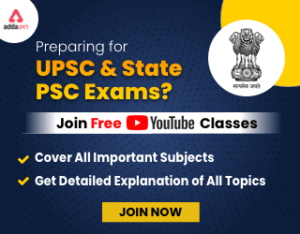 Get free video for UPSC CSE preparation and make your dream of becoming an IAS/IPS/IRS a reality
6. India extends $100 mn loans to Sri Lanka
Why in news?
India and Sri Lanka on Wednesday (16 June, 2021) signed an agreement for a $100-million loan from the Export-Import Bank of India to support the island nation's efforts to expand solar power coverage.
Key points are:
– Issuing a press statement on the bilateral initiative, the Presidential Media Division said one of the "key plans" of the government was to generate solar power, with the contribution of state-owned buildings, places of worship and houses of the low-income families.
– "Steps will also be taken to provide facilities to store solar energy in batteries for the low-income families that are unable to access the national power grid," the statement said.
– Sri Lanka has an installed capacity of 4,213 MW of power. While 1,400 MW of that is hydropower, some 900 MW is produced from coal.
– Over the last five years, Sri Lanka has sought to tap more renewable sources of power, particularly solar power. The country's electricity demand is expected to grow at an average 5.3% from 2015-2034, according to the Public Utilities Commission.
– A press release from the Indian High Commission in Sri Lanka said the $100 million line of credit will help finance various projects Sri Lanka's solar energy sector, including those announced at the founding conference of the International Solar Alliance (ISA) held in March 2018, in New Delhi, such as rooftop solar photo-voltaic systems for households and government buildings.
– As many as 89 countries, including Sri Lanka, signed the framework agreement of the ISA, jointly launched by Prime Minister Narendra Modi and former French President Francois Hollande in 2015, with the aim of bringing together countries to promote large-scale deployment of solar energy.
– The line of credit extended by India, according to officials, is for a period of 20 years, with an interest of 1.75 %. Sri Lanka owes about $960 million in debt repayment.
IAS Prelims Mock-Test 2021 – Set 170, 16 June