Daily news will speed up the preparation for the Civil Services Examination and it also plays a crucial role to grasp the current affairs topic comprehensively. Here we have covered most of the topics related to various categories including National, International, Sports, Science and Technology, and so on.
Rashtriya Sanskriti Mahostav
Why in news?
The three day Cultural Festival of the 11thRashtriya Sanskriti Mahostav in Rajbari of Cooch Behar, West bengal concluded on 16 February, 2021 with programs performed by Dohar, a popular Bengali band, other renowned artists and local troupes .
Key points are:
– The Mahostav organised for the Rajbari, the magnificent palace grounds witnessed performances by renowned artists and musicians; folk artists highlighting the rich cultural diversity.
– A big draw was singer and music composer Shri Kailash Kher, Kathak dancer Souvik Chakroborty while tabla mastero, Bikram Ghosh performed at the inauguration.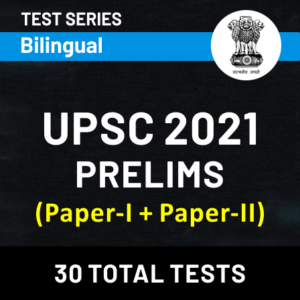 Aiming for UPSC CSE 2021? Get the best test series for sure selection: Click Here
– Icons from music to classical performers performed during the last three days giving the local people glimpses of the heritage and also be a platform to encourage and preserve the local arts. A handicraft Mela was also held on the occasion.
– The festival held in West Bengal was inaugurated by the Governor Shri Jagdeep Dhankhar in the presence of the Minister of State (I/C) Culture, Shri Prahlad Singh Patel on 14th February.
– The second leg of the program will now be held in Darjeeling from 22nd to 24th February.
– The RSM which is being organized in the State will enhance mutual understanding and bonding between people of diverse cultures, thereby securing stronger unity and integrity of India.
About Rashtriya Sanskriti Mahostav (RSM)
– RSM, the flagship festival of this Ministry of Culture has been organized since 2015 with the active participation of Seven Zonal Culture Centres has been playing a pivotal role to take the vibrant culture of India out to the masses instead of confining to auditoria and galleries.
– It has been instrumental in showcasing, folk and tribal art, dance, music, cuisines & culture of one state in other states reinforcing the cherished goal of "Ek Bharat Shreshtha Bharat" and at the same time providing an effective platform to the artists and artisans to support their livelihood.
– Ten editions of RSM have been held till date since November, 2015 in various states and cities such as Delhi, Varanasi, Bengaluru, Tawang, Gujarat, Karnataka, Tehri and Madhya Pradesh.
– Organized by the Ministry of culture and the Eastern Zonal Cultural Centre Kolkata it has brought all the seven zonal cultural centres together to bring culture to the masses and also reinforce the goal of Ek Bharat Shrestha Bharat.
Comprehensive Economic cooperation and Partnership Agreement
Why in news?
The Union Cabinet, chaired by the Prime Minister, Narendra Modi has approved signing of the Comprehensive Economic Cooperation and Partnership Agreement (CECPA) between India and Mauritius.
Key points are:
– The India-Mauritius CECPA will be the first trade Agreement to be signed by India with a country in Africa.
– The Agreement is a limited agreement, which will cover Trade in Goods, Rules of Origin, Trade in Services, Technical Barriers to Trade (TBT), Sanitary and Phytosanitary (SPS) measures, Dispute Settlement, Movement of Natural Persons, Telecom, Financial services, Customs Procedures and Cooperation in other Areas.
Impact or benefits:
– CECPA provides for an institutional mechanism to encourage and improve trade between the two countries.
– The CECPA between India and Mauritius covers 310 export items for India, including food stuff and beverages (80 lines), agricultural products (25 lines), textile and textile articles (27 lines), base metals and articles thereof (32 lines), electricals and electronic item (13 lines), plastics and chemicals (20 lines), wood and articles thereof (15 lines), and others.
– Mauritius will benefit from preferential market access into India for its 615 products, including frozen fish, speciality sugar, biscuits, fresh fruits, juices, mineral water, beer, alcoholic drinks, soaps, bags, medical and surgical equipment, and apparel.
As regards trade in services, Indian service providers will have access to around 115 sub-sectors from the 11 broad service sectors such as professional services, computer related services, research & development, other business services, telecommunication, construction, distribution, education, environmental, financial, tourism & travel related, recreational, yoga, audio-visual services, and transport services.
–  India has offered around 95 sub-sectors from the 11 broad services sectors, including professional services, R&D, other business services, telecommunication, financial, distribution, higher education, environmental, health, tourism and travel related services, recreational services and transport services.
– Both sides have also agreed to negotiate an Automatic Trigger Safeguard Mechanism (ATSM) for a limited number of highly sensitive products within two years of the Signing of the Agreement.
The Agreement will be signed by the concerned from both the countries on a mutually convenient date and will come into force from 1st date of the following month.
Production Linked Incentive (PLI) Scheme for Telecom and Networking Products
Why in news?
The Union Cabinet, chaired by the Prime Minister, Shri Narendra Modi, has approved Production Linked Incentive (PLI) Scheme for Telecom and Networking Products with a budgetary outlay of Rs. 12,195 crore.
Key points are:
– The Production Linked Incentive (PLI) Scheme intends to promote manufacture of Telecom and Networking Products in India and proposes a financial incentive to boost domestic manufacturing and attract investments in the target segments of telecom and networking products in order to encourage Make in India.
–  The scheme will also encourage exports of telecom and networking  products 'Made in India'.
– Support under the Scheme will be provided to companies/entities engaged in manufacturing of specified telecom and networking products in India.
–  Eligibility will be further subject to achievement of a minimum threshold of cumulative incremental investment over a period of four years and incremental sales of manufactured goods net of taxes (as distinct from traded goods) over the Base Year 2019-2020.
– The cumulative investment can be made at one go, subject to annual cumulative threshold as prescribed for four years being met.
– Globally Telecom and Networking Products exports represent an US$100 billion market opportunity, which can be exploited by India.
– With support under the scheme, India will augment capacities by attracting large investments from global players and at the same time encourage promising domestic champion companies to seize the emerging opportunities and become big players in the export market.
– With this scheme, India will be well positioned as a global hub for manufacturing of Telecom and Networking Products. Incremental production around Rs. 2 Lakh crore is expected to be achieved over 5 years. India will improve its competitiveness in manufacturing with increased value addition.
– It is expected that scheme will bring more than Rs. 3,000 crore investment and generate huge direct and indirect employments.
NASSCOM Technology and Leadership Forum
Why in news?
The Prime Minister, Narendra Modi addressed the NASSCOM Technology and Leadership Forum (NTLF) on 17 February, 2021 through video conferencing.
Key points are:
– The Prime Minister lauded the IT industry for their resilience during the Corona period. "When the chips were down, your code kept things running" said the Prime Minister. He noted 2 percent growth in the sector and addition of 4 billion dollars in revenue amidst the apprehensions of de-growth.
– The Prime Minister noted that today's India is eager for progress and the Government understand this feeling. He said aspirations of 130 crore Indians inspire us to move forward with rapid speed. He emphasized that expectations related to the new India are there from the private sector also as they are from the government.
– The Prime Minister listed the steps taken in recent times such as National Communication Policy, policy to make India Global Software Product Hub and Other Service Provider" (OSP) guidelines which were issued during Corona period.
–  He noted that inclusion of Information services into 12 champion service sectors has started bearing fruit. Recent liberalization of maps and geo-spatial data will strengthen the tech start up ecosystem and the wider mission of Aatmnirbhar Bharat. .
– The Prime Minister emphasized that young entrepreneurs should have the freedom to leverage the new opportunities.
– The Government has full faith in the start up and innovators, said the Prime Minister.  Steps like self-certification, use of IT solutions in Governance, data democratization through Digital India have taken the process forward.
Gangwar to launch Software Applications
Why in news?
Union Minister of State (Independent Charge) for Labour & Employment Santosh Kumar Gangwar will launch Software Applications and release instruction manuals with questionnaire for five All India Surveys being conducted by Labour Bureau in Chandigarh on 18 February, 2021.
– Secretary L&E Apurva Chandra and Senior Labour & Employment Advisor and Director General, Labour Bureau Shri DPS Negi will be present on the occasion.
Key points are:
These five surveys being undertaken by Labour Bureau are
– All India Survey on Migrant workers,
– All India survey on Domestic Workers,
– All India survey on employment generated by Professionals,
– All India survey on employment generated in Transport Sector and
– All-India Quarterly Establishment based Employment Survey.
– The objective of the All India Survey on Domestic Workers would be to estimate the proportion of DW in the workforce by major states and all-India and percentage distribution of these DWs / households that employ them by important socio-demographic key characteristics.
– The objectives of the survey on Migrant Workers are to estimate the number of migrant workers in India and also to collect information on their living conditions, working conditions and other socio-economic conditions.
– The objectives  of all-India Survey on Employment Generated by Professionals are essentially two-fold (i)To estimate the total number of active professionals in the country & (ii) To capture the employment generated by these professionals.
– Objective of the survey on employment generated in Transport Sector is to assess the employment generated in Transport Sector in India
– The main objective of the All-India Quarterly Establishment based Employment Survey is to measure relative change in employment situation over successive quarters in sizeable segment of Non-Farm economy covering 8 important sectors of the Indian economy.
– The surveys are significant in terms of the path-breaking initiative being taken by Bureau in terms of use of Information Technology (IT) in the entire chain of data collection to report generation. The results of these surveys will be declared within 7-8 months including 6 months of field work.
– Labour Bureau, an attached office of Ministry of Labour& Employment, has been at the forefront in fulfilling the data needs of various stakeholders in the field of labour and employment since 1920.
Sub Mission on Plant Protection and Plant Quarantine (SMPPQ)
Why in news?
The Department of Agriculture and Farmers Welfare performs regulatory, monitoring, surveillance and Human Resource Development functions through a scheme "Sub Mission on Plant Protection and Plant Quarantine (SMPPQ)".
Key points are:
– The aim of minimizing loss to quality and yield of agricultural crops from the ravages of insect pests, diseases, weeds, nematodes, rodents etc. and to shield our bio-security from the incursion and spread of alien species.
– Revalidation of more than 1200 pack houses, rice mills, processing units, treatment facilities, fumigation agencies, post entry quarantine facilities etc to facilitate agri export has been done.
– To promote Integrated Pest Management and judicious use of Pesticides, 14 crop specific and pest specific Package of Practices have been issued to the States during the lockdown period.
– To promote Make in India, 6788 Certificates of Registration (CR) have been issued to indigenous manufacturers of pesticides and 1011 CRs issued for export of pesticides.
– The Destructive Insect and Pests Act, 1914 and the Insecticides Act, 1968 provide the legal framework for the regulatory function.
– During 2020-21, India became the first country in the world to control locusts by using drones after finalizing protocols and Standard Operating Procedures.
– The largest locust control operation in Indian history has been conducted by the Central Government in collaboration with the States.
– Locust attack was controlled in more than 5.70 lakh hectare area of ​​10 States.
– Control capabilities of Locust Circle Offices (LCOs) have been strengthened by deploying helicopters for aerial spraying of pesticides for locust control. Till now control operations against locusts were carried out in an area of 2,87,986 hectares by LCOs and 2,83,268 hectares by State Governments.
– Ministry of Agriculture and Farmers Welfare relaxed the conditions for Import of Onions into India during 2020 in order to stabilize the price and availability of Onion in the local market.
– Market access was obtained for carrot seeds from Iran, wheat flour, basmati rice and pomegranate seeds from Uzbekistan, pomegranate from Australia, mango, basmati rice and sesame seeds from Argentina and peanuts from Peru during 2020-21.