Daily news will speed up the preparation for the Civil Services Examination and it also plays a crucial role to grasp the current affairs topic comprehensively. Here we have covered most of the topics related to various categories including National, International, Sports, Science and Technology, and so on.
1. The VivaTech
Why in news?
The Prime Minister, Narendra Modi delivered the keynote address at the 5th edition of VivaTech via video conference.
Key points are:
– The Prime Minister was invited as a Guest of Honour to deliver the keynote address at VivaTech 2021, one of the largest digital and startup events in Europe, held in Paris every year since 2016.
– Viva Technology (VivaTech) is an annual technology conference, dedicated to innovation and startups, held in Paris, France.
– VivaTech was founded in 2016 by Publicis Groupe and Groupe Les Echos. The first two days of VivaTech are for startups, investors, executives, students and academics, and it is open to the general public on the third day.
For more details Click Here
Cabinet approves Deep Ocean Mission
Why in news?
– The Cabinet Committee on Economic Affairs chaired by Prime Minister Narendra Modi, has approved the proposal of Ministry of Earth Sciences (MoES) on "Deep Ocean Mission", with a view to explore deep ocean for resources and develop deep sea technologies for sustainable use of ocean resources.
Key points are:
The Deep Ocean Mission consists of the following six major components:
Development of Technologies for Deep Sea Mining, and Manned Submersible;
Development of Ocean Climate Change Advisory Services;
III. Technological innovations for exploration and conservation of deep-sea biodiversity;
Deep Ocean Survey and Exploration;
Energy and freshwater from the Ocean; and
Advanced Marine Station for Ocean Biology.
– The technologies required for deep sea mining have strategic implications and are not commercially available. Hence, attempts will be made to indigenise technologies by collaborating with leading institutes and private industries.
Daily Gist of 'The Hindu', 'PIB', 'Indian Express' and Other Newspapers: 16 June, 2021
3. Indo-Israel Agriculture project
Why in news?
– For taking forward the Israeli technologies in the field of Horticulture, the Government of India jointly inaugurated the 3 Centers of Excellence (COEs) established in Karnataka under the Indo-Israel Agricultural Project (IIAP).
Key points are:
– MIDH Division of Ministry of Agriculture & Farmer's Welfare, Government of India and MASHAV- Israel's Agency for International Development Cooperation- are leading Israel's largest G2G cooperation, with 29 operational Centres of Excellence (COEs) across India in 12 States, implementing advanced Israeli Agro-Technology tailored to local conditions.
– Out of these 29 fully functional COEs, 3 are from Karnataka, viz., COE Kolar for Mango, COE Bagalkot for Pomegranate and COE Dharwad for Vegetables. These Centres of Excellence generate knowledge, demonstrate best practices and train officers and farmers.
Daily Gist of 'The Hindu', 'PIB', 'Indian Express' and Other Newspapers: 15 June, 2021
4. Conference of BRICS Network Universities
Why in news?
IIT Bombay has hosted the conference of BRICS Network Universities on the theme of electric mobility. This conference is part of the engagements that India is hosting under the education stream during its Chairship of the 13th BRICS Summit this year.
Key points are:
– Eighteen experts from Brazil, Russia, India, China and South Africa talked about various aspects of electric mobility like traffic management, hydrogen technology, hybrid vehicles, lithium-ion batteries and linkage between e-mobility and livelihoods over the next three days.
– Over 100 students, researchers and faculty from the BRICS Network Universities of the five-member countries are expected to participate in the conference.
– The chief guest of the conference was Union Minister Shri Nitin Gadkari.
UPSC Prelims (Paper-I + Paper-II) 2021 Online Test Series
5. MoU between Ministry of Culture and Ministry of Ports, Shipping and Waterways
Why in news?
The Ministry of Culture (MoC) and Ministry of Ports, Shipping and Waterways (MoPSW) signed a Memorandum of Understanding (MoU) for 'Cooperation in Development of National Maritime Heritage Complex (NMHC) at Lothal, Gujarat' in New Delhi on 16 June.
Key points are:
– Union Minister of State (I/C) for Culture Prahlad Singh Patel and Union Minister of State (I/C) for Ports, Shipping and Waterways Mansukh Mandaviya were present during the MoU signing ceremony held at Transport Bhawan, New Delhi.
– This MoU and the museum will play a big role in highlighting the cultural heritage of the country both domestically as well as to the world. The Maritime Museum at Lothal is only a beginning. The Culture Ministry will extend all support as a knowledge partner to other similar projects at other locations.
– Recent excavations at different locations are bringing new historical facts to light which could become the basis of re-writing history. These findings will bring out the glory of our ancient culture.
– NMHC is to be developed as a first of its kind in the country dedicated to the legacy of Maritime Heritage of India, to showcase India's rich and diverse maritime glory.
About National Maritime Heritage Complex
– It is a world-class facility is to be developed in the vicinity of the ASI site of Lothal, located about 80 kms away from Ahmedabad, Gujarat.
– NMHC would be developed as an international tourist destination, where the maritime heritage of India from ancient to modern times would be showcased and an edutainment approach using the latest technology would be adopted to spread awareness about India's maritime heritage.
– NMHC would be developed in an area of about 400 acres with various unique structures such as National Maritime Heritage Museum, Light House Museum, Heritage Theme Park, Museum Themed Hotels & Maritime themed eco-resorts, Maritime Institute etc. which would be developed in a phased manner.
Feature of NMHC
– The unique feature of NMHC is the recreation of ancient Lothal city, which is one of the prominent cities of the ancient Indus valley civilization dating to 2400 BC.
– Apart from that, the evolution of India's Maritime Heritage during various eras would be exhibited through various galleries. NMHC would have pavilion for each coastal states and union territories to showcase the artefacts/maritime heritage of the respective states and union territories.
– Various theme parks would be developed at NMHC such as Maritime & Naval Theme Park, Monuments Park, Climate Change Theme Park, Adventure & Amusement Theme Park through a public-private partnership which would provide a complete tourist destiny experience to the visitors.
– MoC will provide required support for showcasing the maritime heritage of India at NMHC in the form of gallery contents, sharing relevant documents, books, artefacts, electronic media, articles, original artefacts/ replicas etc.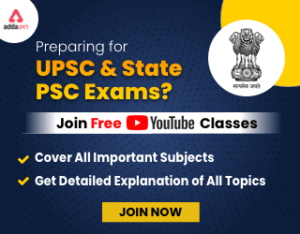 Get free video for UPSC CSE preparation and make your dream of becoming an IAS/IPS/IRS a reality
6. Hallmarking of gold, and for whom is it now mandatory
Why in news?
The government on Tuesday (15 June, 2021) announced the phased implementation of mandatory hallmarking of gold jewellery with effect from June 16.
Key points are:
– In the first phase, gold hallmarking will be available only in 256 districts and jewellers having annual turnover above Rs 40 lakh will come under its purview.
– The government, through a notification issued on June 14, 2018, notified two categories—gold jewellery and gold artefacts; and silver jewellery and silver artefacts—under the purview of hallmarking.
About hallmarking of gold
– The Bureau of Indian Standard (BIS), which operates a gold and silver hallmarking scheme in India, defines hallmarking as the "accurate determination and official recording of the proportionate content of precious metal in precious metal articles." So, it is a "guarantee of purity or fineness" of precious metal articles.
– Hallmarking in India is available for the jewellery of only two metals—gold and silver.
– However, a certain category of jewellery and items will be exempted from the mandatory requirement of hallmarking.
– According to the Department of Consumer Affairs, "Export and re-import of jewellery as per Trade Policy of Government of India — Jewellery for international exhibitions, jewellery for government-approved B2B domestic exhibitions will be exempted from mandatory Hallmarking."
– The Ministry of Consumer Affairs, Food and Public Distribution said that watches, fountain pens and special types of jewellery such as Kundan, Polki and Jadau will be exempted from hallmarking.
Hallmarking has been made mandatory only in 256 districts
– The ministry said that "based on extensive consultations with stakeholders," it has been decided that hallmarking will be initially be starting with 256 districts of the country which have assaying marking centres.
– However, the ministry has given no date from which the next phase of the mandatory hallmarking will begin in the remaining districts.
What was the need of making hallmarking mandatory?
– India is the biggest consumer of gold. However, the level of hallmarked jewellery is very low in the country. According to the ministry, at present, only 30% of Indian gold jewellery is hallmarked.
– One of the reasons responsible for a low level of hallmarked jewellery is the non-availability of sufficient assaying and hallmarking centres (A&HC). There are about only 35,879 jewellers across the country, who are certified by BIS. The number of A&HC is 945.
– According to the ministry, one A&H centre can hallmark 1500 articles in a day and the estimated hallmarking capacity of A&H centres per year is 14 crore articles.