Daily news will speed up the preparation for the Civil Services Examination and it also plays a crucial role to grasp the current affairs topic comprehensively. Here we have covered most of the topics related to various categories including National, International, Sports, Science and Technology, and so on.
1. IAF Commanders' Conference 2021
Why in news?
The IAF Commanders' Conference 2021, themed 'Reorienting for the Future' concluded at Air HQs on 16 Apr 21.
Key points are:
– The three-day conference saw detailed deliberations on ways and means to enhance the operational capabilities of the IAF.
– Air Officers Commanding-in-Chief of the seven commands and key appointments from Air HQ attended the conference. The conference was addressed by the Hon'ble Raksha Mantri on 15 Apr 21.
– The CDS, CNS and COAS also addressed the conference and interacted with the commanders on subjects of future war-fighting through joint planning and integration of service capabilities.
– The actions and follow-up plans for implementing the directions given by the Hon'ble PM during the Combined Commanders' Conference were discussed by the participants.
– The other key subjects included reorientation of the IAF for future challenges across all threat domains, and the roadmap for effective utilisation of assets and future inductions.
– The contours of the operational philosophy and organisational aspects of Air Defence and Joint Command Structures were also discussed.
– The CAS emphasised the need for incorporation of new technologies such as AI and 5G, enhanced utilisation of cyber and space domains and continuous update of doctrines, tactics and procedures.
Daily Gist of 'The Hindu', 'PIB', 'Indian Express' and Other Newspapers: 16 April, 2021
2. Amazon Sambhav online Summit
Why in news?
Union Minister Dr Jitendra Singh addresses the "Amazon Sambhav online Summit" held on 16th April, 2021.
Key points are:
– Union Minister of State (Independent Charge) Development of North Eastern Region (DoNER), MoS PMO, Personnel, Public Grievances, Pensions, Atomic Energy and Space, Dr Jitendra Singh said here that the Post-COVID economy of India will look for unexplored potentials and under such circumstances, the hitherto lesser utilised resources from lesser projected regions will assume an important role.
– In this regard, he cited the example of bamboo from Northeast and other vast resources in the North Eastern Region as a whole.
– Dr Jitendra Singh said, every adversity is accompanied by some virtue and one of the positive aspects of the tumultuous COVID phase has been that it prompted us to look for new avenues, new potentials and new resources to supplement the economy and make up for the deficit accruing as a result of the pandemic.
– This, in turn, has led to a situation, wherein the North Eastern region of India has an opportunity to emerge as the business destination of the entire Indian subcontinent, he said.
– Lauding Amazon's new initiative titled "Northeast Spotlight", Dr Jitendra Singh said, this is indicative of the fact that even the business world of India has begun to realise where it should be looking to make a further headway in the Post-COVID economy.
– He said, when all the known conventional resources and potentials across the country appeared to have got saturated or exhausted, the Northeast will still have something to offer and that gives it a pivotal role in the times to come.
– He further stated that the 100-year-old "Indian Forest Act" has been amended to exempt homegrown Bamboo from its provision and the Import duty on bamboo has been hiked in order to promote domestic bamboo products.
UPSC Prelims 2021: Last 3 months Strategy for UPSC preparation
3. Gender Samvaad event launched
Why in news?
Gender Samvaad event, a joint attempt between DAY-NRLM and the Initiative for What Works to Advance Women and Girls in the Economy (IWWAGE) to create a common platform to share experiences emerging from this effort, was organised on 16 April, 2021 by the Ministry of Rural Development, Govt. of India.
Key points are:
– The attempt is to generate greater awareness on gender-related interventions under DAY-NRLM across the country and best practices, with a focus on hearing voices from the states and the field.
Gender Samvaad provides states with opportunities to:
– Understand best practices/initiatives that other states have been undertaking to improve women's agency (e.g. facilitating women's access to land rights, their engagement in farmer producer organizations (FPOs), best practices around Food, Nutrition, Health and Water and Sanitation (FNHW), in establishing strong institutions for public service delivery, and in protecting and providing redress to vulnerable groups within women (e.g. to victims of witch-hunting);
– Understand gender interventions globally;
– Engage with experts and other colleagues on suggestions regarding how to handle issues/implementation barriers;
– Contribute to the creation of a 'gender repository' with resource materials on best practices for gender interventions across the country/other countries; and
– Build advocacy around the need to focus on gender issues across SRLMs and the NRLM.
– The event was launched today by Nagendra Nath Sinha, Secretary, Rural Development as part of the ongoing Azadi ka Amrit Mahotsav.
– The online launch event brought together a distinguished panel of experts, including senior officials of the Ministry of Rural Development.
– With over 60 million women mobilised to be part of one of India's largest livelihoods programme, the Deendayal Antayodaya Yojana-National Rural Livelihoods Mission (DAY-NRLM) holds great promise for advancing women's socio-economic empowerment by organising them into self-help groups (SHGs) and federations of the rural poor.
– In 2016, DAY-NRLM laid out a gender operational strategy to mainstream gender issues within its federated architecture, with a focus on training and capacity building of staff, cadres and institutions on gender issues.
– This was coupled with the establishment of institutional platforms (e.g. social action committees and gender resource centres) at the field level, so women could approach them for their grievances and to claim their rights and entitlements.
Daily Gist of 'The Hindu', 'PIB', 'Indian Express' and Other Newspapers: 1 April, 2021
4. UNFPA's population report 2021
Why in news?
Recently, The United Nations Population Fund's (UNFPA) Flagship State of World Population Report 2021 titled 'My Body is My Own' was launched.
Key points are:
– This is the first time a United Nations report has focused on bodily autonomy.
– The report defined 'Bodily autonomy' as the power and agency to make choices about your body without fear of violence or having someone else decide for you.
– Nearly half the women from 57 developing countries do not have the right to make decisions regarding their bodies, including using contraception, seeking healthcare or even on their sexuality.
– In countries where data is available, only 55% of women are fully empowered to make choices over healthcare, contraception and the ability to say yes or no to sex.
– Only 75% of countries legally ensure full and equal access to contraception.
– Women around the world are denied the fundamental right of bodily autonomy with the COVID-19 pandemic further exacerbating this situation.
– In India, according to NFHS-4 (2015-2016), only about 12% of currently married women (15-49 years of age) independently make decisions about their own healthcare.
– For a quarter of women (23%), it is the spouse that mainly takes decisions about healthcare.
– Information provided to women about the use of contraception is also limited.
5. EatSmart Cities Challenge and Transport 4 All Challenge
Why in news?
Recently, the Ministry of Housing and Urban Affairs launched the EatSmart Cities Challenge and Transport 4 All Challenge.
Key points are:
– The challenges aim at creating an environment of right food practices and habits and to make public transport safe, affordable, comfortable, and reliable.
– The EatSmart Cities Challenge is envisioned as a competition among cities to recognize their efforts in adopting and scaling up various initiatives under Eat Right India.
– The challenge is open to all Smart Cities, capital cities of States /UTs, and cities with a population of more than 5 lakh.
– It aims to motivate Smart Cities to develop a plan that supports a healthy, safe and sustainable food environment supported by institutional, physical, social, and economic infrastructure along with the application of 'smart' solutions to combat food-related issues.
– The challenge has the potential to create social and behavioural change towards food safety, hygiene and nutrition.
About Transport 4 All Challenge:
– The initiative has been launched in collaboration with The Institute for Transportation and Development Policy (ITDP) and aims to bring together cities, citizen groups, and start-ups to develop solutions that improve public transport.
– ITDP is a non-governmental non-profit organization that focuses on developing bus rapid transit systems, promoting biking, walking, and non-motorized transport, and improving private bus operators margins.
– The Transport 4 All Digital Innovation Challenge Aims to develop digital solutions that will make public transport safe, affordable, comfortable, and reliable for all.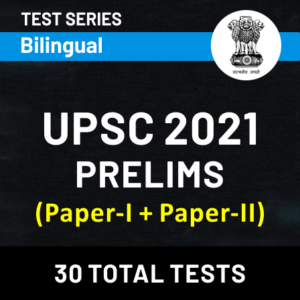 Aiming for UPSC CSE 2021? Get the best test series for sure selection: Click Here
6. National Startup Advisory Council
Why in news?
The first meeting of the National Startup Advisory Council (NSAC) was held recently.
Key points are:
– National Startup Advisory Council constituted by the 'Department for Promotion of Industry and Internal Trade (DPIIT).
– Its role is to advise the Government on measures needed to build a strong ecosystem for nurturing innovation and startups in the country to drive sustainable economic growth and generate large scale employment opportunities.
– It will be chaired by the Minister for Commerce & Industry.
– The Council will consist of non-official members, to be nominated by the Central Government.
-The nominees of the concerned Ministries/Departments/Organisations, not below the rank of Joint Secretary to the Government of India, will be ex-officio members of the Council.
Functions of the National Startup Advisory Council are:
– Suggest measures to foster a culture of innovation amongst citizens and students.
– Promote innovation in all sectors of the economy across the country, including semi-urban and rural areas.
– Support creative and innovative ideas through incubation and research and development to transform them into valuable products.
7. Monkeydactyl: Pterosaur Species
Why in news?
The new pterosaur fossil was discovered in the Tiaojishan Formation of Liaoning, China, and is thought to be 160 million years old.
Key points are:
– It has been named Kunpengopterus antipollicatus, also dubbed "Monkeydactyl".
– The pterosaur species were reptiles, close cousins of dinosaurs and the first animals after insects to evolve powered flight.
– They evolved into various species, while some were as large as an F-16 fighter jet, others were as small as paper airplanes.
– They flourished during all periods (Triassic, Jurassic, and Cretaceous) of the Mesozoic Era (252.2 million to 66 million years ago).
Monkeydactyl Fossil (Kunpengopterus antipollicatus): "Antipollicatus" in ancient Greek means "opposite thumbs", and it was attached to the name because the researchers' findings could be the first discovery of a pterosaur with an opposed thumb.
– It could likely be the earliest-known instance of the limb.
– It is far older than the one identified in 2019.
– Paleontologists had identified that species as a pterosaur that lived over 77 million years ago in what is Western Canada today.
– Named Cryodrakon boreas, it was believed to be one of the largest flying animals, which "flew over the heads of dinosaurs", with a wingspan of over 10 metres.