Daily news will speed up the preparation for the Civil Services Examination and it also plays a crucial role to grasp the current affairs topic comprehensively. Here we have covered most of the topics related to various categories including National, International, Sports, Science and Technology, and so on.
1. National Startup Advisory Council
Why in news?
Minister of Railways, Commerce & Industry, Consumer Affairs and Food & Public Distribution Piyush Goyal on 15 April, 2021 chaired the first meeting of the National Startup Advisory Council (NSAC).
Key Points are:
– Department for Promotion of Industry and Internal Trade (DPIIT) had constituted the National Startup Advisory Council to advise the Government on measures needed to build a strong ecosystem for nurturing innovation and startups in the country to drive sustainable economic growth and generate large scale employment opportunities.
– Besides the ex-officio members, the council has a number of non-official members, representing various stakeholders such as founders of successful startups, veterans who have grown and scaled companies in India, persons capable of representing the interest of investors into startups, persons capable of representing interests of incubators and accelerators, representatives of associations of stakeholders of startups and representatives of industry associations.
– The council shall act as the guiding light for many budding startup entrepreneurs in India.
– This is the first time in our nation's history where such a high-powered team of people from the private sector and the Government have come together, so that 'You take your own policy decisions'.
– Calling for making "Startup India" a symbol of national partnership and national consciousness, the Minister stressed the need to sow the seeds of entrepreneurship at the school level to encourage students to innovate.
Daily Gist of 'The Hindu', 'PIB', 'Indian Express' and Other Newspapers: 1 April, 2021
2. Regional Comprehensive Economic Partnership (RCEP) pact
Why in news?
Recently, Singapore's Foreign Minister Vivian Balakrishnan said that he hoped India would "reassess" its stand on regional trading agreements such as the Regional Comprehensive Economic Partnership (RCEP) pact that India withdrew from in 2019.
Key points are:
– India had "a crucial role" to play in helping the region build an inclusive architecture at a time of increasing global instability.
– Such trade pacts will also give Indian companies a platform to showcase their strengths across even larger markets.
– Besides, Rising U.S.-China tensions were "deeply worrying" for the region with the pandemic resulting in "heightened tension".
– The RCEP came into force in November 2020 without India. The signatories of the agreement include 10 ASEAN countries – Singapore, Thailand, Vietnam, Cambodia, Indonesia, Malaysia, Brunei, Laos, Myanmar and the Philippines and 5 key partners (China, Japan, South Korea, Australia and New Zealand).
– To lower tariffs, open up trade in services and promote investment to help emerging economies catch up with the rest of the world.
– To help reduce costs and time for companies by allowing them to export a product anywhere within the bloc without meeting separate requirements for each country.
– It also touches on intellectual property, but will not cover environmental protection and labour rights.
3. Sustainable Livelihoods: Investing in Women for a New India"37th Annual Session
Why in news?
Union Minister of State (Independent Charge) Development of North Eastern Region (DoNER), MoS PMO, Personnel, Public Grievances, Pensions, Atomic Energy and Space, Dr. Jitendra Singh said here on 15 April, 2021 that New Northeast is destined to play a leading role in New India.
Speaking on 'Sustainable Livelihoods: Investing in Women for a New India" at the 37th Annual Session organised online by Federation of Indian Chambers of Commerce & Industry (FICCI)-FLO here Dr. Jitendra Singh said, Northeast has had a rich tradition of women entrepreneurship and always took a lead as far as the women Self Help Groups (SHGs) are concerned.
Key points are:
– It was way back in the 1950s, only a few years after India's independence, that the State of Assam had its first-ever Mahila Mandal established, which actually paved the way for other States to follow.
– Today, different the North Eastern States have several vibrant women groups like the 'Naga Mother Association', which are contributing to the cause of livelihood as well as economic empowerment.
– The region is a home for knitting, weaving & handicrafts and the most distinct example of this came forth during the early weeks of the COVID pandemic when there was a demand for face-masks from all parts of the country except the North Eastern region because the women Self Help Groups could readily make available face-masks not only in sufficient numbers and quantity but also in varied and fanciful designs to match with the attire worn.
– Dr. Jitendra Singh said Prime Minister Modi described the Northeast as the New Engine of India.
UPSC Prelims 2021: Last 3 months Strategy for UPSC preparation
4. In India Child Labour and Forced labour
Why in news?
A recent study has raised the issue of ambiguity about definitions of child labour and forced labour in India, especially for sugarcane producing states of Bihar, Karnataka, Maharashtra, Punjab, and Uttar Pradesh.
Key points are:
– The study was commissioned by the United Nations Development Programme (UNDP) and The Coca-Cola Company.
– Authorities discounted underage child labour as "children helping parents in the field".
– Similarly, confusion was about the advance payment to migrant workers, and associated risks of forced or bonded labour.
– Most of the interventions in the sugarcane sector, either by government authorities or by the Corporate Social Responsibility (CSR) arm of companies, were focused just on "improving farming techniques to ensure an increase in cane productivity".
– According to the Child Labour (Prohibition and Regulation) Amendment Act, 2016, employment of children below the age of 14 years in any commercial enterprise is illegal.
– The Act also bars the employment of adolescents in occupations that deal with hazardous working conditions such as chemical plants and mines.
– The Act says that children can only work after school hours or during holidays and that children are allowed to work in family-owned secure sectors.
– The Supreme Court of India has interpreted bonded labour as the payment of wages that are below the prevailing market wages and legal minimum wages.
– The Constitution of India prohibits forced labour under Article 23 (Fundamental Rights).
5. S-400 deal India and Russia
Why in news?
Russian Ambassador to India Nikolai Kudashev recently confirmed that both India and Russia are "committed" to completing their contract for the S-400 missile system, due to be delivered to India at the end of the year. He said both countries opposed U.S. sanctions on the issue.
Key points are:
– The S-400 deal could attract sanctions under US' CAATSA law. The US has already sanctioned China and Turkey over similar purchases.
– The S-400 Triumf is a mobile, surface-to-air missile system (SAM) designed by Russia.
– It is the most dangerous operationally deployed modern long-range SAM (MLR SAM) in the world, considered much ahead of the US-developed Terminal High Altitude Area Defense system (THAAD).
– Countering America's Adversaries through the Sanctions Act (CAATSA)'s core objective is to counter Iran, Russia and North Korea through punitive measures. Enacted in 2017. Includes sanctions against countries that engage in significant transactions with Russia's defence and intelligence sectors.
6. UN Food Systems Summit 2021
Why in news?
The United Nations Secretary-General has called for the first-ever UN Food Systems Summit to be held in September 2021 to strategize the actions for positive change in Agri-food systems in the World to realize the vision of the 2030 Agenda for Sustainable Development.
Key points are:
– The Summit will focus on levers and pathways to shape food systems nationally and globally to accelerate progress in the SDGs.
– The Summit 2021 is planned to be essentially participatory and consultative and needs the game-changing ideas from the experiences through the National, Sub-national (State) and independent consultant for the five Action Tracks related to safe and nutritious food, sustainable consumption patterns, nature-positive production, advance equitable livelihoods, and resilience to vulnerabilities, shocks and stress.
– The COVID-19 pandemic led vulnerability and challenges faced by the humanity in food and the related system has further added to the need for reorienting our actions and strategies beyond specific cropping or farming systems to entire agri-food systems covering production, distribution and consumption.
– India with close to 18% of humanity on the Globe owes a paramount stake in this Food System Summit.
– India has volunteered, but not limited to, to the Action Track 4: Advance Equitable Livelihoods for the UN Food System Summit 2021. To take the process further the Government has constituted a high levelInterdepartmental Group under the Chairmanship of Prof. Ramesh Chand, Member, NITI Aayog along with the representatives from Ministries of Agriculture and Farmers' Welfare (MoAFW), Rural Development and others.
– The prime function assigned to this group is to conduct National Dialogues with all the stakeholders of agri-food systems for exploring national pathways towards creating sustainable and equitable food systems in India and suitably contribute to transformation in global food systems to meet the needs of the present and future.
– The consultative processes shall culminate in the Food System Summit in September, 2021 in which Hon'ble Prime Minister is likely to participate along with other Global leaders.
– The first National Level Dialogue on Agri-Food Systems-Advancing Equitable Livelihoods has been conducted on 12 April, 2021.
– The National Dialogue was facilitated by the Interdepartmental Group constituted by the Department of Agriculture Cooperation & Farmers Welfare and the representatives from UN Agencies in Delhi.
– The day-long deliberations were attended by farmers organisations, farmer producer organisations, civil society organisations, research institutions& experts and government agencies.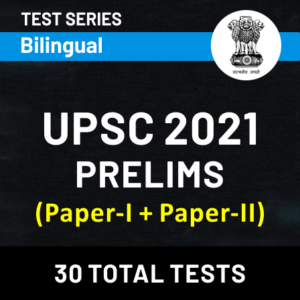 Aiming for UPSC CSE 2021? Get the best test series for sure selection: Click Here
7. Mettur-Sarabanga lift irrigation project
Why in news?
National Green Tribunal has allowed the Tamil Nadu government to proceed with the Mettur-Sarabanga lift irrigation project and has dismissed an application seeking a stay on the project.
Key points are:
– The application claimed that prior environmental clearance was not obtained before work for the project commenced.
– It also alleged irregularity in the construction of the project and said the project was envisaged in total disregard of the riparian rights of the delta farmers.
– Also, since the project involved the interests of Tamil Nadu, Karnataka and Kerala, clearance from the Central government was required.
– The proposed irrigation area under the project was 4,238 acres of land, which was less than 2,000 hectares and as per the amended 2018 EIA Notification, the project fell under the category of minor irrigation systems that are expressly exempted from the requirement of environmental clearance.
– Besides, the water received from Karnataka was only being regulated and that water from the Mettur dam was not being shared by any two States and was being utilised only for the benefit of Tamil Nadu. Hence, there was no necessity for obtaining permission from any other authorities.
– The project was implemented by Tamil Nadu Government and its aimed at irrigating 4,200 acres of land in Edappadi, Omalur, Sankagiri and Mettur taluks, diverting surplus water from Mettur reservoir through 100 tanks, lakes and ponds.