Daily news will speed up the preparation for the Civil Services Examination and it also plays a crucial role to grasp the current affairs topic comprehensively. Here we have covered most of the topics related to various categories including National, International, Sports, Science and Technology, and so on.
1. National Technology Day
Why in news?
The Prime Minister, Shri Narendra Modi has praised the scientists and those passionate about technology on National Technology Day which is celebrated on 11 May every year.
Key points are:
– This day serves as a reminder of India breaking into the elite group of nations with nuclear weapons.
– On May 11, 1998, India conducted three successful nuclear tests at the Indian Army's Pokhran Test Range in Rajasthan under Operation Shakti. Two more nuclear tests were conducted on May 13.
– The tests were led by late President Dr. APJ Abdul Kalam. The National Technology Day was observed for the first time on May 11, 1999.
– The National Technology Day 2021 theme is "Science and Technology for a Sustainable Future".
– In 2020, the theme was 'Rebooting the Economy through Science, Technology and Research Translations' titled 'RESTART'.
– Also, on National Technology Day, India's first-ever indigenous aircraft, Hansa-1, took flight and the DRDO tested the surface-to-air Trishul missile. It is a short-range missile with a quick reaction time.
SUCCESS UPSC Civil Services Examination (CSE) Prelims 2021 Complete Batch Live Classes: Click Here
2. Internal restructuring of IBM Corporation
Why in news?
The Competition Commission of India (CCI) receives notice under Green Channel filed by Kyndryl Holdings LLC and Grand Ocean Managed Infrastructure Services Private Limited in relation to the internal restructuring of IBM Corporation and is deemed approved.
Key points are:
– International Business Machines Corporation (IBM Corporation/ Seller) plans to spin off its global MIS Business into a new public company, within the framework of an International corporate internal re-organization.
– The target structure will be achieved by a separation of the said MIS Business into newly incorporated companies i.e. Kyndryl Holdings LLC (Kyndryl) and Grand Ocean Managed Infrastructure Services Private Limited (Ocean India) (collectively referred as Acquirers) (Proposed Transaction).
– IBM Corporation is, inter alia, engaged in the provision of managed infrastructure services i.e. MIS Business in various countries including India.
– In India, the MIS Business is presently housed in Network Solutions Private Limited (NetSol) and IBM India, which are indirect wholly-owned subsidiaries of IBM Corporation.
– The MIS Business is the business of the infrastructure services unit of IBM Corporations Global Technology Services segment, including the Security, Regulatory and Risk Management Services and Identity Management Services offerings of the Security Services unit of IBM Corporation's Cloud and Cognitive software segment, but excluding the Public Cloud Platform offering of the Infrastructure Services unit.
– The Acquirers are presently not engaged in any business activity and have been incorporated only to implement the Proposed Transaction. Post the Proposed Transaction, the Acquirers will house and operate the MIS Business of the IBM Corporation.
Daily Gist of 'The Hindu', 'PIB', 'Indian Express' and Other Newspapers: 10 May, 2021
3. No link between 5G technology and the spread of COVID-19
Why in news?
It has come to the notice of the Department of Telecommunications (DoT), Ministry of Communications that several misleading messages are being circulated on various social media platforms claiming that the second wave of coronavirus has been caused by the testing of the 5G mobile towers. As per a press statement issued by DoT these messages are false and absolutely not correct.
Key points are:
– The press statement informs that the general public is hereby informed that there is no link between 5G technology and the spread of COVID-19 and they are urged not to be misguided by the false information and rumours spread in this matter.
– The claims linking the 5G technology with the COVID-19 pandemic are false and have no scientific basis.
– Moreover, it is informed that the testing of the 5G network has not yet started anywhere in India. Hence, the claim that 5G Trials or networks are causing coronavirus in India is baseless and false.
– Mobile towers emit non-ionizing Radio frequencies having very minuscule power and are incapable of causing any kind of damage to living cells including human beings.
– Department of Telecommunications (DoT) has prescribed norms for exposure limit for the Radio Frequency Field (i.e. Base Station Emissions) which are 10 times more stringent than the safe limits prescribed by International Commission on Non-Ionizing Radiation Protection (ICNIRP) and recommended by WHO.
– DoT has a well-structured process so that TSPs strictly adhere to these prescribed norms.
– However, any citizen having any apprehension about any mobile tower emitting radio waves beyond the safe limit prescribed by the department, a request for EMF measurements/testing can be made on the Tarang Sanchar portal.
– To allay the fear of the general public regarding the health effects of EMF emission from mobile tower, DoT has been taking several steps to generate awareness among the public about EMF radiation such as Nation-wide Awareness Programme, distribution of pamphlets/ information brochure on various topics related to EMF, publishing detailed information on EMF related issues on the website of DoT, advertisements in newspapers, the launch of "Tarang Sanchar" portal, etc.
– The field units of DoT have also been organizing public awareness events so that more and more people are made aware of the scientific facts on the health effects of EMF emissions from mobile towers.
Daily Gist of 'The Hindu', 'PIB', 'Indian Express' and Other Newspapers: 8 May, 2021
4. Puducherry becomes 'Har Ghar Jal' UT
Why in news?
Puducherry has become 'Har Ghar Jal' UT by ensuring that every rural home in the Union Territory gets a household tap connection.
Key points are:
– With this, the UT becomes the fourth State/UT after Goa, Telangana and Andaman & Nicobar Islands to provide assured tap water supply to every rural home under Union Government's flagship programme, Jal JeevanMission.
– Despite challenges faced due to CoVid-19 pandemic, Jal Jeevan Mission is being implemented in partnership with States/ UTs to provide safe tap water in adequate quantity of prescribed quality on a regular and long-term basis to every rural home by 2024.
– Puducherry's achievement is another timely indicator of JJM's success as people living in rural areas can practice regular handwashing at home and maintain physical distancing by avoiding crowds at public stand posts.
– Though the achievement got delayed due to Assembly elections, but the efforts of the UT Administration is praiseworthy.
– Further, the State of Punjab and the UTs of Dadra & Nagar Haveli and Daman & Diu have also crossed the milestone of covering 75% of rural homes with assured tap water supply
– 26.31 lakh households (76%) of Punjab out of 34.73 lakh have tap water supply and the State of Punjab plans for 100% coverage of all rural households by 2022.
– All 1.16 lakh rural households in Puducherry have a tap water supply now. The UT has achieved the 'Har Ghar Jal' status much ahead of the target fixed. During Annual Action Plan finalization of the UT in April, 2021.
– It was urged to utilize various funds available through the convergence of different programmes like MGNREGS, JJM, SBM (G), 15th FC Grants to PRIs, District Mineral Development Fund, CAMPA, CSR Fund, Local Area Development Fund, etc. at the village level and the Village Action Plan (VAP) are to be prepared by dovetailing these resources for achieving long-term drinking water security.
– The UT is also planning to get NABL accreditation/ recognition for its water quality testing laboratories and take up testing of all drinking water sources on a campaign mode.
– The UT of Puducherry is now planning for effective treatment & reuse of greywater coming out of homes. The UT is actively working towards water source sustainability.
– The four regions, namely Pondicherry Region, Karaikal, Yanam and Mahe region are at different locations, geographically separated from each other. Puducherry is blessed with various rivers and tributaries.
– Five rivers in Puducherry district, seven in Karaikal district, two in Mahe district and one in Yanam district drain into the sea, but none originates within the territory.
– Puducherry has 84 irrigation tanks and more than 500 ponds which are the lifeline for groundwater recharging systems, drinking water and agriculture. Puducherry has been consistently working towards de-silting of ponds & rejuvenation of its local water bodies, which is crucial for drinking water supply schemes.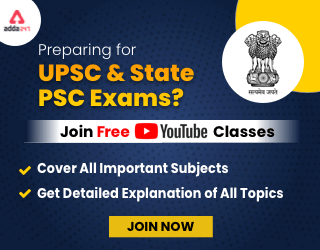 5. 'Connected Commerce: Creating a Roadmap for a Digitally Inclusive Bharat'
Why in news?
NITI Aayog and Mastercard on 10 May, 2021 released a report titled 'Connected Commerce: Creating a Roadmap for a Digitally Inclusive Bharat'.
Key points are:
– The report identifies challenges in accelerating digital financial inclusion in India and provides recommendations for making digital services accessible to its 1.3 billion citizens.
– The report was released by NITI Aayog's Vice Chairman Dr Rajiv Kumar, CEO Amitabh Kant, and Ajit Pai, Distinguished Expert and Head, Economics and Finance Cell, along with Ravi Aurora, Senior Vice President and Group Head, Global Community Relations, Mastercard.
– Based on five roundtable discussions held in October and November 2020, the report highlights key issues and opportunities, with inferences and recommendations on policy and capacity building across agriculture, small business (MSMEs), urban mobility and cybersecurity.
– Experts from the government, banking sector, the financial regulator, fintech enterprises, and various ecosystem innovators participated in the discussions led by NITI Aayog and supported by Mastercard.
– NITI Aayog was a knowledge partner in this endeavour. The series of workshops and the outcome report were curated by business advisory firm FTI Consulting. The report reflects the discussions held during the roundtables.
Key issues addressed during the knowledge series were:
– Acceleration of digital financial inclusion for underserved sections of Indian society.
– Enabling SMEs to 'get paid, get capital and get digital' and access customers, and ensure their continued resilience.
– Policy and technological interventions to foster trust and increase cyber resilience.
– Unlocking the promise of digitization in India's agriculture sector.
– The essential elements of a digital roadmap to make transit accessible for all citizens.
Key recommendations in the report include:
– Strengthening the payment infrastructure to promote a level playing field for NBFCs and banks.
– Digitizing registration and compliance processes and diversifying credit sources to enable growth opportunities for MSMEs.
– Building information sharing systems, including a 'fraud repository', and ensuring that online digital commerce platforms carry warnings to alert consumers to the risk of frauds.
– Enabling agricultural NBFCs to access low-cost capital and deploy a 'phygital' (physical + digital) model for achieving better long-term digital outcomes. Digitizing land records will also provide a major boost to the sector.
– To make city transit seamlessly accessible to all with minimal crowding and queues, leveraging existing smartphones and contactless cards, and aim for an inclusive, interoperable, and fully open system such as that of the London 'Tube'.
What is 5G, its testing and claims linked with COVID-19?
6. Third Arctic Science Ministerial
Why in news?
The Ministry of Earth Science recently announced that India participated in the Arctic Science Ministerial meeting. The Union Minister Dr Harsh Vardhan represented India at the meeting.
Key points are:
The theme of 2021 Arctic Ministerial Meeting was: Knowledge for the Sustainable Arctic.
– India shared plans for research and long-term cooperation in the Arctic during the meet.
– India promised to continue its contributions to the Sustained Arctic Observational Network.
– India also announced that it will deploy open ocean mooring in the Arctic for long term monitoring of upper ocean variables and marine meteorological parameters. Mooring is a collection of devices connected to a wire and anchored to the seafloor.
– India proposed to host the next or future Arctic Science Ministerial meet.
– The first two Arctic Science Ministerial meeting were held in USA in 2016 and in Germany in 2018.
– This meeting that was held in 2021 was organised by Japan and Iceland and is the first meeting to be held in Asia.
– It aims to provide opportunities to various stakeholders such as governments, academia, policymakers to enhance collective understanding of the Arctic region.
Important takeaways for all competitive exams:
Since 2013, India is an "Observer" in the Arctic Council. In 1920, India's engagement in the Arctic region started with the signing of the Svalbard Treaty of Paris. In 2008, India constructed a permanent research station in the Arctic region. It is called Himadri. Himadri is located at NyAlesund, Norway.
IAS Prelims Mock-Test 2021 – Set 146, 10th May