Daily news will speed up the preparation for the Civil Services Examination and it also plays a crucial role to grasp the current affairs topic comprehensively. Here we have covered most of the topics related to various categories including National, International, Sports, Science and Technology, and so on.
1. THE WEST BENGAL (PREVENTION OF LYNCHING) BILL, 2019
The West Bengal Assembly has passed the West Bengal (Prevention of Lynching) Bill, 2019 to prevent and punish mob assaults and lynching. The legislation has provision for the death sentence. The Bill also, while defining terms such as "lynching" and "mob", says the West Bengal Lynching Compensation Scheme may be framed under this Act.
The bill aims to protect the constitutional rights of vulnerable persons and prevent incidents of lynching. It also proposes action against those involved in perpetrating the crime. It also says that nodal officers will be appointed to monitor and coordinate prevention of lynching.
It proposes a jail term from three years to life for those involved in assaulting and injuring a person. In case of death of the victim, persons responsible for the incident would be punished with rigorous life imprisonment and fine up to Rs 5 lakh.
The bill also has provisions for punishment to those who obstruct the legal process by threatening the victims or witnesses. Those held guilty of such activity can be sentenced to jail for 3 to 5 years.
Daily Gist of 'The Hindu', 'PIB', 'Indian Express' and Other Newspapers: 31 August, 2020
FORMER PRESIDENT BHARAT RATNA SHRI PRANAB MUKHERJEE PASSED AWAY
The Prime Minister, Shri Narendra Modi has condoled the passing away of former President Bharat Ratna Shri Pranab Mukherjee. During his political career that spanned decades, Shri Pranab Mukherjee made long-lasting contributions in key economic and strategic ministries. He was an outstanding Parliamentarian, always well-prepared, extremely articulate as well as witty.
FIRST-EVER GUIDELINES ON ACCESS TO SOCIAL JUSTICE FOR PEOPLE WITH DISABILITIES (PWD)
The United Nations (UN) has released it's first-ever guidelines on access to social justice for People with Disabilities (PwD) to make it easier for them to access justice systems around the world.
The outlines of the guidelines are a set of 10 principles. These are:
PwD shall not be denied access to justice on the basis of disability.
Facilities and services must be universally accessible without discrimination of PwD.
PwD that including children with disabilities have the right to appropriate procedural accommodations.
PwD have the right to access legal notices and information in a timely and accessible manner on an equal basis with others.
PwD are entitled to all substantive and procedural safeguards recognized in international law on an equal basis with others, and States must provide the necessary accommodations to guarantee due process.
PwD have the right to free or affordable legal assistance.
PwD have the right to participate in the administration of justice on an equal basis with others.
PwD have the right to report complaints and initiate legal proceedings concerning human rights violations and crimes.
Effective and robust monitoring mechanisms play a critical role in supporting access to justice for PwD.
All those working in the justice system must be provided with awareness-raising and training programmes addressing the rights of PwD.
The UN has defined the word persons with disabilities in its convention on the Rights of PwD (UNCRPD), which was adopted in 2006, as those "who have long-term physical, mental, intellectual or sensory impairments which in interaction with various barriers may hinder their full and effective participation in society on an equal basis with others".
India ratified the Convention in October 2007 and the Parliament enacted the Rights of Persons with Disabilities Act, 2016 with a view to fulfilling the obligations under the UNCRPD.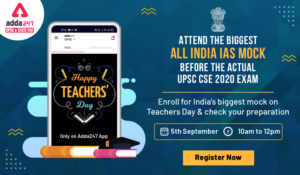 Register: Adda247 All India UPSC Free Prelims Mock On Teachers Day
INDEX OF EIGHT CORE INDUSTRIES
The Department for Promotion of Industry and Internal Trade is releasing Index of Eight Core Industries for the Month of July, 2020. The eight core industries are; Coal, Crude Oil, Natural Gas, Refinery Products, Fertilizers, Steel, Cement, and Electricity.
The combined Index of Eight Core Industries stood at 119.9 in July, 2020, which declined by 9.6 (provisional) per cent as compared to the Index of July, 2019. Its cumulative growth from April to July, 2020-21 was -20.5%.
The final rate of growth of Index of Eight Core Industries for April 2020 is revised at -37.9%. The Eight Core Industries comprise 40.27 per cent of the weight of items included within the Index of Industrial Production (IIP).
Daily Gist of 'The Hindu', 'PIB', 'Indian Express' and Other Newspapers: 29 August, 2020
RASHTRIYA KHEL PROTSAHAN PURUSKAR 2020
Air Force Sports Control Board was conferred with 'Rashtriya Khel Protsahan Puruskar 2020' for the outstanding contribution in helping sportsperson to excel in their respective disciplines and implement robust sports welfare measures.
The award is for sustained efforts towards encouragement and promotion of sports within the country and IAF especially. Air Marshal MSG Menon, Air Officer-In-Charge Administration and President, Air Force Sports Control Board received the award from Hon'ble President of India in an organised online ceremony at Vigyan Bhawan on 29 August 2020.
Air Force Sports Control Board (AFSCB) is the apex body for planning and conduct of sports activities within the IAF and at Inter-Services level. It has been the constant endeavour of AFSCB to enhance standards of IAF teams and to guide them in career progression as sportsmen in IAF. The promotion of sports at grass root level aims at encouraging sports culture within the environment and motivates young Air Warriors to incorporate sports activities as a way of life.
MINISTRY OF DEFENCE SIGNED CONTRACTS WITH INDIAN COMPANIES
To boost the 'Make in India' initiative within the Defence Sector, the Ministry of Defence (MoD) has signed contracts with M/s. Bharat Earth Movers Ltd. (BEML), M/s. Tata Power Company Ltd. (TPCL) and M/s. Larsen & Toubro (L&T) for supply of Six Pinaka Regiments to the Regiment of Artillery of the Indian Army at an approximate cost of Rs. 2580 Crores. This project under Buy (Indian) categorisation, with 70% Indigenous Content.
These Six Pinaka Regiments comprise 114 Launchers with Automated Gun Aiming & Positioning System (AGAPS) and 45 Command Posts to be procured from M/s TPCL and M/s L&T and 330 Vehicles to be procured from M/s BEML.
These Six Pinaka Regiments are going to be operationalised along the Northern and Eastern Borders of our country further enhancing the operation preparedness of our Armed Forces. Induction of Six Pinaka Regiments is planned to be completed by 2024.
This is a flagship project showcasing public-private partnership under the aegis of Government of India (DRDO & MoD) enabling "Aatmnirbharta" in cutting edge Defence technologies.
IAS Prelims Mock-Test 2020 – Set 7, 31 August
Daily Gist of 'The Hindu', 'PIB', 'Indian Express' and Other Newspapers: 28 August, 2020