Source: https://www.thehindu.com/opinion/op-ed/crafting-a-unique-partnership-with-africa/article35157179.ece
Relevance
GS Paper 2: International Relations: Bilateral, regional and global groupings and agreements involving India and/or affecting India's interests.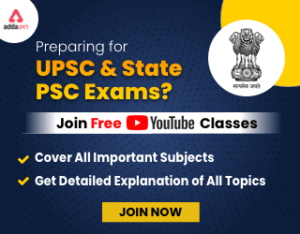 Get free video for UPSC CSE preparation and make your dream of becoming an IAS/IPS/IRS a reality
Context:
As the Indian-African relationship enters the post-pandemic world, it is vital to prioritize and channel resources into augmenting partnerships in agriculture.
Potential of African Agriculture Sector: Opportunities for India
Unexplored potential: Africa has 65% of the world's uncultivated arable land, employing over 60% of the workforce, and accounting for almost 20% of Sub-Saharan Africa's GDP.
Potential of the start-up ecosystem in the African Agri-tech sector: which saw a 110% growth between 2016 and 2018. Last year, despite the pandemic, the sector witnessed a record increase in investments.
Crucial for future global food security: as it has a largely untapped and underdeveloped agricultural sector which can help in ensuring global food security if properly utilized.
Election Commission of India (ECI)
Analyzing Chinese Engagement in Africa
Important partner: China is among Africa's largest trading partners and single biggest creditor. Its corporations dominate the region's infrastructure market and are now entering the agri-infra sector.
Access to Africa's natural resources, its untapped markets, and support for 'One China: are the primary drivers of Chinese engagement in the region.
Built industrial parks and economic zones in Africa: which are attracting low-cost, labor-intensive manufacturing units from China.
Training and capacity building: African agriculture experts, officials, and farmers are provided opportunities to augment skills and be trained in China.
Focus on market capture: by building 'brand China' to dominate the African market, even at the cost of short-term profits. This is being done through-

Pushing Chinese standards in host countries.
Laying critical telecommunications infrastructure by Chinese tech companies.
Investment by venture capital funds in African fintech firms,
Expansion of smaller Chinese enterprises across the region.
Important Prelims Article- 14 July 2021
India-Africa agricultural cooperation
Multifaceted Engagement: with projects being implemented under Indian lines of credit, capacity-building initiatives, and cooperation in a range of sectors.
Institutional and individual capacity-building initiatives: Such as

The India-Africa Institute of Agriculture and Rural Development in Malawi,
Extension of soft loans and Supply of machinery,
Acquisition of farmlands: Indian farmers have purchased over 6,00,000 hectares of land for commercial farming in Africa.
The presence of Indian entrepreneurs in the African agricultural ecosystem.

Co-operative mechanism:

Direct cooperation with Indian states: for example, the Kerala government trying to meet its steep requirement for raw cashew nuts with imports from countries in Africa to complement its limited production capacity.

There is a proposal to create a jointly-owned brand of Africa-Kollam cashews.
Learning from Chinese mistakes
Negative perception about Chinese engagement: due to insular diaspora, lopsided trade, looming debt, competition with local businesses accompanied by greater political and socioeconomic interlinkages.
Disconnect with ground realities:

In some cases, the techniques taught in China is not available locally and in others, there is the inability to implement lessons learned due to the absence of supporting resources.
Language barrier: Larger commercial farms run by Mandarin-speaking managers and the presence of small-scale Chinese farmers in local markets aggravates socio-cultural stresses.
Technology in Agriculture: India Digital Ecosystem of Agriculture (IDEA)
Way forward
Promote cooperative and collaborative mechanisms: on the lines of the proposed African-Kollam Cashew brand in other areas of the agriculture sector.
Incentivize Indian industries: to tap into African agri-business value chains and connecting Indian technology firms and startups with partners in Africa.
Effective Impact Assessment: of the existing capacity-building initiatives in agriculture for India to stand in good stead.

Creating demand-led skill development program: by drawing up a Country-specific and localized curriculum.

India should be mindful of increasing Chinese presence because Beijing's model, if successful here, could be heralded as a replica for the larger global south.
Conclusion:
India has consistently chosen well to underline the development partnership to be in line with African priorities. It is pertinent, therefore, that we collectively craft a unique modern partnership with Africa.