Context
Recently, the Supreme Court gave the Centre and the States eight weeks to fill up the vacancies in the consumer disputes redressal commissions.
The court also asked the Centre to conduct a comprehensive "legislative impact study" on the Consumer Protection (CP) Act of 2019.

The court wants to know the impact of this legislation on litigation.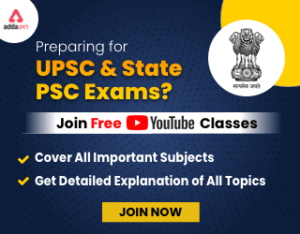 Get free video for UPSC CSE preparation and make your dream of becoming an IAS/IPS/IRS a reality
Issue pointed out by the SC
Lack of intent on the part of the centre and state governments to fill the growing vacancies in the consumer disputes redressal commissions.

This leads to denial of justice to ordinary citizens and dissuades them from filing complaints which is against the intent of the CP Act 2019.

Lack of initiative on the part of the government to translate the legislative intent to administrative infrastructure, facilities, staff, Members in order for the functioning of the consumer disputes commissions.
Key features of the Act
Defines the consumer: It defines a person as a consumer who avails the services or buys any good for self-use for a consideration.

Excludes: a person who obtains a good for resale or a good or service for commercial purpose.

Coverage: It has expanded its coverage to transactions through all modes including offline, and online through electronic means, teleshopping, multi-level marketing, or direct selling.
Defines consumer rights: It provides for six consumer rights and they are-
Right to Safety.
Right to be Informed.
Right to Choose.
Right to be heard.
Right to seek Redressal.
Right to Consumer Education.
Dispute redressal mechanisms: It provides for Consumer Dispute Redressal Commissions (CDRCs) at the district, state, and national levels. Jurisdiction of CDRCs-

District CDRCs: complaints of up to 1 crore value of goods and services.
State CDRCs: complaints of more than 1 crore but less than 10 crores of goods and services.
National CDRC: for complaints with a value of goods and services over Rs 10 crores.
Appeal against the order of the National CDRC lies in the Supreme Court.

Central Consumer Protection Authority (CCPA): will be set up by the central government to promote, protect and enforce the rights of consumers. Its main functions are-

Regulation: of matters related to violation of consumer rights, unfair trade practices, and misleading advertisements.
Investigation and inquiry wing: CCPA has its own investigation wing, headed by a Director-General, which may conduct inquiry or investigation into such violations.

Grounds for filing complaints: A consumer can file a complaint with CDRCs in relation to:

Unfair or restrictive trade practices;
Defective goods or services;
Overcharging or deceptive charging; and
The offering of goods or services for sale which may be hazardous to life and safety.

Product Liability: rests with the manufacturer or product service provider or product seller who will be held responsible to compensate for injury or damage caused by defective product or deficiency in services.
Provides for early settlement through mediation: by Consumer Commissions wherever scope for early settlement exists and parties agree for it.

Consumer mediation Cells are to be attached to the respective Consumer Commissions at each level for the same purpose.
No appeal can be made against settlement through mediation.
 Also read – Pradhan Mantri Dakshta Aur Kushalta Sampann Hitgrahi (PM-DAKSH) scheme