Context
Recently, Delhi High Court has asked the Centre to respond to a petition highlighting the inaction of the Computer Emergency Response Team (CERT-­In) over reports of alleged cybersecurity breaches and data leaks on online platforms of Big Basket, Domino's, MobiKwik, and Air India.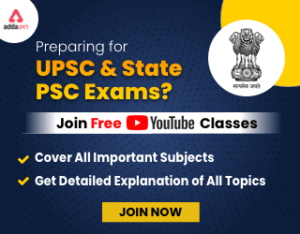 Get free video for UPSC CSE preparation and make your dream of becoming an IAS/IPS/IRS a reality
Computer Emergency Response Team (CERT­-In)
About: Established in 2004, CERT-In is the national nodal agency for responding to computer security incidents as and when they occur.

The constituency of CERT-In is the Indian Cyber Community.
Headquarters: New Delhi

Parent Ministry: works as a functional organization of the Ministry of Electronics and Information Technology.
Key functions: as provided by Information Technology (Amendment) Act 2008. It designated CERT-In to serve as the national agency to perform the following functions in the area of cybersecurity:

Collection, analysis, and dissemination of information on cyber incidents.
Forecast and alerts of cybersecurity incidents
Emergency measures for handling cybersecurity incidents
Coordination of cyber incident response activities.
Issue guidelines, advisories, vulnerability notes, and whitepapers relating to information
security practices, procedures, prevention, response, and reporting of cyber incidents.
Such other functions relating to cybersecurity as may be prescribed.
Key steps taken by government to ensure cyber security
National Cyber Security Policy, 2013: aimed at building a secure and resilient cyberspace for citizens, businesses, and the Government.
Cyber Swachhta Kendra': they are Botnet Cleaning and Malware Analysis Centre, created to combat cybersecurity violations and prevent their increase.

It was launched in 2017 by CERT-In as a desktop and mobile security solution for cybersecurity in India.

Cyber Surakshit Bharat Yojana: It is an awareness generation program and conducts workshops on best practices and enablement of the officials with cybersecurity health tool kits.

It was launched by the Ministry of Electronics and Information Technology in association with National e-Governance Division (NeGD) and industry players in 2018.

Indian Cyber Crime Coordination Centre(I4C): created to combat cybercrime in India in a comprehensive and coordinated manner.

Established in 2018 and functions under the Ministry of Home Affairs.