Relevance
GS 2: Parliament and State legislatures—structure, functioning, conduct of business, powers & privileges and issues arising out of these.
Context
The Monsoon Session of Parliament was adjourned sine die recently, two days before it was scheduled to end, due to continuous protests by opposition, and uproar in the Houses.
What is Adjournment Sine Die?
Adjournment sine die means terminating a sitting of Parliament for an indefinite period, that is, when the House is adjourned without naming a day for reassembly.
The power of adjournment sine die lies with the presiding officer of the House. It is unlike Prorogation where power to prorogue resides with the President.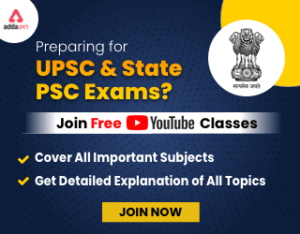 Get free video for UPSC CSE preparation and make your dream of becoming an IAS/IPS/IRS a reality
Reason
This monsoon session was the third least productive session in Lok Sabha, and eighth least productive session for Rajya Sabha in over two decades.
Reasons for parliamentary disruptions
Discussion on Matters of Controversy and Public Importance: A lot of time is spent in discussing issues like Pegasus issue, Citizenship Amendment Act, 2019, Cambridge Analytica.
Lack of Dedicated Time for Unlisted Discussion: lack of adequate time for raising questions and objections in respect of matters that are not listed for discussion is also a reason for frequent disruptions.
MPs do not get adequate time for airing their grievances thus leading to their dissatisfaction, which is further followed by protest.
List of borrowed Features of the Indian Constitution and their Source Countries
Way forward
Code of Conduct: To curb disorder in Parliament, strict enforcement of code of conduct for MPs and MLAs is needed.
To monitor disruptions in Parliament and state legislature, Rajya Sabha Deputy Chairperson, in 2019, proposed an idea of evolving a 'Parliament Disruption Index'.

This proposal should gain momentum now.

Increasing Number of Working Days: As recommended by the National Commission to Review the Working of the Constitution (NCRWC), there is a need to fix the minimum number of days for which the houses meet.

It should be 100 days for Rajya Sabha and 120 days for Lok Sabha.

Give time to opposition: The British Parliament allocates 20 days a year when the parliamentary agenda is decided by the opposition.

Initiatives like this will help in removing discontent among the parties not in power.