UGC NET Admit Card 2021: The UGC NET Exam date 2021 Exams have been revised and has been scheduled for 20th November to 30th December 2021. The UGC NET Admit Card for the exam schedule from 24th December to 27th December has been released on the official website. Interested candidates can easily download their admit cards with their date of birth and registration number from the official website of NTA (National Testing Agency). All the Eligible Candidates, who had enrolled for the UGC NET 2021 Examination, can download their Admit Card from the link provided below.
Note: Admit Card is available for the Exam Dates 24th, 26th, 27th Dec. 2021 only. For other Exam Dates, the Admit Cards will be available soon
UGC NET Admit Card 2021: Overview
UGC NET Admit Card 2021
Examination Authority
National Testing Agency (NTA)
Exam Name
UGC NET 2021 (National Eligibility Test)
UGC NET Exam Cycle
December 2020 and June 2021
Exam Date (December 2020) Cycle
 20, 21, 22, 24, 25, 26, 29, 30 November, 01, 03, 04, 05,24, 26, 27 December 2021
Exam Date (June 2021) Cycle
Topic Category
Admit Card
Official Website
@ugcnet.nta.nic.in
UGC NET Admit Card 2021
UGC NET Admit Card 2021 has been available from 1st December to 5th December 2021 on the official website @ugcnet.nta.nic.in. Candidates can download their NTA UGC NET 2021 admit card by logging in to their accounts using their application number and DOB. The UGC NET admit card is a mandatory document to be carried to the exam centre. Candidates not having their UGC NET Admit Card at the time of the exam might not be allowed to write the test. Click on the below link to download UGC NET Admit card 2021.
Direct Link To Download UGC NET Admit Card
UGC NET 2021 Admit Card: Exam Dates, Timing
The UGC NET examination for 7 NET Subjects i.e. Bengali, Kannada, Home Science, Hindi, Geography, Sociology and Sanskrit will be conducted between 15-30 December 2021. In this article, we have discussed all the important dates and information about the UGC NET December 2020 and June 2021 Admit Card.
Dates of Examination
20 November to 30 December 2021 (Revised)
Shift
First Shift
Second Shift
Timing of Examination
09.00 am- 12.00 pm
03:00 pm- 6:00 pm
Duration of Examination
03 hours
Entry into the Examination Centre
7.20 am – 8.30 am
1.20 pm -2.30 pm
Entry in the Examination Hall/Room
8.45 am- 9.00 am
2.45 pm- 3.00 pm
Test Commences
9.00 am
03:00 pm
Test Concludes
12.00 pm
6:00 pm
How to Download UGC NET 2021 Admit Card?
Eligible candidates can follow the below-mentioned steps to download NTA UGC NET 2021, Admit Card :
Step 1: Visit the official website of NTA UGC NET (@ugcnet.nta.nic.in).
Step 2: Click on Download Admit Card for UGC NET 2021 tab on the home screen.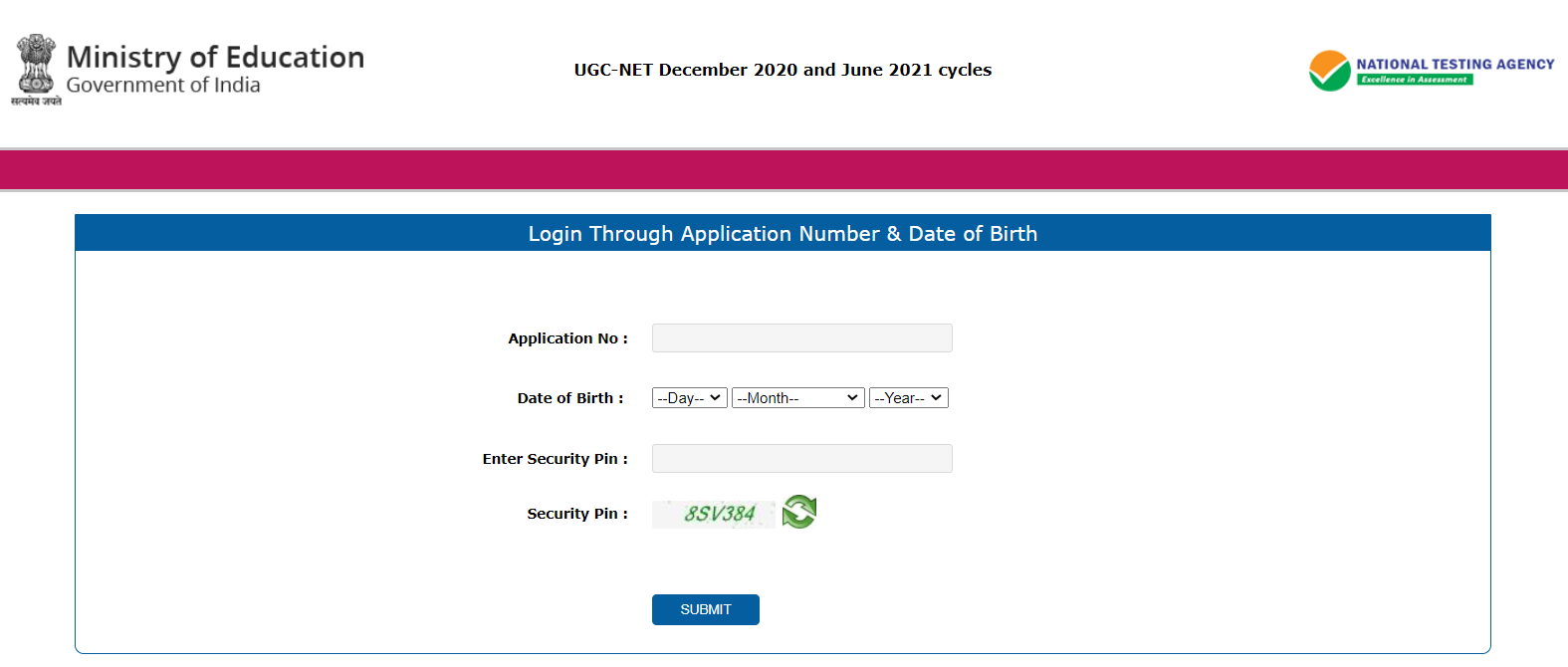 Step 3: Enter the below-mentioned details:
Application number
Date of birth
Captcha as shown on the screen
Step 4: Click on the Login button.
Step 5: Complete your undertaking regarding COVID-19 and submit your details.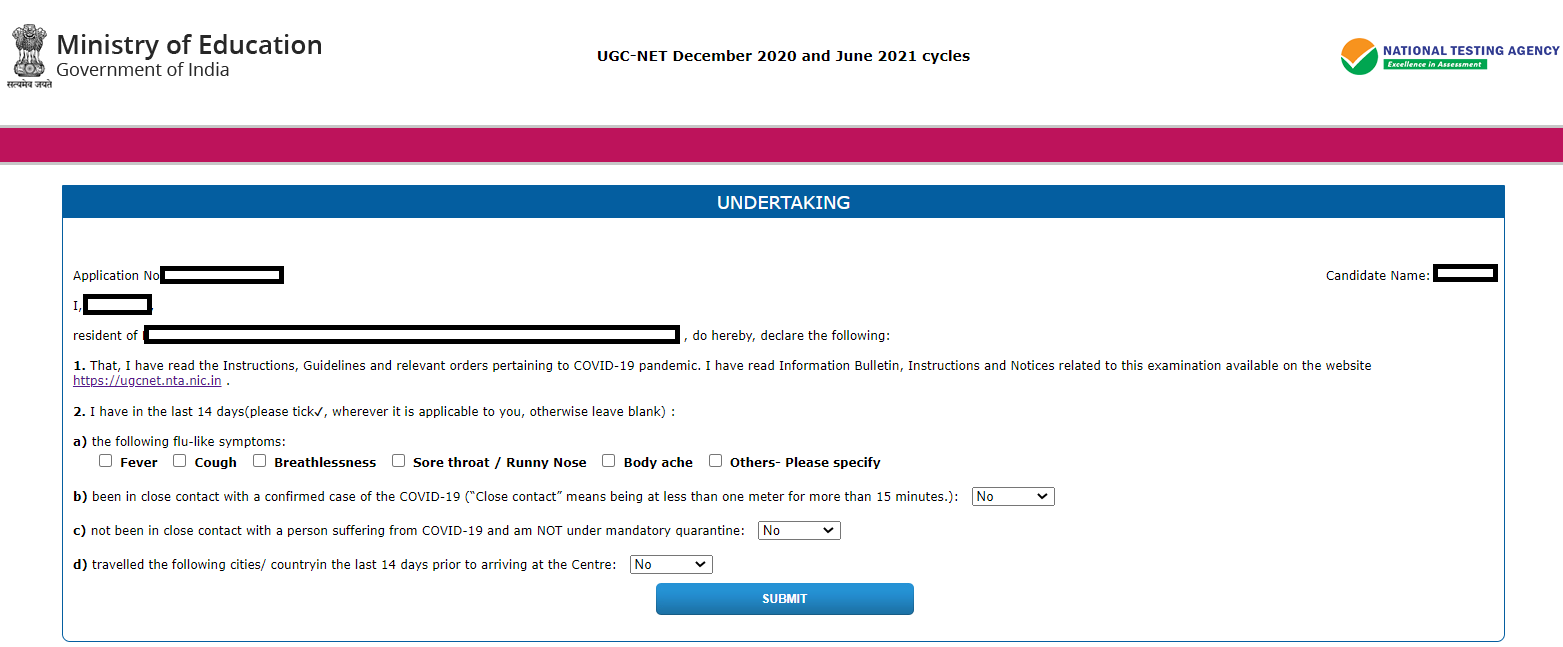 Step 6: Now, UGC NET Admit card is displayed on the screen, candidates can download the Admit card by clicking on the download icon and printing it.
Tips And Tricks to Crack NTA UGC NET 2021
Direct Link to Download UGC NET Admit Card
The direct link to admit card for UGC NET 2021 examination has been given below. NTA has released UGC Admit card on the official website. The admit card for other dates has been released on UGC NET official website. To make easy and fast we have given the UGC NET Admit card 2021 download link below.
Details Mentioned on UGC NET Admit Card 2021
UGC NET admit card 2021 will carry the following details regarding the Exam & Exam Centre:
Candidate Name
Candidate Roll Number
Father's name
Address
Exam Date
Exam Centre Address
Exam Shift & time
Reporting time
Exam Day Instruction
Subject and Subject Code
Undertaking
Note: The candidates must check all the details in the UGC NET Admit card i.e. – Name, Application Number, Exam Center, Photograph and Signature. In any case, the applicants have received an admit card with incorrect information, he/she must inform at the immediate helpline number
Candidates must download the UGC NET admit card from the official website of NTA as the hard copy of the UGC NET Admit Card will not be sent to the candidate via post.
Documents Required During UGC NET 2021 Exam:
Admit Card along with Self Declaration (Undertaking) downloaded from the NTA website (a clear printout on A4 size paper) duly filled in
A simple transparent Ball Point Pen
One or two passport size photograph (same as uploaded on the Online Application Form)to be pasted on an attendance sheet
Personal hand sanitizer (50 ml)
Personal transparent water bottle
Any one of the authorized photo IDs i.e. – PAN card/ Driving License/ Voter ID/ Passport/ Aadhaar Card (With photograph)/ Aadhaar Enrolment No/ Ration Card.
PwD certificate issued by the Competent Authority, if claiming the relaxation under PwD category (If required).
Candidates are NOT allowed to carry any personal belongings including electronic devices, mobile phone and other banned/ prohibited items
Shoes/footwear with thick soles and garments with large buttons are NOT permitted.
5 Blank paper sheets for rough work will be provided in the examination Hall/Room.
Duly filled Admit Card ,at the end of examination, must be dropped in the designated drop box.
UGC NET Admit Card COVID-19 Instructions
Candidates need to maintain a space of at least 6 feet from each other at all the times. Queue manager/ropes and Floor Marks will be arranged outside the centre and follow the instructions provided by centre staff.
Lab numbers will not be displayed outside the centre to avoid any crowding at any one place in any situation.
This Admit Card consists of three pages- Page 1 contains the Centre details and Self Declaration (Undertaking) form regarding COVID-19, Page 2 has " Important instruction for candidates" and Page 3 has " Advisory for candidates regarding COVID-19 ". The candidate has to download all three pages.
Candidates will be required to sanitize hands by washing with soap and with Hand Sanitizer before entry in centre. Hand sanitiser will be available at various locations in the centre.
Candidate should bring duly filled in Admit card as per instructions.
Candidate will be offered a fresh 3 Ply mask before entry.
The candidate will be required to remove the mask worn by him/ her from home, and use the mask provided at centre only.
At time of entry, the filled in Undertaking on Admit Card, and body temperature (using Thermo Guns) will be checked and centre staff will guide you to respective labs after scanning bar code at Admit Card.
UGC NET Previous Year Question Paper: PDF Download With Answer
UGC NET Admit Card 2021: FAQs
Q. When will the UGC NET admit card 2021 be released?
Ans. UGC NET admit card 2021 has been released on official website.
Q. When will be the exam conducted of UGC NET 2021 Exam?
Ans. NTA has conducted the UGC NET 2021 exam from 20 November to 30 December 2021
Q. How can I get UGC NET admit card 2021?
Ans. You can download the UGC NET admit card 2021 by logging into your registered account on the official website of the exam or the above-mentioned link.
Q: Is UGC NET conducted online?
Ans: Yes, ever since NTA has started conducting the exam, UGC NET is conducted in online mode as a computer-based test (CBT) only.
Q. How to download UGC Net 2021 Admit card by name and date of birth?
A. Visit the official website of UGC NET and fill the Name and Date of birth to download UGC Net Admit Card.