Dear Students,
Teachersadda, the best online preparation site for all teaching exams has now changed its domain from teachersadd.co.in to adda247.com/teaching-jobs-exam. So, students, do not get confused while visiting our website when you see a different domain name. Teachersadda is now upgraded to a better version providing the best material for all teaching exams. You will get the latest job alerts, study material, latest notifications, free mock tests, quizzes, study plans and much more on our website. All you need to do is visit adda247.com/teaching-jobs-exam for all your needs related to the teaching exams.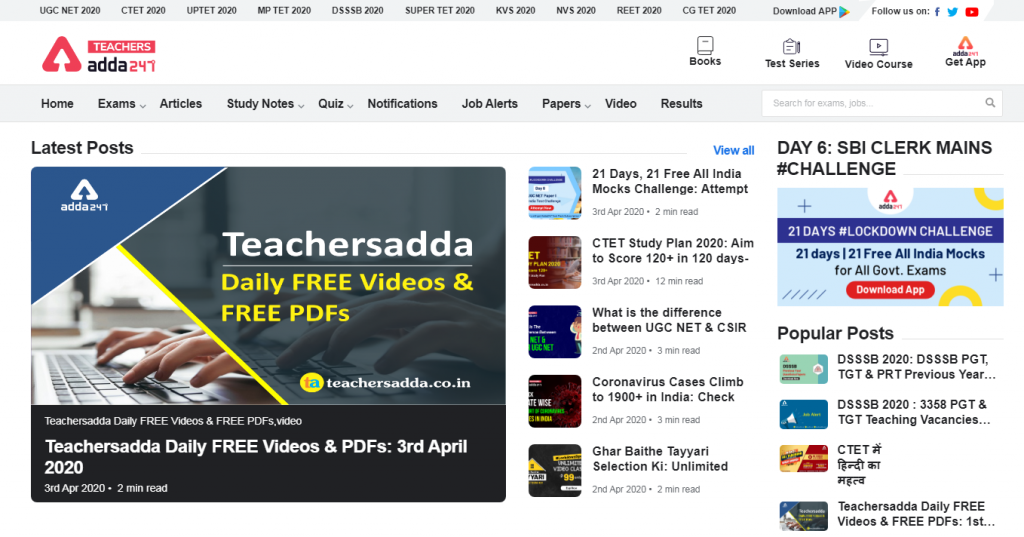 Exams covered by Teachersadda
At teachersadda, our motive is to provide the latest information regarding all the teaching exams conducted all over India. Whether it is a national level exam or a state-level teaching exam, you can get all the details right from the release of notification to how you can appear for the exam until the result has announced. Take a look at some of the major examinations that we cover:
What do we provide?
On teachersadda, we take care of all the necessities of students. Whether you require the live classes, videos, books, or mock tests, we have all the material available right on your palm. You will also get all the exam related information such as Vacancy, selection process, exam pattern, application fee, the procedure to apply online, salary etc. Here are some of the things that we provide for the betterment of students:
Latest Job Notifications
Preparation Strategy for all exams
Study Plans
Free Quizzes
Live Classes
Video courses
Free Videos
Mock Tests
Study Notes
Latest Notices
As various teaching recruitment are released every year, adda247.com/teaching-jobs-exam will continue to serve its students with all the required material. Keep learning from the best online preparation website for teaching exams.