REET Exam Preparation Tips: Rajasthan Eligibility Examination of teachers (REET) is an eligibility test that is conducted by Rajasthan Education Board.RBSE had announced 32000 vacancies for the post of government 3rd-grade teacher at the state level in Rajasthan. The candidates to appear for these vacancies must clear the qualifying test which is to be held on 26th September 2021 in an offline mode. Those who qualify for REET Exam will be eligible to teach in the government school of Rajasthan.REET consists of two levels, Level for Primary teachers & level 2 for upper primary teachers.
Can we prepare for REET Exam without coaching?
The Answer is YES, Candidate don't need to go outside or spent so much money on Offline coaching to clear the REET Exam. Here, we will discuss the strategies to qualify for the REET exam without coaching. Before starting with preparation tips & strategies, It is necessary to know about the REET in detail.
REET 2021 – Important Topic Asked In The REET Exam
| | | |
| --- | --- | --- |
| Subjects | Number of hours/per day | What to study |
| Child Pedagogy | 1-2 hour | Piaget Theory, Moral Development theory, learning, All Theories, All the nomenclature used in particular theory etc. |
| Mathematics | 2 hour | Number System, basic arithmetic's problems & Math's Pedagogy Concepts etc. |
| Science/EVS | 1.5 -2 hour | Topics like Human Physiology, physics Concept, and Chemistry and Rajasthan static GK, Public places and Institutions, Rajasthan state & their culture and Subject pedagogy concepts, etc. |
| Social Studies | 1.5 -2 hour | Topics like Constitutional Article, Dynasties & Agriculture History & Geography up to 10th standard etc. |
| English | 1.5 hour | Topics like RC, Poem Grammatical rule, Knowledge of English Sounds and Phonetic Symbols and Basic Pedagogy Concept, etc. |
| Hindi | 1.5 hour | Topics like RC, Poem, Grammatical rule and Basic Pedagogy Concept, etc. |
Download Complete REET Syllabus
REET Exam Key Points:
There are no negative markings in the REET Exam.
The Questions will be in the MCQ.
The duration of the REET Exam will be 2 Hours and 30 Minutes.
REET will be conducted in an offline mode only.
To qualify REET, candidates need to score at least 60% in the written examination
Steps To Be Taken To Clear the REET Exam
1.Know the exam pattern and syllabus in detail
It becomes very crucial to collect the complete study material of the REET exam because there might be the possibility that there are some updation in the REET syllabus this year. Thus, students should have full awareness of the additive part of the syllabus before they start concentrating on the exam preparation. Before starting your preparations, make sure to go through the complete syllabus and note down the important topics that need your attention.
REET Syllabus And Exam Pattern
2. Prioritize Your Topics/Subjects:
While it is necessary for you to score well in the paper from your subjects, remember that you need to know the REET exam pattern 2021. So give priority to the topics/Subjects and spend your time in preparation and planning accordingly.
3.Practice With Mock Tests
Testing yourself regularly becomes mandatory when you are going to appear for a speed-based exam like REET, it will help you know what is the current efficiency and how to improve it more. Try to have at least 2 mock tests every week.
REET Mock Test Series [Attempt Now]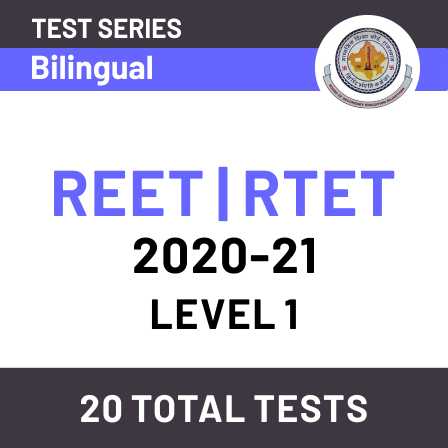 4. Solve REET Previous Year Question Papers:
This is an extremely important preparation tip for REET Exam. While solving the previous year question paper you got an idea about the questions and know the method to solve such questions. Solving previous exams question papers are very important and the best strategy in order to clear the TET exam.
REET 2020: Previous Year Papers PDF
5.Make Handy Notes:
Start preparing notes on every subject before you start smart learning. In this way, you can cover the entire syllabus on your notebooks and then comfortably learn/memorize the different concepts of the respective subjects. Also, make special notes for crucial points of the curriculum due to this you can easily revise the critical aspects of the syllabus before appearing in the exam.
Let us see how to clear the REET in the First Attempt
The key to crack REET lies in the way you prepare for the exam. A structured approach along with guidance can do the magic in the REET exam. For a regular candidate, a well planned 4 hours of daily studies for 2 months is sufficient to crack the exam.
What is the use of REET exam?
RTET or REET exam: The state-level REET exam is conducted for the recruitment of primary teachers (Level I) and upper primary teacher (Level II). After qualifying this exam, you are eligible to apply to teach in the Govt. School Of Rajasthan