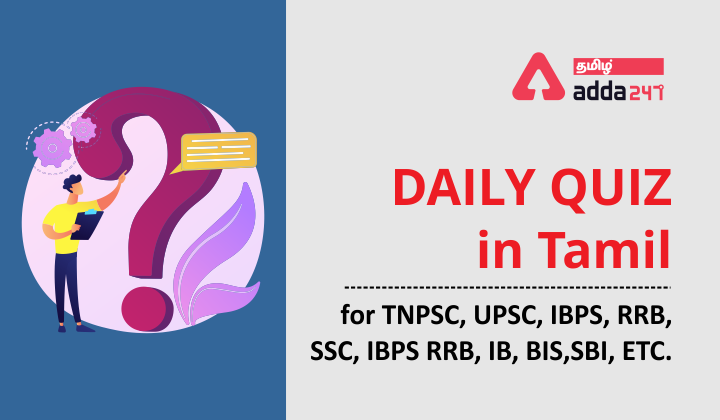 TNPSC Group 1, TNPSC Group 2/2A, TNPSC Group 4, TNUSRB, TNFUSRC, IBPS, SSC, IBPS RRB, SBI, RRB மற்றும் பிற போட்டித் தேர்வுகளுக்கான கேள்வி-பதில்கள்.
Q1. அடல் பிமிட்வியாகி கலியன் யோஜனா தொடர்பான பின்வரும் அறிக்கைகளை கவனியுங்கள்
இந்தத் திட்டம் ESIC சட்டம் 1948 இன் கீழ் உள்ள ஊழியர்களுக்கான நலன்புரி நடவடிக்கையாகும்
காப்பீடு செய்யப்படாத நபர்களுக்கு கோவிட் 19 க்குப் பின்னர் வேலையில்லாமல் இருக்கும்போது அவர்களுக்கு பண இழப்பீடு வழங்குகிறது
திட்டத்தின் கீழ் வேலையின்மை நிவாரண வீதத்தை முந்தைய விகிதமான 25% இலிருந்து 50% ஊதியமாக உயர்த்தவும் முடிவு செய்யப்பட்டுள்ளது.
மேலே கொடுக்கப்பட்ட கூற்றுகளில் எது சரியானது / சரியானவை ?
(a) 1 மற்றும் 2
(b) 2 மற்றும் 3
(c) 1 மற்றும் 3
(d) 1, 2 மற்றும் 3
Q2. பிரதமரின் வேலைவாய்ப்பு உருவாக்கும் திட்டம் (PMEGP) தொடர்பான பின்வரும் அறிக்கைகளைக் கவனியுங்கள்
கிராமப்புறங்களில் மட்டுமே பள்ளி விடுபவர்களுக்கு வேலை வாய்ப்புகளை உருவாக்குவதே இத்திட்டத்தின் நோக்கம்
இந்த திட்டத்தை காதி மற்றும் கிராம தொழில் ஆணையம் (கே.வி.ஐ.சி) தேசிய அளவில் நோடல் ஏஜென்சியாக செயல்படுத்துகிறது
மேலே கொடுக்கப்பட்ட கூற்றுகளில் எது சரியானது / சரியானவை ?
(a) 1 மட்டுமே
(b) 2 மட்டுமே
(c) 1 மற்றும் 2 இரண்டும்
(d) 1 அல்லது 2 அல்ல
Q3. விவசாய ஏற்றுமதி வசதி மையம் தொடர்பான பின்வரும் அறிக்கைகளை கவனியுங்கள்
இந்த மையம் 'ஏற்றுமதியாளர்களின் வழிகாட்டுதலுக்காகவும், வேளாண் உணவுப் பொருட்களை மாநிலத்திலிருந்து ஏற்றுமதி செய்யத் தேவையான அனைத்து தகவல்களாகவும் செயல்படும்
சமீபத்தில் இந்தியாவின் முதல் AEFC குஜராத்தில் திறக்கப்பட்டது
மேலே கொடுக்கப்பட்ட கூற்றுகளில் எது சரியானது / சரியானவை ?
(a) 1 மட்டுமே
(b) 2 மட்டுமே
(c) 1 மற்றும் 2 இரண்டும்
(d) 1 அல்லது 2 அல்ல
Q4. இந்திய தேசிய கொடுப்பனவு கழகம் (NPCI) தொடர்பான பின்வரும் அறிக்கைகளை கவனியுங்கள்,
இது இந்தியாவில் சில்லறை கொடுப்பனவுகள் மற்றும் தீர்வு முறைகளை இயக்குவதற்கான ஒரு குடை அமைப்பு.
இது கொடுப்பனவு மற்றும் தீர்வு முறைகள் சட்டம், 2007 இன் விதிகளின் கீழ் ரிசர்வ் வங்கி மற்றும் நிதி அமைச்சின் முன்முயற்சி.
மேலே கொடுக்கப்பட்ட கூற்றுகளில் எது சரியானது / சரியானவை ?
(a) 1 மட்டுமே
(b) 2 மட்டுமே
(c) 1 மற்றும் 2 இரண்டும்
(d) 1 அல்லது 2 அல்ல
Q5. பிரதான் மந்திரி பாசல் பீமா யோஜனா தொடர்பான பின்வரும் அறிக்கைகளை கவனியுங்கள்
பிரதான் மந்திரி பாசல் பீமா யோஜனா ஏப்ரல் 2016 இல் தொடங்கப்பட்டது
குஜராத் தனது நில பதிவுகளை பிரதான் மந்திரி பாசல் பீமா யோஜனாவின் வலை போர்ட்டலுடன் ஒருங்கிணைத்த நாட்டின் முதல் மாநிலமாக மாறியுள்ளது
ஆண்டு வணிக மற்றும் தோட்டக்கலை பயிர்களுக்கான பிரீமியம் 10% ஆக இருக்கும்
மேலே கொடுக்கப்பட்ட கூற்றுகளில் எது சரியானது / சரியானவை ?
(a) 1 மட்டுமே
(b) 2 மட்டுமே
(c) 1 மற்றும் 3
(d) 1, 2 மற்றும் 3
Q6. டஹ்லா அணை தொடர்பான பின்வரும் அறிக்கைகளை கவனியுங்கள்,
டஹ்லா அணை அமெரிக்காவால் கட்டப்பட்டது
மாகாண தலைநகருக்கு கால்வாய்கள் மற்றும் குடிநீர் வலையமைவு வழியாக விவசாயிகளுக்கு நீர்ப்பாசனம் வழங்கும் டஹ்லா அணை, ஆப்கானிஸ்தானில் தலிபான் கட்டுப்பாட்டில் இருந்தது
மேலே கொடுக்கப்பட்ட கூற்றுகளில் எது சரியானது / சரியானவை?
(a) 1 மட்டுமே
(b) 2 மட்டுமே
(c) 1 மற்றும் 2 இரண்டும்
(d) 1 அல்லது 2 அல்ல
Q7. இந்தியாவுடனான வர்த்தகம் தொடர்பான பேச்சுவார்த்தைகளுடன் பரந்த அடிப்படையிலான வர்த்தக மற்றும் முதலீட்டு ஒப்பந்தம் (பி.டி.ஐ.ஏ) பல முறை செய்திகளில் உள்ளது. பி.டி.ஐ.ஏ என்பது பின்வருவனவற்றில் ___வர்த்தக பேச்சுவார்த்தைகள்?
(a) ASEAN
(b) BIMSTEC
(c) ஐரோப்பிய ஒன்றியம்
(d) SAARC
Q8. பின்வருவனவற்றில் எது உடனடி திருத்த நடவடிக்கை (பிசிஏ) கட்டமைப்பிற்கான தூண்டுதல் புள்ளிகளாக செயல்படுகிறது
ஆபத்தான நிலை கொண்ட சொத்து விகிதத்திற்கு மூலதனம்
நிகர செயல்படாத சொத்துக்கள்
சொத்துக்கள் மீதான வருமானம்
கீழே இருந்து சரியான குறியீட்டைத் தேர்ந்தெடுக்கவும்:
(a) 1 மட்டுமே
(b) 2 மட்டுமே
(c) 1 மற்றும் 3
(d) 1, 2 மற்றும் 3
Q9. MSF தொடர்பான பின்வரும் அறிக்கைகளை கவனியுங்கள்
எம்.எஸ்.எஃப் என்பது வங்கிகளில் உள்ள விகிதம் என்பது எந்தவொரு பிணையுமின்றி ரிசர்வ் வங்கியில் இருந்து ஒரே இரவில் நிதி வாங்க முடியும்
எம்.எஸ்.எஃப் பின்னால் உள்ள ஒட்டுமொத்த யோசனை ஒரே இரவில் இடைப்பட்ட வங்கி விகிதங்களில் ஏற்ற இறக்கம் இருப்பதாகும்.
மேலே கொடுக்கப்பட்ட கூற்றுகளில் எது சரியானது / சரியானவை ?
(a) 1 மட்டுமே
(b) 2 மட்டுமே
(c) 1 மற்றும் 2 இரண்டும்
(d) 1 அல்லது 2 அல்ல
Q10. பொருளாதாரத்தில் பணப்புழக்கத்தை அதிகரிக்க மேற்கண்ட எந்த நடவடிக்கைகளை இந்தியாவில் ரிசர்வ் வங்கி மேற்கொண்டுள்ளது
பண இருப்பு விகிதத்தில் குறைப்பு
ரெப்போ விகிதத்தில் அதிகரிப்பு
தலைகீழ் ரெப்போ விகிதத்தில் குறைவு
கீழே இருந்து சரியான குறியீட்டைத் தேர்ந்தெடுக்கவும்:
(a) 1 மட்டுமே
(b) 1 மற்றும் 3 மட்டுமே
(c) 2 மற்றும் 3 மட்டுமே
(d) 1, 2 மற்றும் 3
To Attempt the Quiz on APP with Timings & All India Rank,
Download the app now, Click here
Adda247 பயன்பாட்டில் இந்த வினாடி வினாவை முயற்சிக்க இங்கே கிளிக் செய்து அகில இந்திய தரவரிசையைப் பெறுங்கள்
Solutions
S1.Ans.(c)
Sol.
Atal Bimit Vyakti Kalyan Yojana is a welfare measure being implemented by the Employee's State Insurance (ESI) Corporation. It offers cash compensation to insured persons when they are rendered unemployed.
Atal Beemit Vyakti Kalyan Yojana (ABVKY): This scheme is a welfare measure for employees covered under Section 2(9) of the ESI Act, 1948, in the form of relief payment up to 90 days, once in a lifetime. The Scheme was introduced w.e.f. 01-07-2018 on a pilot basis for two years initially. The scheme has now been extended for another year i.e. from 1st July 2020 to 30th June 2021.
It has also been decided to enhance the rate of unemployment relief under the scheme to 50% of wages from an earlier rate of 25% along with relaxation in eligibility conditions, provided the Insured Person should have been in insurable employment for a minimum period of two years immediately before her/his unemployment and should have contributed for not less than 78 days in the contribution period immediately preceding to unemployment and minimum 78 days in one of the remaining three contribution periods in two years before unemployment.
In a significant relaxation, relief shall become due for payment after 30 days from the date of unemployment, and the claim can be submitted directly to the designated ESIC Branch Office by the worker. The enhanced benefit and relaxed conditions are applicable during the period 24th March 2020 to 31st December 2020. Claims to get the relief can be made online at the website www. esic. along with submission of the physical claim with an affidavit, photocopy of the Aadhaar Card, and Bank Account details to the designated ESIC Branch Office by post or in person.
Source : https://www.esic.nic.in/abvky
https://vikaspedia.in/social-welfare/unorganised-sector-1/schemes-unorganised-sector/atal-beemit-vyakti-kalyan-yojana
S2.Ans.(b)
Sol.
Prime Minister's Employment Generation Programme (PMEGP) is a credit-linked subsidy programme administered by the Ministry of Micro, Small and Medium Enterprises, Government of India. Khadi & Village Industries Commission (KVIC), is the nodal agency at the national level for the implementation of the scheme. At the state level, the scheme is implemented through KVIC, KVIB, and District Industries center.
The scheme is applicable to all viable (technically as well as economically) projects in rural as well as urban areas, under Micro enterprises sector.
The maximum cost of the project admissible under the manufacturing sector is Rs.25 lakhs and the business/services sector is RS.10 lakhs.
Any individual above 18 years of age can apply. The beneficiary must have passed at least VIII standard for projects costing above Rs.10 lakh in the manufacturing sector, and above Rs.5 lakh in the business/service sector. Only new projects are considered for sanction under PMEGP
Source: https://www.bankofbaroda.in/prime-minister-employment-generation-programme.html
S3.Ans.(a)
Sol.
Mahratta Chamber of Commerce Industries & Agriculture (MCCIA) in partnership with the National Bank for Agriculture and Rural Development (NABARD) has launched India's 1st Agriculture Export Facilitation Center (AEFC) in Pune, Maharashtra
This center shall work as a 'one-stop-shop for exporters' guidance and all information required to Export Agri-Food Products from the state.
Source: https://mcciapune.com/services/aefc/
S4.Ans.(a)
Sol.
National Payments Corporation of India (NPCI) is an umbrella organisation for operating retail payments and settlement systems in India.  It is an initiative of RBI and Indian Banks' Association under the provisions of the Payment and Settlement Systems Act, 2007, for creating a robust Payment & Settlement Infrastructure in India.
Source : www.npci.org.in/who-we-are/about-us
S5.Ans.(a)
Sol.
Maharashtra has become the first state in the country to integrate its land records with the web portal of the Pradhan Mantri Fasal Bima Yojana (PMFBY). This will help in checking the cases of "over insurance". It was  Launched in April 2016, after rolling back the earlier insurance schemes viz. National Agriculture Insurance Scheme (NAIS), Weather-based Crop Insurance scheme, and Modified National Agricultural Insurance Scheme (MNAIS). Premium: It envisages a uniform premium of only 2% to be paid by farmers for Kharif crops, and 1.5% for Rabi crops. The premium for annual commercial and horticultural crops will be 5%.
S6.Ans.(c)
Sol.
Dahla was built by the United States nearly 70 years ago to provide water for irrigating land in about seven districts of Kandahar.
The Taliban have captured Afghanistan's second-biggest dam after months of fierce fighting in their former bastion of Kandahar
Source: https://economictimes.indiatimes.com/news/defence/taliban-capture-key-afghan-dam-as-fighting-rages/articleshow/82430872.cms?from=mdr
S7.Ans.(c)
Sol.
The European Union (EU) has expressed interest in exploring a bilateral investment protection agreement (BIPA) with India that would be delinked from the proposed free trade agreement (FTA) where ongoing negotiations are in a state of limbo.
Carving out a separate investment protection agreement from the bilateral FTA — formally called the Broad-based Trade and Investment Agreement (BTIA) — which is currently under negotiations, will make it possible for the investment protection pact to be signed even if there is no progress on the BTIA. About India-EU Broad Based Trade and Investment Agreement (BTIA) negotiations: On 28th June 2007, India and the EU began negotiations on a broad-based Bilateral Trade and Investment Agreement (BTIA) in Brussels, Belgium.
S8.Ans.(d)
Sol.
The Reserve Bank has specified certain regulatory trigger points, as a part of prompt corrective action (PCA) framework, in terms of three parameters, i.e. capital to risk-weighted assets ratio (CRAR), net non-performing assets (NPA), and Return on Assets (RoA), for initiation of certain structured and discretionary actions in respect of banks hitting such trigger points. The PCA framework is applicable only to commercial banks and not extended to co-operative banks, non-banking financial companies (NBFCs), and FMIs
S9.Ans.(b)
Sol.
Marginal Standing Facility (MSF) rate is a new liquidity adjustment facility window created by RBI in its credit policy of May 2011. MSF is the rate at which the banks can borrow overnight funds from RBI against its approved government securities. This window was created for the commercial banks to borrow from the RBI in certain emergencies when the inter-bank liquidity dries up and there is volatility in the overnight interest rates.
To curb this volatility, RBI allowed them to pledge G-secs and get more funds from RBI at a rate higher than the repo rate. The overall idea behind the MSF is to contain the volatility in the overnight interbank rates. The rate of interest of MSF is set 50 bps above the repo rate. The banks can borrow up to 1% of their net demand and time liabilities from this
facility.
S10.Ans.(b)
Sol.
steps are taken by the RBI in India to increase liquidity in the economy:
Reduction in the Cash Reserve Ratio
Reduction in Repo Rate
Reduction in Reverse Repo Rate
Source: https://www.livemint.com/news/india/steps-taken-by-rbi-will-help-middle-class-businesses-during-lockdown-pm-modi-11585315605489.html
***********************
adda247 TamilNadu State GK part-1 Q&A in Tamil& English Pdf download
Coupon code- SMILE- 77% OFFER
**WHOLE TAMILNADU LIVE CLASS LINK
https://www.adda247.com/tamil_nadu/live-classes-study-kit
**WHOLE TAMILNADU MOCK TEST LINK