CUET 2024: Students can now Join 2 Courses simultaneously
Recent sources state that beginning with the forthcoming academic year, students from Central Universities will be able to enrol in two courses at once. Students at the institutions can now apply for two courses, with the opportunity to choose between a traditional course and a second via distance learning, thanks to central universities supporting the idea.
2 Courses simultaneously via CUET 2024
The provision that requires graduate students to do an internship has a new clause added by UGC Chairman Jagadesh Kumar. Based on this, students would develop their abilities in line with market expectations. After participating in projects and fields, students will also need to focus on community outreach. The availability of certificate and diploma programmes will increase the number of course options available to students.
CUET 2024: Students can Pursue two Courses simultaneously
There are rumours that central institutions are working to promote Indian languages, and many of them have already implemented the UGC requirements in order to run two academic programmes.
For the same, institutions have begun to appoint Professors of Practice.
These are non-Ph.D. candidates whose primary occupation is not teaching yet but who are hired based on their prior work history.
The UGC has requested that all required amendments be made to the regulations governing the appointment of Professors of Practice in a letter to Vice Chancellors and College Principals.
CUET 2024: Admissions
The UGC has stated that the CUET tests will be used to administer admissions to undergraduate and postgraduate programmes in central universities. For admission to its undergraduate and postgraduate programmes, more than 60 state and private universities, including 45 central universities, will also recognise the CUET 2023 results.
KMAT Kerala Answer Key 2023 Released, Direct Link here
CUET 2024: Professor of Practice
Professor of Practice positions have begun to be filled at Central Universities in a number of fields.
Those without a PhD and whose primary vocation is not teaching will be considered professors of practise.
Despite this, they are nevertheless qualified to be hired to teach kids given their professional backgrounds.
Higher education institutions have received a letter from the UGC regarding the appointment of a professor of practise.
In the letter to vice chancellors of universities and principals of colleges, it is requested that they make the necessary adjustments to their institutions' policies on the employment of practise professors.
The UGC has also requested that updates on the work being done in this area be shared on its official websites.
The procedures for selecting a Professor of Practice have been made public.
CBSE Practice Paper 2023 Pdf Download, for Class 10 and 12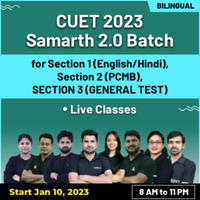 2 Courses simultaneously via CUET 2024: Pattern of Pursuing two Courses at a time
Students will have the choice between a traditional course and one that is offered online.
Under the National Education Policy, central universities have been able to offer two courses at once.
For it, the University Grants Commission has included a new clause.
Internships would be required for graduating students starting with the new session, according to UGC Chairman Prof. M. Jagdish Kumar. The students' skill development will be based on this internship and market requirements.
In addition, after visiting the fields, the students will need to work on projects and community outreach.
You can run an internship programme by collaborating with corporate organisations. Graduate and postgraduate students will have a variety of course options. To provide students additional options, more certificate and diploma programmes need to be launched.
CBSE Admit Card 2023, Class 10 & 12 Board Release Download PDF, Link