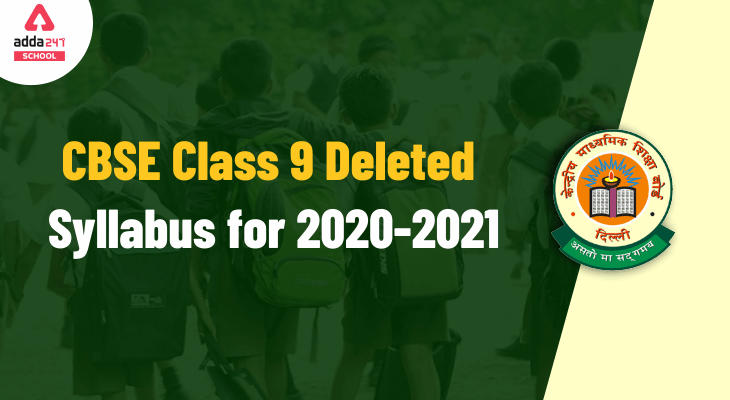 CBSE Class 9 Deleted Syllabus: Class 9 is considered as the foundation for the higher education. It acts as a base as it is totally different from its format and level of study of class 8 and also it acts as an introduction to the study level of what we can expect in higher classes. Below mentioned are the subjects for class 9 with respect to CBSE:-
English
Hindi
Science
Social Science
Mathematics
All the 5 subjects are general standard subjects as provided by CBSE. Despite these subjects, there are some subjects like Sanskrit or any other language additional subjects which are present in certain schools according to their curriculum.
Check Youtube Playlist of This Course
CBSE Class 9 Deleted Syllabus
The syllabus is one of the most important things you need to consider if you want to score good marks in the examination. Following the exact syllabus provided by CBSE is very important. Students must prepare accordingly to the syllabus given on the official site of CBSE and then set the preparation timetable for each subject. Studying everything will not gain you marks, adhering to the syllabus will. One cannot study everything at one time. If you plan your preparation strictly to the syllabus, you will be in the right path to achieve your goal. Below mentioned is the CBSE syllabus for class 9 for all subjects:-
CBSE Deleted Syllabus For Academic Year 2021-2022
As during the current Covid-19 situation, schools and students got a major hit in their education, the level of study and the mode of study. CBSE considered all this and decided to reduce the syllabus for each class by 30% accordingly. For this examination year, the reduced syllabus will be used for preparing board examinations this academic year.
This is good news for the students because now the syllabus has been reduced by 30% in every subject so students can focus more on less topics and gain more marks I the examination. Here, you will see the standard weightage of marks for each unit and the deleted topics from each unit for all subjects as decided by CBSE for class 9 examination for this academic year.
NCERT Importance For CBSE Examination
NCERT is the first choice what students must prefer when it comes to CBSE examinations. CBSE always considers the NCERT textbooks for setting the paper. NCERT books are made with the advisories from the CBSE in the syllabus. Students must practice NCERT textbooks for all subjects before the examination as almost all the questions in the examination comes from NCERT textbooks. You can find NCERT solutions for all subjects at the below-mentioned links.