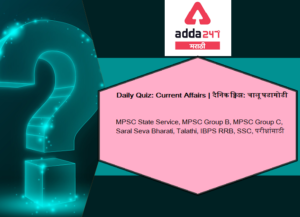 चालू घडामोडी दैनिक क्विझ मराठीमध्ये: 17 मे 2021
महाराष्ट्र राज्य लोकसेवा आयोग दरवर्षी वेगवेगळ्या परीक्षे मार्फत हजारो विद्यार्थ्यांची भरती करून घेते  MPSC State Service, MPSC Group B, MPSC Group C, Saral Seva Bharati, Talathi, UPSC, SSC, RRB IBPS RRB अशा अनेक परीक्षांमार्फत हजारो जागांची भरती दरवर्षी निघते ज्यात लाखो इच्छुक हजार किंवा त्याहूनही कमी जागांसाठी अर्ज करतात. आपण एमपीएससी आणि इतर परीक्षाची तयारी करत असाल तर आपल्याला क्विझ देण्याचे महत्त्व माहित असलेच पाहिजे. बर्‍याच विद्यार्थ्यांना अभ्यासाचे पुरेसे तास दिले जात असतानाही त्यांना या परीक्षांची पूर्तताही करता आली नाही कारण ते त्यांचे परीक्षण वेळेवर पूर्ण करू शकत नाहीत आणि संशोधन करण्याचा उत्तम मार्ग म्हणजे त्या संबंधित विषयाची किंवा विषयाची क्विझ देणे कारण आपण या मार्गाने कव्हर करू शकता कमी वेळात जास्तीत जास्त विषय. आम्हाला Add 247 मराठी येथे चांगल्या अभ्यास सामग्रीचे मूल्य समजले आहे आणि म्हणूनच आम्ही सर्व विषयांसाठी आपल्याला क्विझ प्रदान करीत आहोत. दैनिक क्विझ देऊन तुम्ही तुमच्या तयारीची पातळी तपासू शकता.
चालू घडामोडी, भूगोल, अर्थशास्त्र, पर्यावरण, सामान्य विज्ञान, इतिहास, पॉलिटी अशा सर्व स्पर्धात्मक सामान्य अभ्यास विषयांमध्ये चालू घडामोडी महत्वाचा वाटा आहे. तर चला चालू घडामोडी बद्दल तुमची तयारी तपासण्यासाठी खालील 17 मे 2021 ची पॉलिटीची दैनिक क्विझ पहा.
Q1आयुष्मान भारत कार्यक्रमांतर्गत असलेल्या प्रधानमंत्री जन आरोग्य योजना (पीएम-जेएवाय) संबंधित खालील विधानांचा विचार करा.:
1. हे दुय्यम आणि तृतीयक रुग्णालयात दाखल आहे.
2. सरकार प्रत्येक कुटुंबासाठी जास्तीत जास्त 4 सदस्यांसाठी दर वर्षी 5,00,000 रुपयांपर्यंतचे आरोग्य विमा संरक्षण पुरवते.
वर दिलेली कोणती विधाने बरोबर आहे /आहेत?
(a) फक्त 1
(b) फक्त 2
(c) दोन्ही 1 आणि 2
(d) 1 किंवा 2 देखील नाही
Q2. जोहान्सबर्ग घोषणापत्र आणि झियामेन घोषणापत्र, च्या प्रकरणांशी संबंधित आहेत
(a) ब्रिक्स
(b) एससीओ
(c) WHO
(d) डब्ल्यूटीओ
Q3 कोणार्क येथील सूर्य मंदिरासंदर्भात पुढील विधानांचा विचार करा
1. हे राजा नरसिंहदेव प्रथम यांनी बनवले होते
2. युनेस्कोच्या जागतिक वारसास्थळात या मंदिराचा समावेश होता
3. चंद्रभागा मेळ्यासाठी हे प्रमुख तीर्थक्षेत्र आहे
वर दिलेली कोणती विधाने बरोबर आहे/ आहेत?
(a) 1 आणि 2
(b) 2 आणि 3
(c) 1 आणि 3
(d) 1, 2 आणि 3
Q4. सिटी इनोव्हेशन एक्सचेंज (सीआयएक्स) संबंधित खालील विधानांचा विचार करा.
1. भारतीय सिक्युरिटीज एक्सचेंज बोर्डाने हे सुरू केले आहे.
2. नागरी भारताच्या भविष्यासाठी सहकार्याने उपाययोजना करण्यासाठी या व्यासपीठाने नागरिक-संघटना- अकादमिक व्यवसाय-सरकार एकत्र आणले.
वर दिलेली कोणती विधाने बरोबर आहे /आहेत?
(a) फक्त 1
(b) फक्त 2
(c) दोन्ही 1 आणि 2
(d) 1 किंवा 2 देखील नाही
Q5. राहणीमान सुलभता निर्देशांक (ईओएलआय) 2020 ___द्वारा नुकतेच सुरू करण्यात आले-
(a) नीति आयोग
(b) शहरी व्यवहार मंत्रालय
(c) अर्थमंत्रालय
(d) रिझर्व्ह बँक ऑफ इंडिया
Q6.नगरपालिका कामगिरी निर्देशांक (एमपीआय) 2020 संबंधित खालील विधानांचा विचार करा:
1. त्याची सुरूवात नीति अयोगनी केली आहे
2. दशलक्ष+ प्रकारात इंदूर अव्वल
3. एमपीआय अंतर्गत पाच अनुलंब सेवा, वित्त, धोरण, तंत्रज्ञान आणि प्रशासन आहेत.
वर दिलेली कोणती विधाने बरोबर आहे/ आहेत?
(a) 1 आणि 2
(b) 2 आणि 3
(c) 1 आणि 3
(d) 1, 2 आणि 3
Q7नुकतीच बातमीत दिसणारा पाकळ दुल हायड्रो इलेक्ट्रिक प्रकल्प चेनाब नदीच्या कोणत्या उपनद्यावर बनविला गेला
आहे?
(a) थिरोट
(b) लिद्रारी
(c) मारुसार
(d) भूत नाला
Q8. प्रोजेक्ट आरई-हॅब संबंधित खालील विधानांचा विचार करा
1. पर्यावरण वनीकरण आणि हवामान बदल मंत्रालयाचा हा एक उपक्रम आहे
2. मधमाश्या वापरुन मानवी वस्तीत हत्तींचा हल्ला रोखण्यासाठी "मधमाशी कुंपण" तयार करण्याचा त्यांचा
मानस आहे
3. कोडगू केरळमध्ये पायलट प्रकल्प सुरू करण्यात आला आहे
वर दिलेली कोणती विधाने बरोबर आहे/ आहेत?
(a) 1 आणि 2
(b) 2 आणि 3
(c) 1 आणि 3
(d) 1, 2 आणि 3
Q9. बरलाचा पास बद्दल खालील विधानांचा विचार करा
1. बरलाचा पास हा पिरंजल पर्वतरांगातील एक उंच डोंगराळ प्रवेश आहे
2. हे हिमाचल प्रदेशातील लाहौल जिल्ह्याला लडाखमधील लेह जिल्ह्याशी जोडते
वर दिलेली कोणती विधाने बरोबर आहे /आहेत?
(a) फक्त 1
(b) फक्त 2
(c) दोन्ही 1 आणि 2
(d) 1 किंवा 2 देखील नाही
Q10 नुकताच बातमीत दिसणारा 'मैत्री सेतू' पूल ___जोडतो –
(a) त्रिपुरा ते बांगलादेशला
(b) मिझोरमचा ते बांगलादेश
(c) मणिपूर ते म्यानमार
(d) नागालँड ते बांगलादेश
Solutions
S1.Ans.(a)
Sol.
Under the ambit of Ayushman Bharat, a Pradhan Mantri Jan Arogya Yojana (PM-JAY) to reduce
the financial burden on poor and vulnerable groups arising out of catastrophic hospital episodes
and ensure their access to quality health services was conceived. PM-JAY seeks to accelerate
India's progress towards the achievement of Universal Health Coverage (UHC) and Sustainable
Development Goal – 3 (SDG3).
Benefits of PM-JAY:
 The government provides health insurance cover of up to Rs. 5,00,000 per family per year.
 More than 10.74 crore poor and vulnerable families (approximately 50 crore beneficiaries)
are covered across the country.
 All families listed in the SECC database as per defined criteria will be covered. No cap on
family size and age of members.
 Priority to the girl child, women, and senior citizens.
 Free treatment available at all public and empaneled private hospitals in times of need.
 Covers secondary and tertiary care hospitalization.
 1,350 medical packages covering surgery, medical and daycare treatments, cost of
medicines, and diagnostics.
 All pre-existing diseases are covered. Hospitals cannot deny treatment.
S2.Ans.(a)
Sol.
Context: Host of 2021 BRICS Summit is India
At the 10th BRICS summit, the heads of states of the five countries adopted the Johannesburg
Declaration. It was held under the theme "BRICS in Africa: Collaboration for Inclusive Growth
and Shared Prosperity in the 4th Industrial Revolution‖.
 China introduced the ―BRICS Plus‖ format at the Xiamen summit last year by inviting a few
countries from different regions. South Africa emulated it, arranging the attendance of top-
level representation of five nations of its choice: Argentina, Jamaica, Turkey, Indonesia, and
Egypt. The precise role of ―BRICS Plus‖ countries will take time to evolve.
 In the Xiamen declaration, the BRICS countries had called upon all nations to adopt a
comprehensive approach in combating terrorism including countering radicalization and
blocking terror financing sources.
S3.Ans.(d)
Sol.
Context: Archaeological Survey of India (ASI) is carrying out the conservation of the Sun Temple
at Konark.
About the Temple:
1. Built-in the 13th century, the Konark temple was conceived as a gigantic chariot of the Sun
God, with 12 pairs of exquisitely ornamented wheels pulled by seven horses.
2. It was built by King Narasimhadeva I, the great ruler of the Ganga dynasty.
3. The temple was included in UNESCO World Heritage Site in 1984 for its architectural
greatness and also for the sophistication and abundance of sculptural work.
4. The temple is a perfect blend of Kalinga architecture, heritage, exotic beach, and salient
natural beauty
This temple was also known as 'BLACK PAGODA' due to its dark color and used as a navigational
landmark by ancient sailors to Odisha. Similarly, the Jagannath Temple in Puri was called the
"White Pagoda It remains a major pilgrimage site for Hindus, who gather here every year for the
Chandrabhaga Mela around the month of February.
S4.Ans.(b)
Sol.
Context: The Ministry of Housing and Urban Affairs has launched a City Innovation Exchange
(CiX).
Significance of the platform:
● The platform brings together Citizens-Organisations -Academic Businesses-Government to co-
create solutions for the future of Urban India.
● The platform will help cities in adopting solutions that will enhance the quality of life for their
residents. Moreover, it will significantly improve the Ease of Doing Business.
● It will also be a significant addition to the growing innovation ecosystem of India as it focuses
on fostering innovative practices in cities
S5.Ans.(b)
Sol.
Context: The Housing and Urban Affairs Ministry has released the final rankings of the Ease of
Living Index (EoLI) 2020. What is it? The Ease of Living Index (EoLI) is an assessment tool that
evaluates the quality of life and the impact of various initiatives for urban development. It
provides a comprehensive understanding of participating cities across India based on the quality
of life, economic-ability of a city, and its sustainability and resilience
S6.Ans.(b)
Sol.
Context: Union Housing and Urban Affairs Ministry has released the Municipal Performance
Index 2020.
Municipal Performance Index (MPI) 2020: The MPI examined the sectoral performance of 111
municipalities (with Delhi being assessed separately for NDMC and the three Municipal
Corporations) across five verticals which comprise 20 sectors and 100 indicators in all totality.
The five verticals under MPI are Services, Finance, Policy, Technology, and Governance. Ranking
of cities: The assessment framework under MPI 2020 has classified municipalities based on their
populationMillion+ (municipalities having over a million population) and Less than Million
Population.
In the Million+ category: Indore has emerged as the highest-ranked municipality, followed by
Surat and Bhopal
S7.Ans.(c)
Sol.
The Pakal Dul Hydro Electric Project (1,000 MW) is proposed on the Marusudar river, a tributary
of the Chenab river, in the Kishtwar district in Jammu and Kashmir.
S8.Ans.(b)
Sol.
Project RE-HAB (Reducing Elephant-Human Attacks using Bees):
● It is an initiative of the Khadi and Village Industries Commission (KVIC).
● It is a sub-mission under KVIC's National Honey Mission.
● It intends to create "bee fences" to thwart elephant attacks in human habitations using
honeybees.
● The pilot project has been launched in Kodagu, Karnataka.
● It entails installing bee boxes along the periphery of the forest and the villages with the belief
that the elephants will not venture anywhere close to the bees and thus avoid transgressing
into the human landscape. This idea stems from the elephants' proven fear of the bees.
S9.Ans.(b)
Sol.
Baralacha Pass:
● For the first time ever, the Border Roads Organisation (BRO) has started work on reopening
the crucial Baralacha Pass in Himachal Pradesh much before schedule to restore connectivity to
Leh in Ladakh.
● Baralacha Pass is a high mountain pass in the Zanskar range.
● Connects Lahaul district in Himachal Pradesh to Leh district in Ladakh, situated along the Leh–
Manali Highway.
● The pass also acts as a water divide between the Bhaga river and the Yunam river
S10.Ans.(a)
Sol.
The bridge 'Maitri Setu' has been built over the Feni river which flows between the Indian
boundary in Tripura State and Bangladesh.
The construction was taken up by the National Highways and Infrastructure Development
Corporation Ltd at a project cost of Rs. 133 Crores. The 1.9 km long bridge joins Sabroom in
India with Ramgarh in Bangladesh.