In this time of corona crisis, there is some good news for the aspirants of SSC CHSL 2018 who were awarded zero marks on the account of Unfair Means (UFM). SSC has released an official notice in which it mentioned that it will form a expert committee to address the concern of the students on UFM cases. Check Official notice.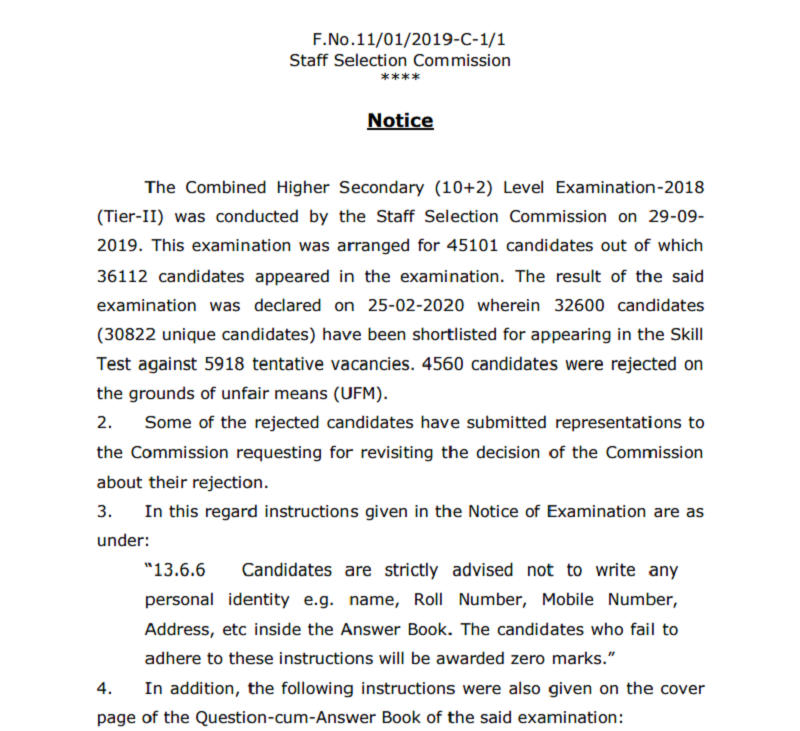 SSC CHSL 2018 UFM Update
The commission has released notice to addresses the concern of many students who were disqualified in the Tier 2 of the SSC CHSL 2018 exam. The commission has stated in the notice that the result of the examination was declared on 25th February 2020 wherein 32600 candidates (30822 unique candidates) have been shortlisted for appearing in the Skill Test against 5918 tentative vacancies. 4560 candidates were rejected on the grounds of unfair means ( UFM ). Candidates has given representation to the commission with their answer sheet which they received through RTI.
Thousands of students tweeted about this using hashtags #SSC_UNFAIR_UFM and #SSC_UFM. Candidates who have disqualified in this exam are eliminated from appearing in the next round of SSC CHSL i.e., Skill Test.
SSC CHSL 2018 UFM: What is UFM?
If a candidate is found using unfair means in the examination he/she will be disqualified from the exam. UFM will lead you to Zero Marks in the paper irrespective of how many marks he scored in the exam. Some rules of UFM are given below.
Any candidate who uses any names in the answer sheet will be disqualified.
If a candidate mentions any kind of address other than given in the question paper will be disqualified.
If a candidate writes his/ her name anywhere on the answer sheet.
If candidate sign at the invigilator's column, then, in that case his/ her answer sheet will not be evaluated and will be awarded zero marks.
Some people put stray marks or even do rough work on the backside of the response sheet. Such stuff is strictly prohibited and can even result in the loss of marks. This also comes under the UFM category and hence must be avoided.
Writing unnecessary information other than mentioned in the paper will lead to zero marks.
Not filling the important things such as Roll no., Sign, Left Thumb impression also comes under UFM.