Rajasthan High Court Jr Personal Assistant 2020 Marks Out: Rajasthan High Court has released the marks of Junior Personal Assistant for the written exam. The exam was held between on 11th January and 13th January 2020. Those who had appeared in the exam, may get the direct link to check their scores to assess their marks in the exam. Read further to know details of the score card.
Rajasthan High Court Jr Personal Assistant Marks.
After the successful conduct of the exam, candidates can now check their marks. Rajasthan High Court Junior Personal Assistant Marks are released on 07th March 2020. After the result the marks were anticipated.
Use of Score card:
Score card has the details of the marks obtained by the candidate in the given exam.
In each section, the marks that the candidate got, is important so as to check their qualification for the next round.
The score becomes more important to know if the candidate achieved the minimum qualifying marks as well as to check marks obtained in each section, if at all sectional cutoff needs to be cracked. Moreover, overall total marks is to be checked too.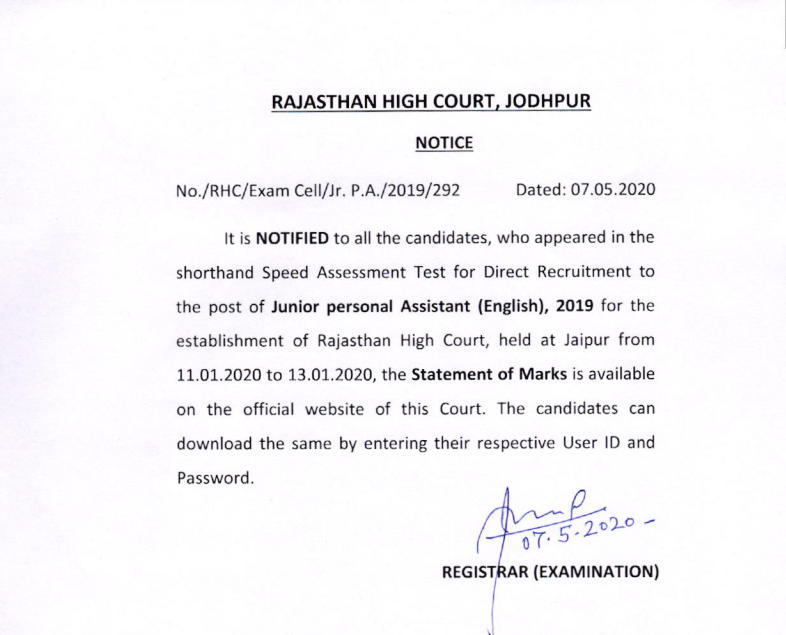 Details of Rajasthan High Court Jr Personal Assistant Score Card
Name of the candidate
Roll number
Registration number
Category
Date of Exam
Total Marks of the exam
Marks scored in aggregate & also for each section
Please note that the score card link will be active till a certain period. Do Download the score card to keep the same for future reference.
Rajasthan High Court Jr Personal Assistant Marks Link
Candidates can check their Score Card by clicking on the link given below.
How to Junior Personal Assistant Marks ?
After Clicking the given link, kindly follow the instructions.
Enter your "User Name, password and Captcha".
Click on Login and a new page will display the score card.
Click Save/ Print to Check the Rajasthan High Court Personal Assistant Score Card.
Alternatively, you may visit the official website & follow the above-mentioned steps to know your marks.
Rajasthan High Court Jr Personal Assistant Marks calculation
The corrected scores obtained by each of the candidates in different sessions (if held) will be considered while making the result.
Candidates, who secure minimum marks in the exam, as prescribed, were shortlisted for skill test of the examination based on the aggregate marks obtained in written exam.
After checking the scores, the candidates who have attained more than the minimum qualifying marks, will be eligible for the next phase of the exam.
The High Court will consider the following factors to prepare the final merit list:
Number of Vacancies
Number of Candidates qualified
Note to the candidates:
Candidates must check their marks to count themselves eligible for the next phase of exam. They must download the score card document for their reference.
All the best!