NDA Exam Date 2020: UPSC has released the revised dates of the NDA I exam @upsc.gov.in. The National Defence Academy (NDA) Exam is going to conduct on 06th September 2020, which was deferred from 19th April 2020, due to the lockdown in whole country to contain the spread of COVID-19 virus.
The exam is conducted twice in a year by the Union Public Service Commission, UPSC. Qualification of this exam allows the candidate to get selected for the Army, Naval and Air Force. Candidates may refer to the article to know details of the recruitment & how to apply.
Note: This year, the UPSC will conduct a common examination for both NDA& NA Exam(I) and NDA&NA Exam (II), 2020 to be held on 06.09.2020.
NDA Exam Date 2020 Released
Candidates may refer to the following important dates notification released by the conducting authority. This year, the Commission(UPSC) has released 418 vacancies, out of which 370 vacancies are for National Defence Academy and 48 are for Naval Academy (10+2 Cadet Entry Scheme). With job security, pension and allowances, and the opportunity to serve the nation, NDA 2020 is an attractive chance for the youth aspiring for a defence government job.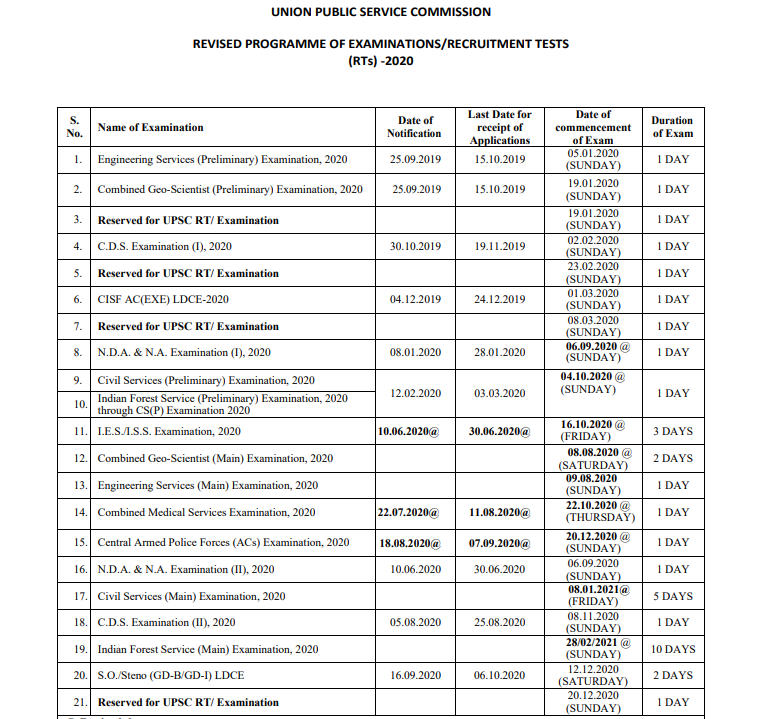 Check NDA 2020 Important Dates:
Events
Dates
NDA 2020 Notification
6th January 2020
NDA Online form 2020
8th January 2020
NDA form 2020 last date
28th January 2020
NDA Exam Date 2020
(For I and II)*
06th September 2020 (Revised)
*For 2020, the UPSC will conduct a common examination for both NDA& NA Exam(I) and NDA&NA Exam (II), 2020 to be held on 06.09.2020.
Download NDA Official Notification 2020 PDF
NDA 2020 Eligibility Criteria
NDA 2020 Eligibility Criteria includes the following:
| | |
| --- | --- |
| Nationality | Indian Citizenship | A Subject of Nepal or Bhutan | Candidates who have migrated from Sri Lanka, Pakistan, Burma, East African, Zambia, Uganda, Zaire and Ethiopia, Malawi, etc. are also eligible to apply |
| Age Limit Criteria | Candidates age should be in between 2nd January 2002 & 1st January 2005. |
| Qualification | Candidates must pass 12th class examination from any recognized board. |
| Subjects | Candidates must pass with Physics and Mathematics subjects. |
| Medical Fitness | Candidates should have a medical fitness certificate. |
Note: Candidates who are appearing in their 12th class are also eligible to apply.
Candidates appearing in the 11th class exam are not eligible for this examination
Candidates must be physically fit according to physical standards for admission to National Defence Academy and Naval Academy Examination (I), 2020 as per guidelines are given in Appendix-IV.
A candidate who has resigned or withdrawn on disciplinary grounds from any of the training academies of Armed Forces is not eligible to apply.
NDA Exam Date 2020
The NDA Exam Date 2020 is declared for 06th September 2020, for 145th Course and for the 107th Indian Naval Academy Course(INAC) that commenced from 2nd January 2021. Applicants must note the date and check up on their preparation. Also, the admit card for the exam will be available at least 10 days before the exam. National Defence Academy, NDA Exam 2020 is the joint services academy of the Indian Armed Forces, where cadets of the three services, the Army, the Navy and the Air Force train together before they go on to respective service academies for further pre-commissioning training.
NDA 2020 Exam Pattern
Complete details for the NDA 2020 exam pattern has been tabulated:
| | |
| --- | --- |
| Mode of Examination | The examination is held through offline mode. |
| Time Duration | Two and a half hours will be given for each paper. |
| Total Marks | Total- 900 marks |
| Sections | Mathematics and General Ability |
| Type of Questions | Multiple choice questions (MCQ) |
| Language | The question paper will be in Hindi and English language. |
| Negative Marking | For maths, 0.83 marks, for English, 1.33 and for GK 1.33 marks will be deducted |
NDA Syllabus 2020
NDA Syllabus will consist of subjects like Mathematics and General Ability. General Ability covers English, Chemistry, General Science and General Knowledge
Mathematics
Matrices and Determinations
Algebra
Trigonometry
Differential Calculus
Integral Calculus and Differential Equations
Statics and Probability
Vector Algebra
Analytical Geometry of Two and Three Dimension
General Ability Test
English
Chemistry
General Science
History Freedom, Movement
Current Events
Geography
Read NDA Syllabus and Exam Pattern
NDA Selection Procedure
NDA Selection involves qualification of the written exam and the SSB interview round.
Psychological Aptitude Test and Intelligence Test are a part of the Services Selection Board(SSB). This is one most important test, that is a tough nut to crack, where the physical exam takes place.
Physical Standards:
Physical Conditioning. Prospective candidates are suggested to keep themselves in good physical condition. They should be able to fulfill the following criteria:
(a) Running: 2.4 km in 15 minutes
(b) Skipping
(c) Pushups & Sit-ups: Minimum 20 each
(d) Chin-ups: Minimum 08
(e) Rope Climbing: 3.4 meters
NDA Height requirements:
For Ground Duty Branch-
The minimum height for entry into ground duty branches- 157.5 cm
Minimum acceptable height for Gorkhas and individuals belonging to North Eastern regions of India and hilly regions of Uttarakhand- (152.5 cm).
In case of candidates from Lakshadweep, the minimum acceptable height can be reduced by 2 cm- (155.5 cm)
For Flying Branch-
| Height Requirements | Minimum | Maximum |
| --- | --- | --- |
| (i) Sitting height | 81.5 cm | 96.0 cm |
| (ii) Leg Length | 99.0 cm | 120.0 cm |
| (iii) Thigh Length | – | Maximum- 64.0 cm |
Other Physical requirements include fitness of Cardiovascular, gastrointestinal system, respiratory system, and for all body systems.
NDA Form 2020
NDA form 2020 was available till 28th January 2020. The link was activated on 8th January 2020. Candidates can refer to the eligibility and check relevant details for submission of online form before time.
NDA Form 2020 Fee
The NDA Online Form Fee is Rs 100/- either by depositing the money in any Branch of SBI by cash, or by using net banking facility of State Bank of India or by using Visa/ MasterCard/ Rupay Credit/ Debit Card.
Candidates belonging to SC/ST candidates/Sons of JCOs/NCOs/ORs are exempted from payment of the fee.
Steps to Apply Online for NDA: Registration & Submission of Form
Click the direct link to open the apply online tab
As the link opens, click the part 1 registration and read the instructions
Click on "I agree" to proceed for the form submission
Now, fill the identity credentials, education qualification, and address
Click Continue and submit Part 1 Registration
Go to Part 1 Registration by Clicking the apply link again
Part 2 registration comprises of logging in the registration ID and DOB
Now continue completing the form by making Payment details (except for fee exempted candidates), selection of examination centre, uploading of Photograph, Signature, Photo Identity Card Document and Declaration.
Press "I agree" button after he finds that information supplied by him is in order and no correction is required
On successful completion of your complete application, an auto-generated email message will be sent on your registered email-id.
Take the Print out of the final form.
NDA Admit Card 2020
NDA Admit Card 2020 is released 10 days before the exam. The Admit card will contain necessary information about the candidate and the exam.
NDA Answer Key 2020
NDA Answer Key is released after some days of the exam date. Candidates may refer the answer key for checking their answers and calculating marks. This way, they can predict their performance & qualification status. Check NDA Answer Key
NDA 2020 Result
The Result of NDA 2020 will be released on the website after the written test and answer key. The result of NDA I will be out in the month of October 2020 and NDA II in the month of November 2020. Check NDA Result here
NDA is a great opportunity to be a part of government jobs and also a chance to work for the nation. NDA is in itself a major appeal to the young generation. It offers a high profile job, well-paid salary and assured future through pension high amount of perks.
For Our Readers:
Latest Notifications for various government jobs are provided here.
Stay Connected!