MSME: MSME stands for Ministry of Micro, Small and Medium Enterprises. It is a branch of the Government of India and is the apex executive body for the formulation and administration of rules, regulations, and laws relating to micro, small and medium enterprises in India. MSME is clubbed into one single category as on 13th May 2020:
Manufacturing enterprise; and Service enterprise.
The MSME sector contributes to 45% of India's Total Industrial Employment, 50% of India's Total Exports, and 95% of all industrial units of the country, and more than 6000 types of products are manufactured in these industries (As per msme.gov.in). When these industries grow, the economy of the country grows as a whole and flourishes. These industries are also known as small-scale industries or SSI's.
Due to the ongoing COVID 19 outbreak, there has been a change in the definition of MSME. It was announced in the first tranche of Finance Minister Nirmala Sitharaman's COVID-19 special economic package, Atmanirbhar Bharat Abhiyan, or Self-Reliant India on May 13, 2020.
Read on to know about the new definition of MSMEs.
MSME Full Form
The ongoing outbreak of COVID-19 has resulted in losses worth crores of Rupees and added woes to the ones unemployed. Therefore, to provide relief to millions of small businesses reeling under the impact of the Covid-19 lockdown, Finance Minister Nirmala Sitharaman on Wednesday announced a slew of liquidity measures, which include collateral-free automatic loan worth Rs 3-lakh crore. A collateral-free loan means that borrowers do not have to submit any asset or security collateral to borrow against it.
| | |
| --- | --- |
| MSME Full Form | Micro, Small, and Medium Enterprises |
| MSME in Hindi | सूक्ष्म, लघु और मध्यम उद्यम |
| Minister of MSME | Shri. Nitin Gadkari |
| Minister of State | Shri. Pratap Chandra Sarangi |
| Official Site | https://msme.gov.in/ |
MSME: New Definition
Centre has revised the definition of micro, small, and medium enterprises to give them the confidence to grow. Under the new definition, the distinction between manufacturing and services enterprises has been eliminated. Now MSMEs will be judged on turnover and there will be no difference between a manufacturing MSME and a services MSME. Moreover, the investment criteria for such enterprises have been revised upwards, while an additional criterion of turnover has been introduced.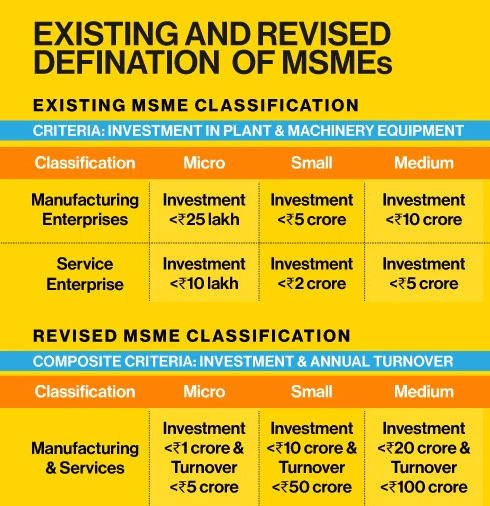 Under the new definition, the following will be the definition of the MSMEs. Companies with the following criteria come under the definition of MSMEs.
Micro-enterprises: Manufacturing and services enterprises with investments up to Rs 1 crore and turnover up to Rs 5 crore.
 Small enterprises: The investment criteria have been revised upwards to Rs 10 crore, with the turnover criteria of Rs 50 crore added to the mix.
 Medium Enterprises: Enterprises with investment up to Rs 20 crore and turnover up to Rs 100 crore.
Rs 3 lakh crore collateral-free automatic loans for MSMEs
To revive the business and employment the Center has announced the following reliefs for the MSMEs.
Emergency Credit Line to Businesses/MSMEs from Banks  and NBFCs up to 20% of entire outstanding credit as on 29.2.2020
Borrowers with up to Rs. 25 crore outstanding and Rs. 100 crore turnover eligible
Rs 50,000 equity infusion for MSMEs through fund of funds. A fund of funds with a corpus of Rs 10,000 crore will be set up.
Loans to have 4-year tenor with a moratorium of 12 months on Principal repayment
Interest to be capped
100% credit guarantee cover to Banks and NBFCs on principal and interest
The scheme can be availed till 31st Oct 2020
No guarantee fee, no fresh collateral
45 lakh units can resume business activity and safeguard jobs.
Who Can Apply For MSMEs?
MSME registration or Udyog Aadhaar can be obtained by any type of business entity.
Proprietorships, Hindu Undivided Family, Partnership Firm, One Person Company, Limited Liability Partnership, Private Limited Company, Limited Company, Producer Company, any association of persons, co-operative societies or any other undertaking can obtain MSME registration in India.
Small businesses having MSME registration enjoy various benefits under the Micro, Small and Medium Enterprises Development Act, 2006.
How To Register For MSME?
To do the registration the small and medium scale industry owner has to fill a single form that he can do online as well as offline.
Visit  https://udyogaadhaar.gov.in/UA/UAM_Registration.aspx, which is the national portal for the registration of Micro, Small & Medium Enterprises.
If a person wants to do registration for more than one industry then also he/she can do individual registration.
To do the registration he/she has to fill a single form which is available at the website which is listed below.
The document required for the registration is Personal Aadhar number, Industry name, Address, bank account details and some common information.
In this, the person can provide self-certified certificates.
There are no registration fees required for this process.
Once the detail-filled and upload you would get the registration number.
Benefits of MSME
MSMEs are critical for employment preservation and growth. The Government of India has announced the following benefits that will be entitled to the MSMEs in India.
 ₹3 lakh crore collateral-free Automatic Loans for Businesses including MSMEs
₹20,000 crore subordinate debt for Stressed MSMEs
 ₹50,000 crore equity infusion for MSMEs through Funds of Funds.
Global tenders to be disallowed up to ₹200 crores
They also can get exemption of interest on the overdraft they avail from banks
If the company product or service is ISO certified then the charges are reimbursed as well
MSMEs In India
As per the official estimates, there are about 63.05 million micro industries, 0.33 million small, and about 5,000 medium enterprises in the country.
Uttar Pradesh has the largest number of estimated MSMEs with a share of 14.20 percent of the total MSMEs in the country. West Bengal comes as a close second with a share of 14 percent, followed by Tamil Nadu and Maharashtra at eight percent
Examples of MSMEs
DFM foods, location:- Delhi
Ankur scientific energy technologies, location:- Vadodara
Mynd Solutions, location:- Gurugram
SL packaging, location:- Kolkata
Star agri warehousing and collateral management, location:- Jaipur
Molecular connections, location:- Banglore
Northeastern medical research institute, location:- Guwahati
Chem process system, location:- Sanand, Gujrat
Aastha Minmet India, location:- Mumbai
Emmbi polyarns, location:- Mumbai
MSME's: What is the Importance of MSMEs?
Employment: It is the second-largest employment generating sector after agriculture
Contribution to GDP: With around 36.1 million units throughout the geographical expanse of the country, MSMEs contribute around 6.11% of the manufacturing GDP and 24.63% of the GDP from service activities.
Exports: It contributes around 45% of the overall exports from India.
Inclusive growth: MSMEs promote inclusive growth by providing employment opportunities in rural areas especially to people belonging to weaker sections of the society.

For Example: Khadi and Village industries require low per capita investment and employs a large number of women in rural areas.

Financial inclusion: Small industries and retail businesses in tier-II and tier-III cities create opportunities for people to use banking services and products.
Promote innovation: It provides an opportunity for budding entrepreneurs to build creative products boosting business competition and fuel growth.
Thus, the Indian MSME sector is the backbone of the national economic structure and provides resilience to ward off global economic shocks and adversities.