Do read these Last Minute Tips for SBI Clerk Prelims 2021: The State Bank of India (SBI) has finally scheduled the SBI Clerk Prelims 2021 Exam tomorrow that is on 10th July 2021. The very first day of the exam is always the most curious one among all other days of the Exam. So, here we would like to share a few last-minute tips with you guys as SBI Clerk Pre Exam 2021 aspirants. The exam will be held on 10th, 11th, 12th and 13th July 2021 with four shifts every day.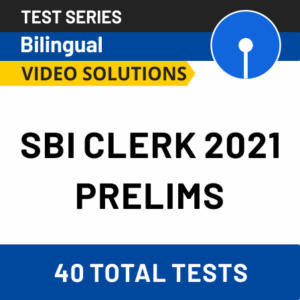 Last-Minute Tips For SBI Clerk Prelims 2021 Exam
Candidates are advised to take a printout of their system generated
online application form after submitting the application.
Candidates should satisfy themselves with their eligibility for the post
applied for.
Do not start with any new topic at this moment and primary focus should be maintained on the previously learned topics.
Attempt as many mock tests possible even till the last moment
The candidates need to stay calm and composed and should not panic.
Try some meditation and Yoga techniques to keep yourself calm.
Before entering the exam centre carefully read the instructions in the SBI Clerk Prelims Admit Card 2021.
Candidates must also ensure that they are carrying all the important documents like Admit Card, Passport Size Photographs, Original ID Proof, Photocopy of the ID Proof and a pen. 
Do not waste time on one question during the examination. If students are stuck on one question it is suggested to move on to the next question and not waste time.
Remember there is negative marking for each wrong answer, so candidates are advised to answer the questions with full surety.
Stay confident with your answer choices and believe in yourself.
Finally All the very best for your Exam. May you accomplish all your future goals !!